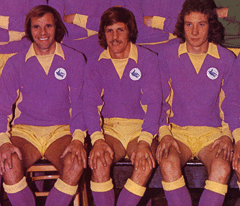 Teams tend to switch styles of play fairly frequently, but I'd say that many of them, for me at least, become associated with a certain type of football. For example, I think most fans would say that the jacks have always been a "footballing" side, while my own view, not shared by everyone I concede, is that, at first team level at least, Cardiff sides have tended to be power based, physical and more likely to favour more of long ball game.
When it comes to Sheffield, I've always tended to look upon Wednesday as the footballing team and United as the power side. A look at Howard Wilkinson's successful Wednesday team of the mid eighties and the United team of Currie and Woodward which pipped us to promotion in 1971 would tell you that my theory as to their identity is hardly an infallible one, but  I'd say that, overall, it is fair. Maybe it's what supporters of the clubs I've mentioned want because I certainly believe an awful lot of City fans would not be thrilled if the first team started playing the sort of possession based stuff seen from the Development side in their recent home matches.
Anyway, my point in starting this piece like I have is that if you told me that a match had been abandoned in it's dying minutes because of a mass punch up between the two teams and asked me to name the sides involved, one of the answers I would give would definitely be Millwall – historically, I'd say they've been the club most associated with "trouble", on and off the pitch, in my lifetime.
So, it came as no great shock to me to read that Monday's Development team game between Hull and Millwall had been abandoned by the referee in the dying minutes with the former leading 2-1 following a brawl involving what seemed to be all twenty two players.
The relevance of this to yesterday's game between City and Sheffield United's Under 23 teams at Leckwith was that if the object of the exercise is for our second string to qualify for the end of the season Play Offs at this level (the top two in the league we compete in qualify), which I suspect it isn't, then what happened on Humberside a few days earlier had almost certainly presented us with a chance to put second placed Millwall under pressure.
The abandonment of their game will, surely, mean that the result will stand and so, City had the chance to move level on points with the London side, albeit with a worse goal difference, with a victory and for much of the ninety minutes they looked like getting it.
City scored just before half time and held on to their lead until well into added time when United scrambled in an equaliser – there was enough time left to restart and play on for a further thirty seconds or so, but there was to be no winning goal for either side.
Sheffield United's website made a fleeting reference to the game and said that their side's late equaliser had given them a deserved draw. That viewpoint is an understandable one, because there were spells in the game (for example, ten minutes in the middle of the first half and the start of the second period) where they were right on top and yet you look at the number of saves the visitor's keeper Jake Eastwood had to make and the number of chances City blew as United's search for the equaliser left them undermanned at the back in the closing stages and you have to conclude that it was a match they could, and should have won – there was some naivety in the way they played in the dying minutes as well.
So, if there is some doubt in my mind as to who was more deserving of the win, there is none when I state that it was the best game played at this level on at Leckwith this season. Now, it needs to be said that the competition for that title was hardly strong (the previous four matches had seen three goals scored, two of them penalties, and precious little in the way of entertainment), but this was a good game of football which offered proof that the entertainment factor in a match doesn't directly equate to the number of goals scored.
It was a bit a slow burner mind, as a City side featuring recent first team squad members Declan John, Ibrahim Meite and Mark Harris, along with Weston Super Mare loannee Lloyd Humprhies, made slightly the stronger start, but it took a while for either keeper to have a shot to deal with – when it came, Eastwood knocked right back Cameron Coxe's effort out in front of him into an area where you might have expected a natural striker to have been following up.
As mentioned earlier, United then had a strong spell where City needed a little luck to keep the game scoreless, but they reasserted themselves from around the half hour mark onward and were definitely in the ascendancy when Jamie Bird side stepped a defender and fired a fierce angled shot high into the net from about twelve yards.
Rather like Kenneth Zohore, when Bird scores they tend to be good goals and here a player who has been pretty quiet since since his return from a loan spell at Weston which, seemingly, did not go as well as Humphries' has done began to look more like the player who had been so impressive at this level in the early stages of the season.
Bird was involved in most of the good things City did going forward in the second half, but before he became more of a factor, City had to get through a a very awkward first ten minutes or so as a fired up visiting side, with left winger Stephen Mallon particularly prominent, piled on the pressure.
During this spell, City were grateful for the authoritative and  commanding presence of Oliver Byrne as the former Man United keeper turned in the best performance I've seen from him since he arrived at the club – there wasn't much that was spectacular, but there was a general air of competence and confidence to everything he did which I feel must have helped his team mates come through a testing period.
Byrne still had to rely on team mates for a couple of clearances off the line though from Jordan Blaise and Jamie Veale, with the first of these coming after the keeper had been penalised for handling one of a series of misplaced or under hit backpasses that offered an illustration of how his team were struggling at the time. The centre back was in the right place to get the ball away when the shot came in from about fifteen yards after the free kick for Byrne's offence was taken.
Although Byrne shone, he had far fewer shots to save than Eastwood whose save from Bird signaled a lifting of the siege City had been under – it was a good save by the keeper, but he did have luck on his side as the ball went over from his boot, when it could just as easily diverted into the net and it wouldn't be the last time fortune smiled on someone who, probably, deserved to have the rub of the green at times.
After a quiet first half, Harris also grew into the game, but he would have been disappointed to have not made more of a fine pass by Veale I think it was, which would have left him in on goal if his first touch had been surer. However, when Bird sliced the United defence open with a lovely through ball, Harris did little wrong as he rounded Eastwood, only to see a defender get back and do well to get his shot off the line, while, within minutes, his beautifully struck half volley from twenty five yards flew narrowly wide.
Eastwood did well to deny Bird again and then had to keep out an effort from sub Rhys Abbruzzesee as the game swung from end to end with City suggesting they carried more of a cutting edge. However, as the match drifted towards it's conclusion, carelessness, wrong options taken and that naivety I mentioned earlier crept in as chances that should have provided the second goal which, almost certainly, would have killed United off, were squandered.
The worst example of this was when a four on two break was botched as Meite (who I believe is still waiting for his first goal in City colours) took the ball on himself and then, having got into a shooting position, fired wide, but there were other instances where a bit more poise might have paid dividends.
Essentially, Sheffield were having attacks which looked promising, but tended to fizzle out, while City, albeit with a lot less defenders in front of them, were getting close enough to see the whites of Eastwood's eyes without being able to deliver the knockout blow.
It's easy for me at sixty one years of age to be critical of wrong options being taken by a team full of players in their early twenties or still in their teens, but the fact of the matter is that, thinking back to when I was their age, I would have been making exactly the same mistakes, but without anywhere near the amount of natural talent they possess!
However, when sub Marco Weymans, so very impressive in the thrashing of Watford a few weeks ago, took a free kick some forty yards from the United goal so quickly because he thought he could play a striker in on goal, you couldn't help but wonder if his haste would come back to hurt his team.
There had been a a few minutes of added time played when Weymans was thinking entirely in terms of trying to make it 2-0, rather than taking the opportunity to keep the score at 1-0 and run the clock down by taking the time the awarding of the free kick had given his team. As a result, Sheffield were pushing forward within seconds as they gained a cheaply conceded corner that was cleared by the defence, only for a foul to be awarded against the home side.
So, having had a free kick forty yards from their opponents goal less than a minute earlier, City were now the team defending one from the same sort of distance. Predictably, the ball was lumped into the penalty area and, suddenly, a header down found left back Graham Kelly in glorious isolation about six yards from goal. For a split second, it looked as if City had been reprieved as the defender missed his kick with the goal gaping in front of him, but he was able to recover in time, to slot home the goal which denied us those two extra points which would have put us level with Millwall.
Just to mention finally, that Neil Warnock, Kevin Blackwell and Ken Choo all watched the first half of the game with the manager disappearing for a while, only to return in the second half and sit close to three of us who were watching the game together. I'd be lying if I said we spent the next half an hour or so continuously chatting away to Mr Warnock, but we did have the occasional conversation which was prompted by him and he also was happy to have his photo taken (twice!) with one of us at the end of the game. The impression I got was of someone who is totally comfortable in the company of supporters of the club he manages and there was not the slightest feeling that we were being patronised – I'm not saying all of the other managers we've had have gone out of their way to avoid that sort of situation, but I can't think of another one where it would have all felt as relaxed as it did yesterday.