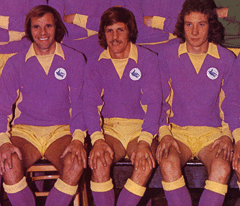 It appears to be the same for any club in the country. While it would be stretching a point to say supporters love a crisis, I think it is true to say that messageboards and phone ins are busier when the team they are the subject of have been beaten – in fact, on a national show like 6-0-6 (a programme which has long since lost it's attraction for me from it's early golden days when Danny Baker was the presenter) the format has become let's get the fans of the one of the "giant" clubs who have lost today to ring in calling for their manager to be sacked.
It's the same on a smaller scale throughout the leagues – it appears people want to talk more about their team when they think there is something wrong with it than they do when they've just won.
I'm as guilty of this as anyone. For example, I found it a lot easier to come up with my piece about City's loss to Norwich last weekend than I'm doing with yesterday's superb 2-0 win at Elland Road which Neil Warnock described as, by far, the best performance so far in his time with the club – in fact, Warnock was hard pressed to think of a better away performance during his managerial career.
Maybe the best way to handle things is to look at our last two, very contrasting, matches as a pair, because I believe, between them, they offer an accurate assessment as to where we find ourselves now as the season goes into it's final third.
It may be that people find it easier to spot what is wrong with the team, rather than what is right with it – or maybe they take what is right with it for granted?
To get an idea of what I mean, you need to go back to what many fans (myself included) were thinking before a ball was kicked – in essence, we were a team which was strong at goalkeeper and centreback, with decent full backs and any success we would have during the season would be based on this strong foundation, because we looked a bit light when it came to creativity, attacking pace and a goalscoring threat.
In it's simplest terms, the reason why, despite relegation looking much less likely than it once did. we still need to be concerned more about leaving the Championship this season in a downward direction than an upward one is that is that, while the pre season assumptions made about our attacking play have largely been proved to be correct, the ones made about our defending were seen to be false during the first half of the season.
However, while it's probably too soon yet to say that the defensive woes which blighted our campaign before Christmas are completely behind us, the evidence since the turn of the year is that we are now playing in a way which, firstly, some of us were expecting back in August and, also, we are getting closer to being the sort of team I thought we would be under Neil Warnock's management.
For a while, the improvement in results under our new manager could be put down more to the team rediscovering the knack of goalscoring, rather than any improvement in our defending. If one game typified City during Warnock's early months in charge, I'd say it was the 4-3 defeat by Barnsley in which our new found goal power was completely negated by rank bad defending (and goalkeeping).
Yes, the Barnsley game was an extreme example of what was going wrong, but the fact that we reached the arrival of 2017 having only kept two clean sheets all season proved that what had been assumed to have been a strength before a ball was kicked was, in fact, our main weakness.
The New Year has seen a big change though. With one exception, our Championship games in 2017 have been much tighter affairs – leaving aside that madcap last twenty minutes at Ashton Gate that saw us score three and concede one, seven hundred minutes of league football have produced just twelve goals.
That is very slightly over one goal at either end every hour – as I say, the late stages of the Bristol game distorts things somewhat, but, even so, we are still only seeing an average of two goals a game this year.
The good news for City fans is that the overriding reason why we are seeing far fewer goals in our matches in the last few weeks is that we have started defending like a team with that good goalkeeper and defenders I thought we had back in August should defend.
Eight Championship games beginning with the win over Villa on January 2 have seen just six goals conceded and, of those, one was down to rank bad luck (Bristol City's first goal), two, possibly three, (Brighton's and both goals Reading scored) could be said to be goalkeeping errors and another (Cameron Jerome's last week) was the result of someone not doing their job properly at a defensive free kick.
I'd say the only league goal we've let in during this time where the opposition genuinely opened us up was Bristol City's second one and even then, we could have done better in preventing the cross that led to it being made.
The side which only kept two clean sheets in it's first twenty three Championship matches has kept four of them in eight games during 2017 – finally, Neil Warnock is instilling the defensive solidity and organisation that has been a trademark of his better teams.
The overwhelming feeling I got as we saw out the final ten minutes yesterday was how comfortable it all was. Obviously, our opponents having a player sent off (possibly a bit harshly?) helped on that score, but the truth is we were comfortable while Liam Bridcutt was on the pitch and it was eleven against eleven – people can talk about Leeds missing important players like Pontus Jansson and Charlie Taylor, but I make it we had three likely first teamers out with injury and another in Junior Hoilett deemed to be not well enough to be in from the start.
People can talk about Leeds having an off day, but they don't have too many of those this season, so why did they have one yesterday? My answer would be that we played to our current strengths and "did a job" on them.
Leeds were stifled, thwarted and frustrated by a City defensive effort which was helped by Sol Bamba (arguably the best of what is beginning to look a very strong collection of centrebacks again since his signing in October) and Sean Morrison at the heart of it, had Matt Connolly looking a lot like his old self at right back and Jazz Richards bringing that quiet confidence and calm he has when he is on his game to the left back position.
In front of those four, Kadeem Harris, did his bit defensively while also having one of his better days going forward and the pairing of Joe Ralls and Aron Gunnarsson were their typical selves in a defensive context, while also being that bit more effective going forward than they often are.
It's the other two members of our midfield five, I want to give some credit to though. After the game, Neil Warnock told about how, with Peter Whittingham left out and Ralls disappointing when it came to set piece delivery, City had to find someone to take the free kicks and corners. Almost by a process of elimination, they arrived at Craig Noone and the recalled winger, in much the same way as Don Cowie used to do occasionally in years gone by, took the chance to show that, just because he takes so few of them it doesn't mean that he isn't any good delivering from dead ball situations.
I can remember Noone comfortably scoring  a penalty last season against Sheffield Wednesday and him scoring  from a free kick against Bolton during Peter Whittingham's very long run without a free kick goal – Noone's scoring record from free kicks taken during his Cardiff career may be 100%!
The quality on the free kicks Noone provided in either half from different sides of the pitch was a reminder that, in some departments at least, we compare very favourably with other Championship teams and I think it's true to say that if he were at some other clubs, he would be their dead ball specialist week in, week out.
One of those free kicks made Morrison's task in heading us into the lead a pretty simple one, while the other one perhaps should have been put away by Greg Halford in the first half. If Halford could be criticised there, I'd say that, more than in any of his appearances so far, he showed that he can do a good job for us over the coming months.
Looking at it now, the January transfer window was seen by the club's money men as an opportunity to get other clubs to pay at least of some of our player's wages by loaning them out to them. With the injuries we have to the likes of Lee Peltier and Bruno Manga, the decision to loan out Semi Ajayi (who played his third full ninety minutes in three games for Rotherham yesterday) could potentially cause a problem and, similarly, sending Emyr Huws (scorer of the only goal in Ipswich's win at Villa) and Stuart O'Keefe on loan for the rest of the season looks a risky move.
However, I don't think it's been fully appreciated yet just how versatile Halford is. With him in your eighteen, most scenarios that could occur in terms of injuries are covered and it needs to be remembered that Halford is a proven performer at this level over a decade and more – he is better than many City fans think he is and, especially with the small squad we will have for the remainder of the season, strikes me as the sort of underwhelming, but shrewd, signing our manager specialises in.
So, the nine outfield players behind Kenneth Zohore, who had the reward of a third goal of the season for another selfless and effective performance, all did their bit in nullifying Leeds, but so to did keeper Allan McGregor who, while doing nothing spectacular, gave another example of his overall competence. This suggests that, after a few dodgy moments in McGregor's early games for us, we may have solved the goalkeeping problems that were created by the bizarre selling of our best two in that position in the weeks before the transfer window closed.
Although I'd say that with his signing of Hoilett and the faith he has shown in Zohore and Harris, Neil Warnock has done much to improve the previous weakness of a lack of pace in our attacking players, he talked again about our lack of natural goalscorers in his post match press conference yesterday.
It's telling that if you watch City lately on one of the highlights packages Sky put together of every Championship game or one of their, very rare, appearances in Channel Five's main game in their highlights show, those highlights don't tend to last as long as they do with  matches involving most others in our league.
In many respects, this is because we don't allow our opponents too many sights of goal these days (I can't remember any serious chances Leeds had that didn't turn up in the highlights packages on Sky and Channel Five), but another reason for it is that there are never that many occasions when we really threaten our opponents goal either.
Channel Five chose not to show Zohore's header from a Ralls cross which was cleared off the line by a Leeds defender (or was it going wide?), but, that apart, I don't think either organisation could be accused of being biased against us – the truth is that when you have a team which is not that creative and, by their manager's own admission, lacks natural goalscorers, there are hardly going to be shots raining in on goal from all angles.
That conclusion may seem a harsh one when you consider that  we have scored twenty eight times in the twenty games we have played under Neil Warnock. After all, it equates to something like sixty five goals over a forty six match season and that's considerably more than Russell Slade's Play Off challenging team managed last year, but I'd say that our goalscoring record under Warnock's tenure is a testimony to someone who is getting the very best out of a pool of attacking talent that is nowhere near as deep as many others in this division.
I think the best way to look at it is that, while it may have taken him longer than he thought, our manager is getting the defending right and when we are set up to contain opponents, we now have a little more to hit teams with than our threat from set pieces. However, it's when sides sit back against us (like Norwich did after they scored and like Burton did for most of the time) that our lack of quality attacking options becomes more apparent – Rotherham looks a banker home win next week, but all of the evidence of this season so far suggests that, if we do win, it will be through another Burton type grind.
As things stand, we don't possess the attacking tools to consistently break down better teams than Burton and Rotherham if they come here intent on defence. Yesterday offered further evidence of our strengths as of now (defending, good spirit and set piece delivery) and we should better appreciate what we are good at, but, assuming we don't go down, the challenge for the club for next season is to come up with a way of overcoming the weaknesses that, surely, will preclude us from ever being serious promotion challenges.
Unfortunately, it's here where we are at a serious disadvantage compared to most of our rivals in this league. Maybe Vincent Tan could be more generous in giving Neil Warnock a budget which enables him to bring in at least some of the new players he wants, but, sorry to harp on about this again, the truth is that until we can either start producing youngsters from our Academy of a standard that gets other clubs willing to offer millions for their services or we stop seeing players leave the club "by mutual agreement", rather than for a transfer fee, it's going to be virtually impossible for us to stay within the FFP regulations  and give our manager a few million to spend on new players every summer.