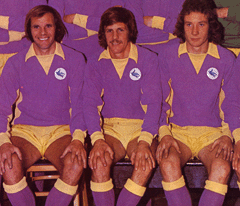 Having seen all of the competitive first team football we'd played this season prior to last night's visit to Blackburn, it was hard to get back into the routine of relying on what the likes of Rob Phillips, John Hardie, Kevin Ratcliffe, Ian Walsh, Andy Legg etc. were saying about the action to form your immediate impression of how we were doing – this becomes doubly difficult when the messages you get are as mixed as they were during yesterday's 1-1 draw.
With Blackburn still under some sort of transfer embargo (it seems a lot less rigourous than the one we had for much of 2010), not having won a match yet and  having lost key players like Rudy Gestede, Josh King and Tom Cairney in recent months, it seemed a good time to be playing them – especially when you consider Jordan Rhodes was out injured as well. We'd played pretty well in our first two league matches and our comeback from two goals down at QPR meant that although it was not a win in reality, it certainly felt like one at the final whistle.
Therefore, I was more confident about our chances of a win at Ewood Park than I usually am before away matches and, certainly for the first half an hour or so, it felt like my optimism had been well founded. Joe Mason, with a characteristically calm finish, had us in front in a league game for the first time this season in no time at all and it all sounded so comfortable as Blackburn laboured to get on terms. Trouble was, there wasn't as much as you would have expected to hear about us having the chances to double our lead – in fact, there was next to nothing.
Instead, increasingly, it was Blackburn who were causing the commentators to raise their voices as we came under something of a siege in the minutes before half time. Although there were times in the second half when it sounded like City could regain their former serenity, the feeling I had as I listened to the final quarter of the game as the Blackburn pressure mounted and mounted was an inevitability that they would equalise and this they duly did when captain Grant Hanley was left unmarked on the far post after City looked to have initially dealt with one of many free kicks, corners and long throws into their penalty area.
In the end , Blackburn almost ended up winning it and yet, for maybe more than half of the match, it sounded like we had the measure of our opponents, so did we get worse as the match went on or did our opponents improve?
In many ways, it sounded like a repeat of the 1-1 draw on the same ground we opened last season with – a dominant first quarter of the match which saw us a goal in front followed by a real struggle from which we escaped with a barely deserved point.
I remember at that time being shocked at how little of the ball we had over the ninety minutes, but that was when we were being told that we had the best Championship squad ever – over the months that followed, the sort of possession figures that were in the 60/40 region against us became something of a norm.
Although two matches (three if you also include the League Cup game with Wimbledon) where we had enjoyed more than 50 per cent of the ball hardly represents a big enough sample from which you can draw definite conclusions, it was still nonetheless satisfying to think that we may have turned a corner regarding a facet of the game which only saw bottom club Blackpool rated below us in the Championship last year – yes, I know possession stats aren't the be all and end all, but, as a follower of the maxim which says your opponents cannot score when  you have the ball, I'll always feel happier when we have it for the majority of a game.
If it's too early to draw positive conclusions about how much of the ball we'll have from a couple of matches, then it's even more true that negative ones should not be taken from a single game. However, last night's 58/42 breakdown in favour of  a Blackburn side whose main attacking ploy sounded like it was to put our keeper and defence under an aerial bombardment (hardly a tactic that  sees its user dominate possession normally) was an uncomfortable reminder that we are relying on a player coming back from a very long injury lay off and some tactical tinkering whereby a wide midfield player has to, in some ways, perform three different functions to try and put right the area of the team that caused biggest concern last season – it's like using sticking plaster to try and stop a wing falling off a plane!
While Kagisho Dikagcoi's presence and Joe Ralls' versatility have made a difference in possession figures so far, the evidence is that, up to now, increased possession does not really equate to more shots on goal. The 37 league matches played under Russell Slade's management last season saw us have an average of about 3.6 shots on target per game, so far we've had 11 efforts this time around in our three matches. So, there is an improvement, but it's only a marginal one.
Now, I've not got anything to hand to show how our average of 3.75 shots on target per game compares to the rest of the league, but, over the whole of last season only four teams had fewer shots at goal than us and only six clubs had a lower percentage of shots on target than us, so my guess is that our current figure would see us about two thirds of the way down the table when everyone has played three matches.
I deduce from this that we lack creativity and that we need a central midfielder who could provide that just as much now as we did back in the spring. Now I say this knowing that a midfield could be laying potential goals on a plate only for poor strikers to put these very presentable chances either high or wide, but how many bad misses from City's strikers (or any one else for that matter) can you recall so far this season? Joe Mason made a mess of a good chance at QPR, Anthony Pilkington probably should have scored from an opportunity he had in the first half of the same match, but, apart from that, I'm struggling to think of any – I can't even remember Alex Revell having a goal attempt of any description in a league game so far!
Sorry for sounding a bit like a scratched record about our central midfield, but my report on them so far would read "better, but still in need of much improvement". With our meat and two veg manager showing no inclination to try a more exotic or sophisticated tactical cuisine, I struggle to see how we can see truly significant levels of improvement from what has so obviously been the weakest part of the team since we returned to the Championship – I appreciate Russell Slade is limited by budget constraints as to how much he can do to address problem areas, but, with our one genuine summer addition to the squad not even getting off the bench at Blackburn, wouldn't a central midfielder on loan have made more sense than yet another winger?
*pictures courtesy of http://www.walesonline.co.uk/