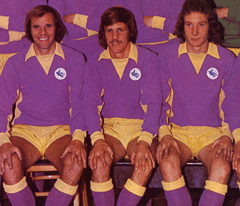 The last time I saw Kimbo play he was substituted after about 40 minutes in the awful League Cup defeat by Bournemouth, last night he lasted about twenty minutes longer in the Development team's 3-0 victory over Bristol City at Cardiff City Stadium, but the circumstances behind his withdrawal were completely different from what happened in late September.
Whereas he and Javi Guerra were hooked against Bournemouth for being especially dreadful in a team where everyone was playing poorly, the feeling last night as Kimbo left the field was of a job well done as he had sent out a signal that he was still around and should at least be considered for the first team vacancy caused by Anthony Pilkington's injury.
I'm not looking to blame anyone here because it's impossible to know what goes on behind the scenes at any football club, but the South Korean international's fall down the midfield pecking order at Cardiff has been a remarkable one when you consider what happened in our first ever home Premier League game fifteen months ago. Fraizer Campbell may have got the headlines for his two goals, but it was Kimbo's creativity, ability, strength and determination that caused last season's Premier League Champions most defensive problems that afternoon.
From architect of Man City's defeat to being subbed before half time against Bournemouth in just over a year is a pretty spectacular fall from grace and as we get ever closer to the half way stage of the Championship campaign, Kimbo has still not played any part in it – as I mentioned before, I don't know whose fault this is, but it seems to be a criminal waste of someone of his talent to me.
That said, I suppose things need to be put in a bit of context and last night Kimbo was up against enthusiastic, but pretty limited opponents. Bristol City, apparently, have a policy whereby they concentrate very much on youth at this level and this has led to a lot of defeats for them this season – I think I'm right in saying that only their number ten Jordan Wynter last night had any first team experience and that is only in cup competitions.
By contrast, City fielded a strong looking team with three full internationals (Kimbo, Etien Velikonja and Declan John), five others who have played for the first team and Danny Johnson who has just returned from a loan spell at Tranmere.
So, it certainly seemed to be the sort of game that City should win at a canter and, while I thought their spirited opponents came out of the match with some credit, that is pretty much what happened. While the wurzels were able to be competitive and, occasionally, dangerous, for much of the time, City always looked to have an extra gear they could click into when required and when they used it, Bristol really struggled to cope with them. I thought this led to City become careless at times – it was as if they knew they were going to win whatever their opponents came up with and so the intensity, understandably I suppose, was inclined to drop at tiems.
Things started pretty sluggishly for City with some unnecessary errors and the visitors came as close to scoring as they did all night when a free kick from twenty five yards flew narrowly wide with home keeper Ben Wilson at full stretch. In the minutes which followed, Bristol were able to work themselves into some threatening positions as they tested City's defence, but their attacking threat blew itself out pretty quickly and the last three quarters of the game became something of a holding operation for them.
This was especially true once City began to exhibit a commodity that Nathan Blake, for one, is always saying we lack at lack at first team level – attacking pace. Kadeem Harris will always provide that and he and Declan John began to cause problems down the left as they linked up well, but it was on the other flank where Kimbo was operating that City really made inroads.
When a delightful flick by skipper Tommy O'Sullivan  found him around the halfway line, Kimbo cut inside and, showing pace to burst clear of his marker, carried the ball for about twenty five yards – it looked for all of the world as if he was going to shoot, but, instead, he played a neat ball through to Velikonja who coolly steered the ball home to give his side the lead after around ten minutes.
O'Sullivan was involved again ten minutes later when his crossfield pass found right back Jazzi Barnum-Bobb before the ball was eventually worked to Kimbo who got to the byeline to provide  a low cross that was easily tucked away by Harris to double the lead.
At this stage, I thought City could be on for a huge win, but, fair play to the wurzels, they dug in and were able to limit the number of chances created from then on – in saying that, Johnson probably should have done better than shoot wide when a fluent passing movement worked him into a good position not too far out and Kimbo almost got the goal he deserved when Harris' fine cross found him, but a defender did well to deny him, as his shot was blocked at the expense of a corner.
With ex City keeper Dave Richards making some good saves, Bristol got to half time only 2-0 down and, in effect, they were over the worst as far as direct threats on their goal were concerned. The second half saw City work themselves into plenty of promising positions as they got in down the flanks on both sides only for a combination of a poor final ball and some dogged defending to ensure that not a great deal came of these opportunities and Richards was given surprisingly little to do.
The keeper did make relatively straightforward saves from Johnson and Velikonja, but he was helpless when Johnson received a pass from Barnum-Bobb and placed a left footed shot into the net from twenty five yards for the goal of the game.
The remaining half an hour saw Harris (who switched flanks throughout) and John have their moments, while centreback Tom James, in what I think is the first game I've seen him play this season, confirmed the good impression he made last year with another effective and composed showing.
However, if anyone in last night's side is likely to be in the eighteen for the Rotherham game, I can't help thinking it'll be Kimbo. I'd still say that Pilkington's replacement is more likely to come from one of Mats Dæhli or Joe Ralls, but I think there could be a place on the bench for him if he got his chance and showed the same commitment and enthusiasm as he did last night, it would almost be like us signing  a new player.
* photos courtesy of https://www.flickr.com/photos/joncandy/sets/