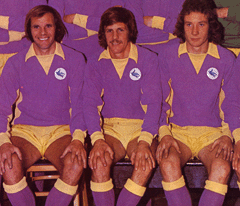 I had a ticket for last night's meeting at Cardiff City Stadium where CEO Ken Choo and team manager Russell Slade answered questions from supporters, but must admit that I headed to the ground with little enthusiasm.
To be fair to both men though, I thought they did a decent and, within the parameters they have to work to, honest job in giving those present as much information as they could.
What follows will not be a faithful record of all that was said, more my recollections of how the evening went. My intention is to just set out what I can remember now and try to keep my own comments on it to a minimum. I've had more than enough to say about our manager on here over the past year or so and a lot of it has been critical – suffice it to say that nothing he said led to any dramatic changes in the way I feel, but I did respect the way he went about things and can now better understand where he is coming from on some matters.
Here's what I can recall about some of the main topics discussed.
January transfer window and transfer business before that
Russell Slade said that there was a hope that he would have some money to spend in the upcoming window, but, to use his own words, he would have to wheel and deal, so it looks like any spending we do will mainly be from funds raised by player sales. Based on what was said, our manager is basically content with the goalkeeper and defenders he has and my impression was that he felt similarly about central midfield – it sounded like striker and winger were the positions where we would be looking to strengthen and the feeling I got was that we may well be looking towards mainland Europe for any newcomers.
This leads me on to Vincent Tan's tie up with Belgian team KV Kortrijk, It sounds like this project is meant to have benefits for City – there have already been those reports about people at that club brokering the Idris Saadi deal and Ken Choo hinted it may go further than that, while Russell Slade said that some of the younger players we've signed as what he called "projects" came here without him having seen them play (we've signed French and Belgian teenagers in the last six months).
There was also talk about our manager's mixed record in the transfer market so far – Russell Slade didn't duck the matter, but said that one of the reasons for signing players like Revell and O'Keefe was to get the "right sorts" into the dressing room. The distinct impression given was that morale wasn't great in the squad last season and our manager talked of senior players in our ranks who had been around for a few years feeling that something had to be done to change the mood around the place. I don't think this comes as a surprise – from the outside, there seemed to be cliques in the squad last season and I've no reason to disbelieve what was said on this matter last night.
First team.
The distinct impression I got here was that Russell Slade is not some ostrich burying his head in the sand about what the team needs – he talked about the squad needing to improve in the sort of areas fans talk about. For example, he said we need to get more pace into the team, we need to create more from open play, we need more goals from midfield (but said he doesn't see Peter Whittingham as a ten goal a season man these days) and, although he was fairly pleased with how we are doing at home, we need to be more assertive on our travels.
As for individuals, the strong impression I got was that Joe Ralls would be playing more of his football in central midfield from now on – Joe was also one of a few that Mr Slade thought had it in them to be scoring more often (Craig Noone and Anthony Pilkington were also mentioned in this regard).
Academy and younger players
Our manager was blunt when it came to this subject, he thought a club the size of Cardiff should be doing better than it has been in recent years.
Listening to what he had to say, I got the impression that Russell Slade is not a big fan of the current system regarding Under 21 team football. Maybe I got it wrong, but it sounded to me as if he preferred something like the old Football Combination system where we had a reserve team made up of something like a 50/50 split of senior players out of the first team for whatever reason and players aged between, say, 16 and 19 who were being rewarded for good training and/or age group performance.
Having watched Under 21 football for three and a bit seasons now, I must say I agree with our manager if I have read him right – there are times when the occasional side plays our Under 21s with about four or five first team squad players in their ranks, but, more often than not, our opponents will field sides full of teenagers.
Bearing that in mind, I can understand our manager's apparent preference for loaning players out over letting them turn out for the Under 21s every week – Mr Slade again mentioned Tommy O'Sullivan "stagnating" in the Under 21s and that was the strong impression I gained when watching him play early in the season.
There was a good question asked from the floor about why so many players, not just at Cardiff, who look great prospects at certain ages, do not kick on and improve when they reach their mid to late teens – the question also asked referred to youngsters who have been released by the club who had something that seems to be in short supply throughout the full time pro squad at Cardiff now – pace.
Ken Choo made some interesting comments on this when he talked about the good crop of 13 to 15 year olds we have coming through. The CEO used them to try to illustrate the long term commitment to the club by the current owners, but also talked of a player within this age group who had committed to City despite interest from top clubs in the Premier League (he also said he had turned down a bid by Man City for one of our young players this week).
Mr Choo did emphasise that it is very hard for a club of our size to resist the overtures of really top clubs if they are determined to get one of our kids, but, even so, I've heard from other sources that we have some good prospects coming through. This year's Under 18 side seems to me to contain more fifteen and sixteen year olds playing on a pretty regular basis than you'd normally expect, so, perhaps, in a few years time, we'll be back in a situation where we will be achieving the two or three youngsters breaking into the senior squad every year that Russell Slade talked of last night.
One last thing on this subject, I've no way of checking it, but, as a long standing critic of our manager for his failure to encourage young players at Cardiff, I was taken aback to hear him say that one year while he was at Notts County, nine youngsters from their youth system broke into the first team squad!
Other stuff
Both men talked about the impact of Financial Fair Play rules on the club with the clear impression being given that we were heading for a transfer embargo if things had carried on as they were.
On a personal level, while I'm sure I know where his ultimate loyalties lie, I've also thought that in Ken Choo we have a CEO who is more sympathetic to supporter opinion and desires than some of his predecessors. The club have tried hard in the past year to rebuild bridges with their "conversion" to the blue cause (it was good to hear Mr Choo say that we would be playing in blue at Bolton on Saturday – why on earth did we have to play in red at Derby though?) and, sadly, have got little tangible reward in terms of people coming through the turnstiles for it.
The truth is, as I see it, that last night we had two men who have had to try to pick up the pieces following a series of on and off field blunders which were committed before they arrived at the club. Yes, we can argue about how good or bad Russell Slade is and I think it's fairly obvious to regular readers of this blog that I'm not a huge fan of his, but last night tended to confirm something that I knew already – he had, and still has, a hell of a job on his hands at Cardiff.
Although he chose his words carefully, our manager's disappointment with the atmosphere at our home games came through. He spoke about Cardiff fans being well known for their passion and commitment towards their team, but it's a passion and commitment that he's rarely, if ever, seen during his time here.
Yes, the nature of the football his team has played for most of the past fourteen months has been responsible for much of why a trip to Cardiff City Stadium has become akin to a visit to a library in some ways. but the apathy caused by a mixture of disillusionment, anger and disappointment was already firmly in place before he and Mr Choo arrived.
* picture courtesy of http://www.walesonline.co.uk/