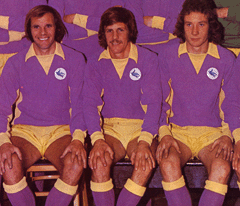 Fool that I am, I was telling people that last night's derby game with Bristol City at Cardiff City Stadium just might be the match where we could finally see some football entertainment break out at the ground. I wasn't convinced we would win, but, if we didn't, then I thought it would be a watchable draw as I predicted a 2-2 scoreline or a win sneaked by a score of 2-1.
I based my thinking on the fact that recent home matches with the wurzels had seen plenty of goals amid some good Cardiff performances. However, I was ignoring the more recent evidence that says to expect entertainment in a home game under Russell Slade's management is akin to believing it will snow on Christmas Day – it may just happen at some time, but all logic suggests it will be the same old mild, wet and windy stuff we had last year and the year before that etc, etc.
There have been away matches under this manager which I've seen and thought we played well there (our two wins at Forest and the draw at QPR spring to mind), but I can still only think of last season's league game with Champions Bournemouth as possibly fulfilling that criteria when it comes to home matches with Russell Slade in charge.
That's not to say that games at Cardiff City Stadium have been totally devoid of satisfaction this season – the matches with Fulham, Wolves, Hull, Charlton and Middlesbrough all had something going for them in different ways, but, largely, if there was an admiration of the team it was for things like their grit and efficiency. We had our moments of quality in some of those matches, but, I've always left the ground satisfied with the outcome, rather than thrilled by the football.
It was those qualities of determination and discipline which led me to say in my piece on the Middlesbrough win that our team and manager were deserving of better support this season than they've had both in terms of the numbers turning up and the atmosphere within the ground. I stick to that opinion, but last night's grim 0-0 stalemate offered a timely reminder that any improvement is only a marginal one that, certainly on last night's evidence, does not stretch to all departments of the team.
Even when the display is as poor as last night's though, there was still some evidence of that improvement. I'm thinking in particular here of the defence where, although all four individuals within the unit fell some way short of some of the showings they've put in this season, as a unit they did well enough to earn a third consecutive clean sheet in a match which I believe we would have lost last season.
Behind them, I don't think we've improved on the goalkeeping front, but then we didn't  need to because, as long as his recent case of red carditis doesn't become a chronic condition, we've got, arguably, the best around at this level. For me, David Marshall was a clear City man of the match last night, with his brilliant first half save from the impressive Jonathan Kodija's header being the highlight of a performance which, one or two wayward kicks apart, oozed quality.
As for the midfield, well, for the first ten matches of our league season, there were clear signs of an upturn in performance in that area, but the last three games have seen many of the issues which plagued us in the middle of the park in 14/15 return.
Our play in the centre of the pitch was largely shoddy at Preston and we had a long period in the second half against Middlesbrough where we struggled, but last night was another level down from that in as much as that we were served a reminder of all of those awful games in 14/15 where an often outnumbered Peter Whittingham and Aron Gunnarsson laboured away unsuccessfully against opponents they were having the better of two years earlier during the promotion season.
Now, it would be tempting to claim that the dip in the quality of midfield performance coincides exactly Gunnarsson's return, but, although he didn't have much to beat when it came to how his colleagues in central midfield played, I thought he was the best out of the trio that also included Whittingham and Kagisho Dikgachoi.
Gunnarsson gave what I would rate as five out of ten performance, while the other two couldn't match that. Dikgachoi started quite well, but soon faded and looked out on his feet when he was withdrawn ten minutes after half time. Maybe there was an injury or some other fitness related item which contributed to his poor play, but that wouldn't explain why he still looks to be carrying a few pounds too many to me.
As for Whittingham, I've thought that he was beginning to look a little more like his old self over the last few weeks, but, given the type of player he has become, he contributes little to a game if his passing and dead ball delivery is off a bit and, for me, that applied last night. I seem to remember mentioning sometime  last season that I genuinely forgot Whittingham was still on the pitch in one match such was the inconsequential nature of his performance and the same thing happened last night – when he got on the ball with about five minutes left I blurted out "oh, he's still there is he!", I'm sure it sounded sarcastic, but I wasn't trying to be, it was just that I couldn't remember him being involved in the game for about ten minutes.
After the match, someone made a point that I thought was a very good one when he said he thought sides had now figured out how to play against our lopsided midfield. After all, it's hardly something that is too complicated to work out and I'm sure it's not the first time the sides that we play would have faced the same, or very similar, formation.
However, it's worth remembering that where there had been Joe Ralls in that left sided triple role which involves attacking and defensive duties on the flank and a need to come inside to bolster an often outnumbered central midfield, there has been Whittingham for the last couple of games. Last night, I thought it was noticeable how much room Elliott Bennett was getting on Bristol's right and how isolated Fabio looked at times (on the other flank, Lee Peltier didn't get a great deal of defensive help either – from a defensive viewpoint at least, Ralls and Pilkington as the midfield wide men looks a more effective combination than Whittingham and Noone).
So, on balance, I'd say that our recent midfield problems do not necessarily mean that the system which helped bring us some early season joy has been nullified yet – it may be that the issue is more to do with personnel rather than formation.
However, what I found most concerning last night was that the downright poor passing, ponderous movement, with or without the ball, and general lack of urgency which typified our midfield through much of 14/15 was back. Bristol were much more decisive and cohesive in that area than us and I thought they were two or three goals better than us overall.
Whereas, our visitors were able to move the ball quickly and accurately using one or two touches, the poor technique shown in playing what should have been simple passes meant that City players often had to use a touch to control misplaced and overhit passes and so any momentum in the movement inevitably broke down. Not only that though, City players were often also falling down on basic ball control, so, once again, a second touch was needed before the ball was ready to be passed on again – quite why this should be on the sort of pitches we get these days is beyond me.
This lack of basic skills often extended to our defenders and front runners and, in the case of the latter, was another factor which contributed to a showing from Joe Mason and Alex Revell which simply wasn't good enough, either as a combination or as individuals,
In the case of Mason, I spend a lot of time defending him from criticism, but I couldn't last night because it was hard to see a saving grace in his display. It wasn't terrible, but, rather like Whittingham contributing next to nothing if his passing and dead ball delivery is off, Mason really needs to be scoring to overcome criticism about his right to what looks like an automatic starting place.
As for Revell, just as against Middlesbrough, he started well in his aerial battles, but he was unable to sustain his early dominance – he can make a contribution and I certainly don't think he is as bad as many of his critics make him out to be, but the overall impression I gained from his two first team games in less than a week, in which he never remotely looked like scoring, was that Kenwyne Jones will probably walk back into the side once he is fit again.
Yes, we have injuries, but the fact that we couldn't name a specialist striker on the bench says a lot about the lack of forwards we have at the club currently, while a first choice combination of Jones and Mason, both of whom have question marks against them that would see them probably left out at top clubs in this league, suggests that we are struggling in terms of quality as well. I don't see much evidence that we are stronger up front than we were last season.
Rather like his team, it wasn't a good night for Russell Slade. Predictably, he seized on a third consecutive clean sheet as a positive in his post match remarks, but when he says "I can't really put my finger on why, but sometimes in football you just can't find the levels that you've set yourselves", I've got to wonder what he means by that.
What are these levels that we've set for ourselves? It implies that we were miles off our normal levels last night, but is that really true? For me, what we got last night was certainly worse than what we've seen for most of this season, but not that much worse.
A "normal" City performance this season sees us perform diligently and in an organised manner that will, hopefully, see us eventually grind our way to a win (one first half home league goal all season offers the clue as to how tough we find it to wear opponents down). Failing that, we have often been solid enough at the back to ensure we don't lose.
However, our level of performance doesn't need to drop by too much for us to produce the sort of dross we saw last night. You would have hoped that a win over a fancied team like Middlesbrough would have seen an upturn in confidence and spirit that would see us go up a level, but, instead, in front of a crowd up a couple of thousand from last week, the team appeared nervous as they looked as if they had been taken by surprise by Bristol's use of a 3-5-2 formation they employ every week.
I have seen some criticism of the player's attitude last night in that they didn't care and our opponents were more up for the derby, but I agree with our manager when he says this wasn't the case. I feel that, as they always do, this group of players were trying their hardest. However, that's the worrying thing for me – the players are giving their best and all we are getting is a standard of performance which will almost certainly see us finish no higher than the position we occupy now.
All of the teams in front of us have at some time in the season come out with performances which suggest they can improve a great deal on their normal level. What evidence has there been that we can do the same because I certainly haven't seen any yet – based on what we've seen so far, a "good" Cardiff performance sees us probably edge to a win, possibly by a two a goal margin (a thrashing by the standards of this manager!), which has you feeling good about the result, but hoping for better next time.
I used the term "worthy but dull" to describe our team recently and, the more I think about it, the more I believe it to be true. I feel much more of an affinity with this team than I did with last year's and, although our meat and potatoes manager frustrates me continuously, I cannot say I dislike him -, it's just that I don't turn up to matches these days expecting anything more than worthy, but dull, football and tactics.
Finally, a few hours before last night's match I watched a young Under 21 side lose to 2-1 to Charlton at Leckwith. The make up of the side had me hoping that Matt Kennedy and Declan John may be in the 18 for the Bristol City match, but it didn't happen. In their absence, we had the better of the first half, but fell behind just after the break as Charlton dominated until the last ten minutes.  The visitors made it two nil with a slightly controversial goal as City claimed the ball had gone out of play before a cross was put in, but another good finish by Eli Phipps gave us some hope only for the visitors to see the game out pretty comfortably.
Best player for me was right back Dylan Rees, but, somehow, I don't see Russell Slade suddenly turning to youth for our visit to an out of sorts Ipswich team on Saturday!
*pictures courtesy of https://www.flickr.com/photos/joncandy/albums/with/72157660313041156