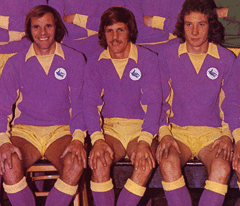 After their struggles in the 1971/72 season, Jimmy Scoular largely decided to keep faith in his Cardiff City squad in the hope that they could recapture their form of the three previous seasons. The only first team regular to leave was Mel Sutton who was sold to Wrexham for £15,000 (what a poor piece of business that turned out to be) while squad player Steve Derrett joined Carlisle with reserve keeper Jim Eadie going to Bristol Rovers on a free transfer. The money received for Sutton went on defender Albert Larmour who signed from Northern Irish club Linfield, but he proved to be the only new arrival as a familiar looking City team kicked off the new campaign with a 2-1 win over Luton at Ninian Park.
The 1972/73 season was the one in which City used the legendary mauve and yellow kit featured above for a very short while, so in those early away matches where there was a colour clash that year, City got used to looking like a laughing stock and it wasn't long before they were playing like one as well! That opening day win provided some rare cheer in an appalling sequence of results which proved beyond doubt that the struggles of 1971/72 had been anything but a one off.
Although Millwall were beaten before the end of August, eight of the next ten league matches were lost and it seems that after the sixth of these defeats (by 2-1 at Nottingham Forest), Jimmy Scoular decided to rip it up and start again. Major surgery was needed and first to go was striker Alan Warboys who had become a fans favourite when he was bought to replace John Toshack in December 1970, but had done little of note for a year or more in a City shirt. Warboys went to Sheffield United in a swap deal which saw a couple of Welsh internationals move in the opposite direction. Cardiff born striker cum winger Gil Reece began his second spell with City after being released by the club in the early sixties as a youngster, while injury prone defender Dave Powell took over from Larmour who, initially at least, had found the transition to the Football League a difficult one.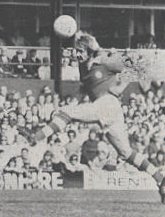 Results did not improve though and, following an abysmal 3-0 defeat in a televised match at QPR, Scoular raised funds for further team rebuilding by selling Ian Gibson and Brian Clark to ambitious AFC Bournemouth for a joint fee of £100,000. Gibson and Clark were very popular players and certainly during the difficult 71/72 campaign had been amongst only a few established players who had maintained their previous standards, but they were struggling this time around and so their sale made sense (rumours also persisted that Gibson's "colourful" lifestyle had seen him desperate to get away from Cardiff and a large number of gambling debts!).
The old guard weren't just being sold off though – Dave Carver, who had been a fixture in the two shirt for years was dropped for the 18 year old Phil Dwyer for the next game at Orient and the youngster did such a good job that Carver never played in the first team again. A 0-0 draw in Dwyer's first match represented an improvement of sorts especially when it is considered that Alan "Fatty" Foggon was sent off – Foggon had been a big disappointment since his arrival in July 1971 and would soon be another departure as Middlesbrough paid £10,000 for his services.
Other youngsters such as Peter Morgan, Billy Kellock, Derek Showers, Jimmy McInch, Alan Couch, John Parsons and Nigel Rees were given their chance around this time as well, but City needed experienced players in quick with strikers especially being required. When Jimmy Scoular did spend some of the money which had been burning a hole in his pocket though, it was on someone who I suppose would have been seen as a replacement of sorts for the departed Gibson in City's midfield.
Johnny Vincent wasn't really the same type of player as Gibson, but he was someone who tended to favour brain over brawn – an elegant left footed player who was a good passer of the ball and had a decent goalscoring record, Vincent had not settled at Middlesbrough after moving from Birmingham in March 1971 and jumped at the chance to move from the north east when City had an offer of £35,000 accepted for him.
In the sort of coincidence that football tends to turn up regularly, Vincent's debut on October 14 was against the very side he had left. Middlesbrough were a solid and well organised outfit in those days who would end the season in fourth place and their well established back four of Craggs, Boam, Maddren and Spraggon (they had to play for a north east side with names like that!) was amongst the meanest around. Jimmy Scoular had made a habit of using two target men strikers through much of his time in charge at Ninian Park, but, suddenly, the novice Derek Showers apart, he didn't have any to choose from and, so when you consider City's lack of attacking options and the quality of the defence they were up against, it was hard to see where the goals were going to come from.
As it was, City, with Showers and John Parsons up front, turned in their best performance of the campaign so far as Boro were brushed aside 2-0 with Vincent capping a fine debut with a left footed shot at the Grange End from around ten yards out that put City a goal ahead in the first half and full back Gary Bell consolidateding his position as top scorer by firing home his fifth penalty of the season to double the lead around the hour mark.
Although a 3-0 defeat at eventual champions Burnley the following week showed that there was still a long way to go before Scoular's rebuilding job was complete, the target man City so required was in place for the visit of Preston on October 28 as QPR's Andy McCulloch was signed for a club record fee of £45,000. Like Vincent, McCulloch opened his City goalscoring account on his debut as Preston were beaten 3-0 and the impact they both had during the early stages of their City careers could be gauged by the fact that those wins over Middlesbrough and Preston signaled the start of a spell of eight league victories in nine home matches  - while McCulloch's fine goalscoring record (he got fourteen from twenty six league starts that year) tended to take the headlines, Vincent's clever prompting played a big part in transforming City during one of the few times when the tag "Fortress Ninian" was actually justified.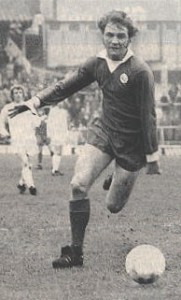 Such a run of results should have been enough to lift the team clear of the drop zone, but City were having to pick up virtually all of their points at home as they never won away in those days- that's not your typical Internet exaggeration either, City gained only seven points from twenty one away games that year and were in the middle of a winless run of away league fixtures which would stretch from October 1971 to December 1973!
Another club record signing in the shape of winger Willie Anderson from Aston Villa for £60,000 was needed before City were to win their fight against the drop and it was hoped that the new side Jimmy Scoular had put together could see us climbing the table again, but it didn't happen – just over a year after signing Vincent, Scoular was gone as City struggled again and the players who had helped transform the side failed to find their previous form.
Johnny Vincent in particular was not the same player as he struggled with injury and seemed to be adversely affected by Scoular's sacking – although he would occasionally remind everyone of his innate ability, Vincent never regained his form of 72/73 and after the team's relegation in 1975 quit full time football at the age of 28 to return to his native West Midlands where he worked in the licensed trade before passing away at the age of just 59 in December 2006.
14 October 1972
City 2 (Vincent, Bell pen) Middlesbrough 0
City Irwin; Dwyer, Murray, Powell, Bell (1); Kellock, Phillips, Vincent (1), Reece; Parsons (J), Showers; sub (not used) Larmour

HT 1-0
Att. 10,407