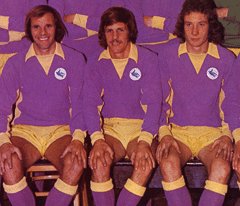 The summer of 2000 saw what had became a familiar scene at Ninian Park over the previous fifteen years as Cardiff City regrouped after an all too brief spell in the third tier of the domestic game had been ended by relegation. This time around, it only took the one season for it to happen as a 4-1 defeat at Gillingham in their penultimate game of the 99/00 campaign consigned them to another period in the basement.
For much of the close season, it looked like manager Billy Ayre would have to cobble together a team as best he could. Some money was available as £30,000 was spent on Colchester centre half David Greene, but keeper Mark Walton, midfielder Kevin Evans and striker Paul Brayson were all free transfer signings. However, the previous season had seen an aborted attempt to buy the club by David Sullivan's brother Clive and there were persistent stories of City moving to a new ground in Cardiff Bay – unlike for much of the previous decade, it seemed that there was interest in the club (or, perhaps, the Ninian Park site!) from the business community, so, although the City were skint yet again, there was at least some promise that this situation could change.
In the month before the new season started, that vague feeling became reality when ex Wimbledon Chairman Sam Hammam bought the vast majority of shares in the club and, all of a sudden everything changed! People in the Cardiff area knew Mr Hammam was something of a showman, but it was only after he actually arrived at City that you realised that such a description was underselling the man!
Virtually the first thing Sam Hammam did on arrival at Cardiff was to relieve Billy Ayre of the manager's job as he became assistant to new boss Bobby Gould. Gould had worked for Mr Hammam at Wimbledon, but, with him having had a very unsuccessful spell as Wales manager, he was never a popular appointment with City fans and, even at the time, it was hard to see it becoming a long term relationship.
The first home game of the Hammam regime (a 1-1 draw with Blackpool) saw a sheep being paraded around the ground and then offered as a prize to some lucky City supporter who would already have received their free copy of a brochure (the name of which eludes me at the moment) outlining the new owners blueprint for Cardiff City's future – it involved the possibility of a change of name and a change of colours as well as much rhetoric about the club becoming a representative of the whole country rather than just Cardiff and it's surrounding areas.
Reaction to this was mixed (to put it mildly!), but the new owner was soon forgiven once he started splashing the cash in the transfer market! On taking over, Sam Hammam had talked about a total transfer budget of around £750,000 – a figure which represented an absolute fortune by the standards of the league City were competing in, the truth was though that, in all likelihood, that sum was spent on the second player to arrive in the Hammam era!
Full back Andy Thompson was the first to come in on a free from Tranmere, but next came Danny Gabbidon, a versatile young Welsh defender from West Brom who was initially signed on loan, but eventually completed a permanent move for a fee which, although never officially released by the club, is widely believed to be in the region of £800,000. After that the new arrivals came thick and fast – Scott McCulloch, Leo Fortune-West, Rhys Weston, Andy Jordan, Gavin Gordon, Lee Kendall and David Hughes all signed permanently for fees ranging between fifty and five hundred thousand pounds as the club's transfer record was broken on what seemed to be a monthly basis!
In the short term, the Hammam revolution had little effect on the pitch as too many draws see the team chugging along in mid table. This was, clearly, not good enough for our new owner -  Billy Ayre was soon sacked and when City lost successive matches at Hull and Leyton Orient, Hammam reacted to supporters' criticism of Bobby Gould by moving him "upstairs" to become Director of Football and Alan Cork, another with Wimbledon connections, became manager.
This did the trick and City clicked under Cork as he adopted a philosophy which, basically, seemed to consist of the belief that "if they score two, we'll score three"! However, it wasn't any of the expensive newcomers who were primarily responsible for the Cork approach working but a lad who was on the club's books years before Sam Hammam got interested in us. Robert Earnshaw's goals over this season and the three that followed were the main reason for the progress that was made during this time and, it showed what a privileged position Alan Cork was in that his squad was big enough and good enough for him to indulge in a spot of squad rotation by leaving Earnie in the bench when Plymouth Argyle came visiting on 20 January.
Earnie had already scored seventeen times in all competitions by this time and no other team in the basement (as well as most above that level!) could contemplate leaving such an in form striker on the bench but the City boss went for a front two of Fortune-West and Jason Bowen for the visit of mid table Argyle. However, the early stages of the game were more notable for the dismissal of former Swansea striker Paul McCarthy for an elbowing offence against Scott Young. I think one of the differences between players at the level we play at now and the level we were playing at then is that they allow themselves to be more distracted by what the crowd are doing – a month earlier another former jacks striker, Julian Alsop of Cheltenham also reacted to the stick he was getting from City fans and saw red.
City were still struggling to create much against opponents who now were concentrating mainly on defence and it needed the introduction of Earnie around the half hour mark for the injured Willie Boland to make the breakthrough when he diverted a shot which seemed to be flying wide into the net. This should have been the signal for City to make the game safe, but, just before the break they lost on loan midfielder James Harper. The Arsenal player, who had arrived with a view to a permanent move, had impressed in the three appearances he had made for City, but, here he reacted stupidly to a foul by Plymouth's Brian McGlinchy by flicking a kick at him – Harper was shown a straight red card and McGlinchy a second yellow for his part in the incident.
Harper had already done enough to show that he was a very good player at this level and, in doing so, he had alerted other clubs. Therefore, it was no surprise when he opted to sign for Reading who were, firstly, a division higher than us and, secondly, one of the few clubs in the lower divisions at that time who could match the wages we were paying. I often wonder what would have happened if Harper had signed for us – maybe we wouldn't have bothered signing Kav the following summer if he had come here, but, if we had done, then a central midfield of Harper and Kavanagh would have been one of the best in the Football League let alone the lower divisions.
At half time City found themselves a goal and a man to the good, but, they had lost two from their starting midfield and were not playing too well, so the points were far from in the bag and the visitors strong start to the second period was rewarded when Ian Stonebridge equalised. City were now facing a real battle against a Plymouth side who were competing for everything and, as was the case for most of the season, their expensive newcomers were not really justifying their transfer fees – whilst Gabbidon showed promise, he had not developed into the classy central defender we later saw and he was mostly being used as a full back at that time where his form tended to be a bit in and out. As for the others, well I think it was the very limited but effective Leo Fortune-West who was making the biggest impact.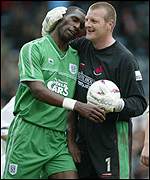 I groaned inwardly when I first heard we were going to sign Fortune-West and his first few matches had me thinking that we had wasted our money. However, as time went on, you had to admit that Leo caused defenders plenty of problems through his sheer akwardness and, although I would never call myself a big fan of his, my attitude towards him had definitely mellowed by the time he left us. As was quite often the case in those early days of the Hammam era, it was Leo who City turned to when they needed to change the way a game was going. Like most of his goals, the one he got against Plymouth was not a thing of beauty as he glanced the ball beyond keeper Sheffield, but we didn't half need it!
Leo's goal broke Plymouth's resistance and in the last ten minutes Earnie ran clear to add another one while another sub, Scott McCulloch, also weighed in with a fine individual goal to give the final scoreline a very flattering look as far as City were concerned.
Truth be told though, that City team was full of goals – their total of ninety five league goals was the highest of any club and was a major factor in their unbeaten home record on which their eventual promotion was based as they netted fifty six times from twenty three matches. The team finished runners up some ten points behind Champions Brighton, but, when you consider that third placed Chesterfield would also have finished eight points ahead of us if they had not been deducted ten  points for financial irregularities, I think you have to conclude that the season could not be viewed as a complete success.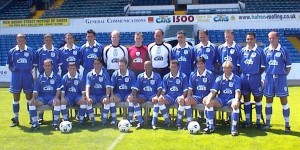 By a conservative estimate, the players signed by Sam Hammam during his first season with us cost £2.5 million in transfer fees alone and you have to say now that this was a ridiculous amount  for a club in the basement to spend – Notts County who, a few weeks ago at least, were regarded as a money bags club have not spent anywhere near that much this season and I cannot remember a single club which has spent that sort of money while in the Football League's lowest tier.
Of course, I accept that hindsight is a wonderful thing and, like virtually all City fans, I loved it when we were spending so much money on players, but, given the lack of quality in the old Fourth Division, I'd say we could have had the same result by spending about 10% of our eventual outlay properly.
20 January 2001
Cardiff City 4 (Earnshaw 2, Fortune-West, McCulloch) Plymouth Argyle 1 (Stonebridge)
City Walton; Legg, Young (Brayson), Hughes; Gabbidon (McCulloch 1), Weston, Harper, Boland (Earnshaw 2), Brazier; Bowen, Fortune-West 1
Plymouth Sheffield; Worrell, Wilkie (Wills), Wotton, Beswetherick; O'Sullivan (Phillips), Frio, Taylor, McGlinchey; Stonebridge (Gritton) 1, McCarthy
HT 1-0
Att. 9,167