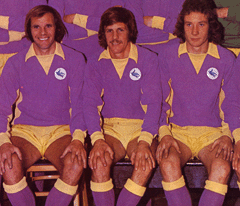 So, it seems that we can all forget about David Sullivan ploughing his millions into Cardiff City. This report from the BBC says that Peter Ridsdale contacted "someone who is close to David Sullivan" and was told that "he had no interest in investing in Cardiff City Football Club.". Well, what a surprise and, after ten years or more of such rumours regarding Mr Sullivan and our club, I am tempted to say who cares!
Far more interesting, for me anyway, is what Peter Ridsdale has to say ahead of his latest meeting with Dato Chan Tien Ghee in Malaysia. When he returned from his first meeting with the Malaysian "property magnate", our Chairman spent a lot of time saying that negotiating with businessmen from the Far East needed plenty of patience because trust had to be earned and this would take time. However, this has to be balanced against the very positive tone of his comments regarding the possibility of there being more to the relationship with the Malaysian business sector than the already announced measures regarding youth development and pre season tournaments.
Mr Ridsdale is again being very optimistic ahead of his latest visit to the Far East and you have to wonder how the, apparently, very cautious Malaysians would react to our Chairman holding press conferences after his first visit and then coming up with stuff like "I'm going there with high hopes and I fully expect it to be very productive." before his second one if negotiations weren't already at a pretty advanced stage – surely they would see what Peter Ridsdale is saying as him taking liberties?
It also strikes me that the line "Dato Chan is apparently heading up a group of potential investors interested in backing the 2008 FA Cup finalists", could be significant because, for the first time, there is a hint that Dato Chan may be the front man for where the real money would be coming from amongst the Malaysians. Peter Ridsdale has said that he doesn't expect any future partnership to result in City being able to write £20 million cheques for players, but I can't help feeling that the fact that he is sounding so optimistic about the Malaysian link has to be good news for the club and it's supporters – after all, when has he talked so positively before about possible outside investment in the club since taking over in January 2007?