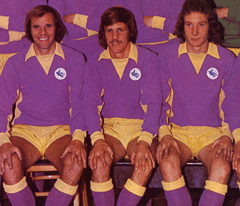 Cardiff City played a bit better in yesterday's 3-2 defeat by Brentford at Cardiff City Stadium than they did in beating Reading and drawing with Rotherham in their previous two home matches, but that really isn't saying much at all because we were dreadful in those two games. The little amount of credit the team earned yesterday came from two or three pretty good individual performances and a second half attitude that enabled them to make a game of it.
However, even when turning the match into something more competitive, there was no great quality shown – the effort was there and Brentford's defence (the least impressive part of their side) did wobble at times, but City still made plenty of poor decisions when they were able to get into dangerous positions and, as is always the case with this squad, played little "joined up football".
So, even when they were as near as this lot comes to being dominant, there wasn't much to get excited about in terms of creativity and skill it was just that at least what we saw in the second half was an improvement on a horrendous first half showing which, led to what is becoming a regular occurrence these days – the team being booed off by their angry supporters.
Now, it's only fair to Brentford that they be given their fair share of credit for their part in City's discomfiture. You could see why their recent results have been so good and it was quite refreshing to see a side play in what can only be described as a pretty unique manner for this level. Manager Mark Warburton, who, like Russell Slade, never played the game at professional level, deserves praise for the way he set his side up to play in a flexible, free wheeling manner going forward which saw as many as five players being used as attackers as they constantly switched positions – City came nowhere near being able to cope with it before half time. Besides this, there were little things like leaving three players forward when defending corners which offered further proof that Brentford are a team which present their own particular set of problems for any side they face and, during the first half of this season at least, the rest of the Championship are really struggling to cope with them.
So, having already seen off the likes of Derby, Blackburn and Forest this season, was it any surprise that they were able to send us packing as well? Apparently, it was for many of our supporters because they still believe those bookies who made us the pre season favourites to win this league – the opinion persists with some that we have a squad that can take this division by storm, it's just that we haven't got a manager good enough to utilise all of this talent and get them playing to their frightening potential.
I have to say that even in those optimistic days of the summer, I never saw this squad as the strongest one in the Championship. Good enough to finish in the top six perhaps, but  it only took the way we had to cling on desperately for a point in our first game at Blackburn while only having 35% possession (incidentally, we only lost the possession battle 52/48 yesterday – that's good by our standards) for me to start lowering my expectations. However, lately I have been wondering at times if I have been allowing all of the general negativity surrounding the club these days to cloud my judgement of this squad.
Would I rate this group of players as poorly if we were a relatively settled club with an identical playing record, but without all of the rebrand crap? Would it only take the removal of Russell Slade and the appointment of, say, Tony Pulis, to completely transform our fortunes?
I'm going to answer the second question first and, in particular, the bit about Russell Slade. I'm becoming increasingly concerned that he is a "my way or your out" type manager who sticks by his preferred system come what may. Slade is now into his third month at Cardiff and still all we've seen from him is 4-4-2.. Now, I'm pretty sure that he would respond to criticism that his teams play the same way every week by pointing out things like the way he moved Kadeem Harris (in my view, the best of our starting eleven yesterday on his first league start) into a more central position while switching Peter Whittingham more to the left to bring about an improvement in our performance.
Therefore, I don't think claims that Russell Slade plays a rigid 4-4-2 come what may have any validity, but, the fact is that, all of the time he's had at Cardiff suggests he is very much a 4-4-2 man. This means that we always start with two central midfield players and, under Slade, they've always been Whittingham and Aron Gunnarsson. Unfortunately, these two have shown that they do not have the full range of qualities between them needed to dominate, or even compete on equal terms, in this area of the pitch. This is not entirely the fault of the two players, because, more often than not, they have been up against opponents who use an extra man in central midfield and  for me, and many others, it's been clear for a long time that we've needed another body in there helping the pair of them. Yet our manager insists on playing two strikers, despite us only having one of them who comes anywhere near to performing at a level that may make him an automatic choice every week.
To be fair, we used three central midfielders under our previous manager at times this season and still ended up getting virtually over run in the middle of the park at places like Fulham, so there's no guarantee that we'd see an improvement in our fortunes just by leaving out a striker and bringing someone else in to help out Whitts and Gunnarsson- I just think it would give us a more solid base to work from.
In saying that, those calling for another City manager to be sacked have to accept that Slade has not had an opportunity yet to bring in his own players and I believe he cannot truly be judged until that happens. Currently, he is working with a squad he has inherited which, for all of the, justified, criticism he has received, the far more tactically flexible Solskjær never came close to finding a system to suit them at a time when results were worse than they have been for Slade.
This leads me on to my other question and, trying to be as open minded and honest as possible, my answer to it is yes, I would rate this squad as poorly even if we were playing in blue and there was none of the current negativity hanging around the club. To my mind, this squad collectively lacks leadership, dynamism, fitness (we pegged Brentford back to a one goal lead with fifteen minutes to go and you would have thought this would have led to a grandstand finish, but it never happened as the visitors were able to see out the remainder of the match pretty comfortably – many of our team looked knackered during this time), pace, tactical flexibility and understanding, organisation, team spirit, team work, team discipline and I'd also say that some individuals within the squad have a dodgy attitude (I believe even as well respected an organiser and motivator as Tony Pulis would struggle to get more out of them) – just imagine what I would have said if I wasn't trying so hard to be fair!
Apart from Ravel Morrison, who arrived during the state of flux between Ole leaving and Russell Slade arriving, all of our signings in 2014 were made under the Norwegian's management. When assessing these new arrivals, it must be said  that not all of our summer signings have been poor ones – Bruno Manga has quality, I think Anthony Pilkington will turn out to be a good player for us and Sean Morrison has been doing reasonably well lately. Similarly, when it comes to the January buys, Mats Dæhli obviously has it in him to be a very good player and, although you never know what you are going to get from them from one week to the next, Fabio and Kenwyne Jones have shown they can be very effective players at this level.
However, when you also consider the Berget's, Eikrem's, Zaha's, Guerra's, Cala's, Burgstaller's and Dikagcoi's then the fact has to be faced that our 2014 signings have been a pretty undistinguished bunch when you consider the impact they have had on our season – so it's all Ole's fault! Well, no, not really, how can it be when we now have a transfer committee comprising of the manager, Chairman Mehmet Dalman, the CEO and Vincent Tan (or one of his representatives) that was formed to ensure that we would never see the sort of reckless spending which, according to former CEO Simon Lim in this statement, meant the club made a loss of £8.5 million on Andreas Cornelius.
This is worth keeping in mind when considering that last week I learned what the club's wage bill was going to be for this season – I presume (and hope!) that this referred to what would have been paid out if we had kept the same squad as we had when Russell Slade took over for the rest of the season. I'm going to respect confidences and not reveal how I got this information or what the amount involved was, but I will say that I have no reason to doubt the validity of a figure which I'm fairly sure is more than the combined wage bills of the teams who have been comfortably better than us in our last three matches and there would still probably be a few million left over as well!
The figure I was given was for wages only don't forget and didn't include transfer fees – little wonder then that, as I watched our "stars" floundering about against Brentford, I kept on thinking "so this is what £………million gets you these days".
When blame is being allocated as to who is responsible for the sorry mess that is Cardiff City football club as it enters 2015, I think the players always get away relatively lightly – Messrs Tan, Dalman, Lim, Mackay, Moody, Solskjær and Slade have varying degrees of responsibility of course, but they are easy targets. About a fortnight ago I started a thread entitled "The worst City team (and squad) ever?" in which I argued that, while there have been plenty of squads worse than this one in terms of ability, I couldn't remember a worse one in terms of value for money – learning that wage bill figure and losing in the manner we did to Bournemouth and Brentford has done nothing to make me feel I was wrong in my opinion, quite the opposite in fact.
* pictures courtesy of https://www.flickr.com/photos/joncandy/sets/