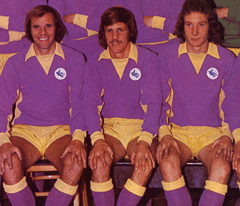 That title may sound facetious and I suppose it is, but it's not really meant to be – it's a genuine question based on something David Marshall said after yesterday's 1-1 draw at Charlton which ensured City stayed above their opponents in the battle for eleventh place in the Championship by dint of having scored more goals than the Londoners (now I am being facetious there!).
It was a draw without honour really for City who scored early on through the recalled Tom Adeyemi's first goal for the club, then went on to dominate the first half using a 4-3-1-2 system with Craig Noone playing behind the front two and a narrow three behind him of Adeyemi, Peter Whittingham and Aron Gunnarsson looking to provide the sort of midfield base that the team have struggled to find all season.
When Charlton's Callum Harriott was dismissed for an over the top lunge on Noone on the half hour mark, City really should have gone on to record their second away win of the campaign. Instead, even with the the three central midfield players that I and others had been calling for, they found themselves in the familiar position of being completely overrun in the middle of the park after the interval and only some fine goalkeeping, dodgy finishing, last ditch clearances off the line and the woodwork denied the home team the win they deserved as City, embarrassingly, were totally unable to lift the siege they were under.
The home side's equaliser came with just two minutes to go courtesy of yet another long range shot from outside the area. After the Bournemouth match where we conceded three long range goals, I did wonder if this was just down to sheer bad luck, but two more against Brentford and now another one yesterday makes it seem that failing to close down opponents when they come into shooting range can be added to what is a very long charge sheet against our midfield this season.
To be fair, there wasn't really much chance to close scorer Johann Gudmundsson down, because he got his shot away really quickly after he had robbed a City player (I think it was Noone, but I've only seen the goal once, so cannot be certain) as he, naively, tried to dribble the ball clear when about thirty yards from his own goal - Gudmundsson's shot was a beauty, but it was yet another preventable goal conceded by City.
Anyway, back to that question based on what David Marshall said in his post match interview. In particular, when talking about his teams second half fade out, our captain said "we have to stick to what we are good at", so my wholly serious question is can any one tell me what it is that we are supposed to be good at?
For myself, I'd say our ability to emerge with something from games in which we have been battered for large periods is pretty impressive – yesterday's point can be added to ones picked up at Blackburn, Fulham, Derby, Brighton and at home to Rotherham where we have been distinctly second best, while the home win against Reading (another team who were better than us while they were a man short) and sole away win at Watford were other matches where our opponents must have felt they were worth a win.
The trouble is, this particular "strength" comes about as a result of a fundamental weakness which is that we are so poor at gaining and then retaining possession. It gets monotonous having to churn out possession stats after every one of our matches, but they are at the core of what is wrong with our side in my opinion – our players should be ashamed that we were only able to have the ball for 40% of the time despite having a man advantage for two thirds of the match, but was anyone really shocked by yesterday's possession figures when they first learned of them?
There are still plenty of people who seek to defend the players by putting our problems primarily down to poor management. Now, I must admit to having a suspicion that Adeyemi might have owed his place in the starting line up yesterday to his height, which would give us another threat at dead ball situations . His goal came from a Gunnarsson long throw and he almost scored from another one soon afterwards – I've certainly had the impression at times lately that our attacking game is based almost entirely on trying to force throw in's, free kicks and corners where we bring the big men up and hope to bludgeon a goal.
I also found it hard to explain why the two outfield players who I thought did best out of our starting eleven against Brentford (Bruno Manga and Kadeem Harris) were left out yesterday. Therefore, I certainly agree that at least some of the criticism Russell Slade has got after recent matches is justified, but perhaps those who blame our manager (not just this one) for all that is wrong with this side, could tell me what Marshall meant when he talked about the things we are good at?
To try to find something else that Cardiff City are good at this season, I visited this site which is as detailed as any I've seen this year for statistics on the Championship. Among the things I found were that, as a team;-
1. Only Blackpool averaged less than our 43.9% possession figure per game,
2. Our pass success rate of 71.3% was 21st best in the division.
3. Our 19.2 average tackles per game figure was the fourth highest in the league.
4. The 15.1 shots at our goal per game was the seventh highest in the Championship.
5. We were fourteenth best in the league when it came to defensive interceptions.
6. Our total shots at goal per game was the 19th best in the division.
7. We are 17th in the shots off target table.
8. We have the 10th highest number of attacking dribbles per match.
9. We are 17th when it comes to shots from outside the penalty area,
10. We are the 21st best team in the division when it comes to creating goals from crosses in open play.
On an individual basis;-
1. The most impressive stat for a Cardiff player is that Bruno Manga has the highest rating for defensive interceptions per game in the division – Fabio is the next highest City player in 36th place and Matt Connolly is third highest in 81st. Many of the higher ranked players in this category are midfield anchor men and we certainly suffer when compared to others here. Surprisingly, Craig Noone is the highest ranked midfield player in 132nd place, with Aron Gunnarsson next highest in 158th.
2.  We have two highly ranked players when it comes to number of tackles per game, Fabio is 12th and John Brayford is 23rd – Federico Macheda, Adam LeFondre and Kenwyne Jones are rated 268, 270 and 280 respectively!.
3. When it comes to pass completion Peter Whittingham's success rate of 82.5% places him 57th – Bruno Manga is the next highest ranked City player with his 80% putting him in 92nd place. For me, this category is the most damning of the lot – LeFondre is rated 216, Connolly 219, Macheda 230, Anthony Pilkington 278, Brayford 282, Noone 314 and Jones 324.
4. As for shots per game, Juan Cala's three attempts in the one game he played (Middlesbrough) makes him the highest placed City player in 13th position, Pilkington is next in 33rd, Noone 40th, but you've got to go down to 82nd before you find a striker (Jones) – LeFondre is 125th and Macheda an amazing 236th!
5. There's also an average marking category which, of course, has to be a bit subjective, but everyone should be marked by the same, or very similar, standards, so it is quite a handy tool to measure how effective our players are when compared to those from other teams. Bruno Manga is an impressive 4th in this category, but then there's long gap until Whittingham in 50th – Russell Slade's preferred pair of strikers come in with Macheda in 315th and LeFondre two places lower.
So, while the old chestnut about stats being able to prove anything still rings true, I'd say that, overall, those figures tell a pretty accurate story about the sort of team and squad Cardiff City have in 2014/15 – so, again, I wonder what David Marshall was referring to when he talked about things we are good at?
* Picture courtesy of http://www.walesonline.co.uk/