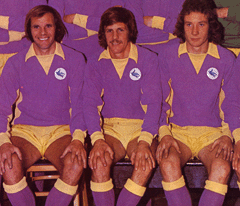 Anyone who has been watching the game for a fair amount of time should soon get a good idea of how a home tie with a team from the lower leagues tends to work out. When the draw is made, you immediately think you could end up watching a massacre of the team of unfortunates unlucky enough to have been paired up with your lot and this feeling persists, to some degree at least, right up until when the game is about ten minutes old – then the realisation dawns that it's going to be like nearly all of the "giants v minnows" matches you've watched down the decades.
There are the occasional 4-0s and 5-1s to prove that "class" does out sometimes. There are also times when the supposed inferiors prove to be nothing of the sort and go on to record often deserved wins, but, mainly, what you get to see are low key affairs won by a none too impressive home team by a one or two goal margin.
Cardiff City's 1-0 win over AFC Wimbledon in the First Round of the Capital One (League) Cup last night definitely fell into that final category – they did just enough to win, no more than that, against determined opponents. Wimbledon knocked the ball around nicely at times and almost scored an equaliser right at the death when sub Tom Elliott's header bounced back off the crossbar – there was also a low cross which flashed across City's goal inches away from one of their players who it seemed only had to get some sort of connection on the ball to score, but the post match stats recorded that Neil Ardley's side had no efforts on target as Ben Wilson enjoyed an assured, but pretty quiet, first team debut in the City goal.
Up the other end, Wimbledon keeper James Shea was hardly in constant action, but he did have to make a decent stop from Sammy Ameobi's first half effort and an excellent late save from sub Kenwyne Jones – when you also consider efforts from Aron Gunnarsson and Craig Noone that flashed not too high or far wide respectively and Alex Revell and Eoin Doyle shots that drew last ditch blocks from visiting defenders, I don't think there could be much argument about City's win being deserved, but at no time did it look like there was a gap of two divisions between the teams.
What should be said at this stage is that in recent years the First Round of the League Cup has seen more than the normal amount of the sort of giant killings I alluded to earlier – in fact, it's become something of a graveyard for Championship clubs and last night that trend continued with seven of them bowing out.
So, any criticism of City's performance should be tempered by the knowledge that at least they got the job done, but it must be said that I found the match an experience that drained a fair proportion of the optimism which invariably builds up in supporters of any side at the stage of the season for a couple of reasons.
Firstly, none of the players brought into the side for last night's match turned in performances which demanded inclusion at Loftus Road on Saturday. As I mentioned before, Wilson in goal did pretty well, but, whether David Marshall stays or goes, the likelihood is that he is going to be our third choice keeper this season. As for outfield players, Fabio did okay, as did Gunnarsson and Doyle, while O'Keefe did a bit less than that for me. Of the others, Ameobi mixed moments where you could see why he played so much Premier League football last season with others when he looked incapable of making even the simplest of passes and, despite another quality goal, there wasn't a great deal else that was eye catching about Noone's display.
Nevertheless, I'd say that it is those last two players named who stand the best chance of making into the starting eleven against Queens Park Rangers and, if Noone is in there, I wonder if last night's beautifully struck free kick will be enough to bring about a change in the long established pecking order when it comes to any free kicks we get within shooting distance on Saturday? When Peter Whittingham returns on Saturday (I use the word "when" there because "if" doesn't seem appropriate under this manager), will he automatically take any such dead balls if they arise as has been the case for ages, or will we utilise players who have been more successful in such situations in recent years?
We are fast approaching the third anniversary of the last free kick Whitts scored from (Blackpool at home on 29 September 2012), while last night's goal means that Noone has scored twice from free kicks in the same period (his other was in the home game with Bolton on 27 April 2013) from what I would guess is one or two per cent of the number of attempts that Whittingham has had since he last scored and it's also worth recording that Anthony Pilkington scored from a free kick in the game at Shrewsbury only a few weeks ago.
Anyway, I'm wandering off subject a little bit there, back to the second of the reasons any confidence I had that City can mount a promotion challenge was ebbing away somewhat last night – it's our manager. Now, I always say I cannot become one of those fans who wants Russell Slade to fail because that would mean the team are failing – I'll always want him to succeed as long as he is our manager, but there are times when it becomes very hard to maintain such feelings and last night was one of them!
By the of the game, there was so much that, to be frank, made me pissed off with our manager and it's tough to know exactly where to begin, but let's start with things he did before a ball was kicked – his tactics and team selection. Regarding tactics, Slade set up with a basic and old fashioned 4-4-2. Now, I believe that the two wide players in a midfield four in that system can fall into two categories, they can be out and out wingers or they can be left and right sided midfield players – last night, the wide men in midfield were definitely wingers in my book.
So far, so good then – crowds tend to love wingers and having two of them in a 4-4-2 usually means an attacking approach. However, what it also means is you've got two players besides the full backs who will get whitewash on their boots and this ensures a tremendous workload for the two in central midfield –  yet again, the pair in that area for City struggled to get the better of their opponents, even though they were from two levels lower than them.
Right from day one, our manager set out his preference for playing with two strikers and he has done so throughout the pre season matches and against Fulham and Wimbledon, but the way he's set up in most games this season suggests that he is aware of the implications of two up front when it comes what happens in the middle of the park. It seems to me that Slade is trying to cover all bases with the selection of Joe Ralls on the left of our midfield.
Not blessed with the pace to be a typical winger, Ralls is definitely a left sided midfielder and I'd say one of the positives of the season so far is the promising partnership he's developing with Scott Malone who is showing that the strongest part of his game is his attacking play. With his previous experience at left back, Ralls has the nous to do a good covering job when Malone is going forward. So, Ralls is managing to do an important part of the wide midfielder job while also generally proving himself to be up to the other side of that role when we are attacking.
However, besides that, he is also coming infield often to fulfill a central midfield role (the one most observers believe will become his primary position in time) to give support to the two named in that area. I see Ralls as the only one of our midfielders (including wingers) capable of playing such a role – a role that it's essential he succeeds in if the more flexible 4-4-2 seen against Fulham is to stand a chance of being successful. However, it was interesting reading a few post match comments to the effect that Ralls tired as Saturday's game went on and, in view of the workload he's been given, it's hardly surprising if this turns out to be the case.
Even if Ralls does really well, there has to be a question as to whether he can keep on doing the job he is now for a whole season and, if he doesn't, then it seems to me that's it's back to the drawing board for our manager in his efforts to find a variation of 4-4-2 which will work with the players he has currently. I don't blame Slade for trying to find a system with four midfielders and two strikers that works, but I can't help thinking that it's been pretty obvious for all of the time he's been here that we do not have a pair of central midfield players capable of doing all of the various jobs a basic 4-4-2 requires from that role (especially if Whittingham is one of them), whereas we've always had players within our squad capable of playing a progressive and attack minded version of a system like 4-2-3-1, 4-3-3 (with wingers) or 4-5-1.
Last night could have been a chance to experiment tactically, but, instead, with Ralls on the bench, we got the same old, same old and once again the central midfield misfired.
The same sort of thing applied to team selection. We have four good quality Championship centrebacks, but, with two of them injured, surely last night should have seen at least one of Morrison and Connolly rested – especially when we've got Semi Ajayi waiting for his chance. Yet it was Morrison and Connolly again and, although it looks unlikely, if the injury to the former suffered in the closing stages last night turns out to be serious enough to keep it out on Saturday, the resultant centreback crisis would have been entirely down to one man.
One other moan concerning what happened, or, to be more accurate, didn't happen last night? Why use only two subs? Couldn't Matt Kennedy (who appears to have dropped to fifth choice on our list of wingers this season for some reason) have been given fifteen minutes or so to try and show the sort of form we often saw from him earlier this year? To repeat myself, last night represented a chance to give a few squad members game time, but our manager only grasped it with one hand.
Finally to a subject I'm becoming increasingly exasperated about – Russell Slade's complete and utter disregard for the locally produced youngsters we have at the club. On Monday, City's Under 21s opened their competitive season with a 2-1 defeat at Coventry – the side was a very young one and I think it contained two or three players still qualified to be selected for the Under 18s (who drew their first game of their league campaign 1-1 at Sheffield Wednesday on Saturday by the way). However, it was disappointing to see goalscorer Tommy O'Sullivan and striker Rhys Healey in the line up as, to my way of thinking, they are exactly the type of player who should have been sat on the bench and given some game time last night.
At least though, the absence of Declan John and Tom James (as well newly signed French defender Jordan Blaise) from  the squad on Monday had to mean that they were going to be in the 18 last night didn't it? Well, no actually – I assumed we'd be watching John and Fabio as full backs, but, Declan was nowhere to be seen and, given what I've already said about our current position regarding centrebacks, surely it would have been handy to have had James on the bench at least as cover?
If neither player was injured+, I find the omission of John baffling and James short sighted, but I suppose that's not as bad as the ludicrous decision to have Theo Wharton (someone who has proved himself more than good enough at Under 21 level stacks of times in the past) as an unused substitute for the Development team match on Monday!
At more or less the same time that match at Coventry was kicking off, Nathan Blake was bemoaning the way good young players have been treated at Cardiff recently on Wales Online's Blakey's Boot Room show. What he had to say is summarised in this piece - now, I know I would say this because his opinion almost exactly mirrors mine, but I think Blakey talks a lot of sense there. Mind you, none of the above should really come as a shock given the way Russell Slade offered little hope and encouragement to the likes of O'Sullivan, Wharton, James and John in this piece from last month.
A couple of other points from last night on this subject – I wonder what AFC Wimbledon manager Neil Ardley (who I think was a very good Academy manager at Cardiff before he left to take up his current job) thinks of City's approach to youth development these days and, also, I see Josh Yorwerth, who we gave away in the summer, scored on his first team debut for Ipswich.
With Swansea extending their scouting network in South East Wales during the summer, this should be a time when Cardiff City is redoubling it's efforts to attract the best young local talent. Maybe they are (although I'm not aware of anything that suggests this is true), but having a man at the top who, even at a time when we have to sell before we can spend, has done absolutely nothing that I can think of to suggest that young Welsh talent is being developed and encouraged under his watch is, surely, only making the minds up of parents of the best youngsters in this area when it comes to deciding whether their son would be best served by signing for Cardiff City.
picture courtesy of https://www.flickr.com/photos/joncandy/sets/with/72157657129308515
+ it seems that Declan John was unfit for the game, so I take back some of my criticism of our manager on that front – I still believe that Declan deserves better than just the one League start he's had since Russell Slade took over though.