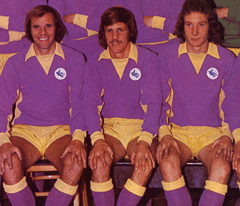 Before yesterday's match I was wondering if my reaction when we scored would be as low key as it was for both of our goals in our previous home game. That teaches me for being so presumptuous – the only time I genuinely thought I might see a City goal during the dreadful goalless draw with Rotherham was when sub Federico Macheda fired in a low angled shot that goalkeeper Adam Collin turned away. It took around seventy mind numbing minutes for that to happen and it represented one of the very, very few moments when some football threatened to break out amongst the dross that Cardiff served up as they continued to hold to the resolution they made for 2014 - to do all that they can to prove that football is anything but a beautiful game.
Before going on to talk about us though, I think I should give some credit to Rotherham. In his pre match press conference Russell Slade said that the recent loan signings Steve Evans had made suggested that he wanted to play a more technically proficient game with less emphasis on making the game bitty by disrupting the opposition's rhythm and I'd say Rotherham's performance proved he was right. There wasn't a great deal of good football on display yesterday, but nearly all of what we did see of that commodity came from Rotherham who also showed when they didn't have the ball that they hadn't lost the knack of making life difficult for the opposition – if I was a Rotherham fan, I would have left the game happy with my team's performance, but disappointed that their lack of a cutting edge meant that they didn't get the win they deserved.
It almost goes without saying these days that we had less of the ball than our opponents (the BBC say we lost out by 51 % to 49%, but it seemed to me at the time that it was more like 60/40 in the visitor's favour). After the game our manager talked of us not passing the ball quickly enough and this being a contributory factor in us not getting enough crosses in. I think this gives a clue that Russell Slade prefers to see his players risk losing possession by going for what might be the more difficult pass to a winger as opposed to the safer option of a simple sideways or backwards pass to a team mate.
Now, playing in such a way is not designed to see you winning the possession battle by a big margin and I don't think our manager is too alarmed by the simple fact that we have lost it in seven of the nine matches he has been in charge of. However, surely, he must be concerned when his team looks as clumsy and clueless when they do have the ball as they did yesterday? I don't believe we've passed the ball well all season, but we were woeful in that department yesterday – I wasn't being entirely serious when I said during the game that David Marshall was our best passer on the day, but when I think about it, who was better than him?
On a similar theme, the best cross I saw us put in came from Sean Morrison of all people. The responsibility for crossing the ball basically falls on four people in the system we play – our full backs and wide midfield players. None of those four did well enough in that department yesterday in my opinion – the full backs were not that good in any facet of the game and as for our wingers, Kimbo showed predictable enthusiasm in his first league appearance of the season and also was as good as anyone at winning possession back after losing it, but there was barely anything from him in terms of an end product, while Craig Noone, after an awful first half showing, improved after the break to the extent that he was able to beat his marker a few times, but it never led to anything too concerning for the visitors.
To be fair to those four players, all of their chances to cross came in open play and so they only ever tended to have our two strikers, and possibly the opposite winger, to aim for. Adam LeFondre worked as hard as always, but, just as with his team mates,  I saw nothing to indicate that he had gained any belief from our first away win and our fine run, in terms of results anyway, at home (why have we started our last two home games so cautiously – we looked like an away side hanging on for dear life in the first twenty minutes against Reading and it was the same again yesterday).
As most crosses tend to be lifted off the ground, the natural target for them would normally be the taller of the two strikers and this brings me on to Kenwyne Jones. I can only presume that he lunched well yesterday, because, until he was taken off three quarters of the way into the game, he had been having a nice siesta for an hour and a bit – this was the Jones of last season as he proceeded to make his co strikers comments on Friday about him being the Championship's Didier Drogba look at best unfortunate and at worst idiotic.
I don't think I've ever seen a pair of centre backs have so many uncontested headers as Rotherham's did yesterday. It was ironic that it was one of our centrebacks who put the best cross in because it was only when Morrison and Ben Turner got forward for dead ball situations that we ever looked like winning a header in the attacking third of the pitch.
If we are going to insist on playing a version of the game often seen at Plough Lane during the eighties, we really do need to become a lot better at it than we were yesterday. This applies particularly to the man who is the focal point for our attacks, but also to the area which I still believe is the crux of our problems this season – central midfield. Aron Gunnarsson was a long way short of recent standards yesterday, but he's more suited to such a game plan than Peter Whittingham is. Yesterday, Whitts was tidy when he had the ball and, truth be told,  may just have pipped Marshall to the best passer award, but, as is so often the case these days, he was on the edge of the action and you have to question whether someone else is better equipped physically to play in central midfield in a 4-4-2 where the plan appears to be to get the ball quickly into the channels out wide and knock crosses in.
Everything we've seen so far from Russell Slade suggests he'll not deviate too much from his two up front and two out wide approach which means that, unless we go three at the back, I don't see how we can get in the three specialist central midfield players we are crying out for into the team. Therefore, we need more "legs" from our two in central midfield than we are currently getting. We're crap at passing the ball even with Whitts in the side, so, if we are going to keep on playing in the manner we have done under Slade (and under Ole for much of the time this season), then we may as well get more of an athlete like Tom Adeyemi in there to cope better with the huge physical demands the two central midfielders have been lumbered with this season.
Speaking for myself, I find it pretty depressing that it's deemed that we have to play this way. I saw quite a bit of Leyton Orient last season and, albeit at a lower level than us, they didn't play the sort of stuff that sent a bloke sat close to where I was yesterday to sleep (genuinely, he had nodded off), so I don't believe this is how Russell Slade plays no matter what. I can only assume he thinks he inherited a shambles and believes this is the best way he can mould them into getting results – to be fair, this is something that he has been able to do so far, despite the awful football.
On a positive note, a third clean sheet in four matches after months when you began to wonder whether we'd ever see one again, has to be a good thing and, although Morrison and Turner were given more problems in the the air than they are used to by Rotherham's Alex Revell, their combination was the most impressive part of the team yesterday with the former not having much competition for the award of City man of the match in my book.
Finally, Turner, who I always find great value in press conferences, gave a very honest account of things after the game where he was asked about the team being booed off by some of the crowd at the final whistle. It was good to hear him, correctly in my book, identify that there were off field matters which contribute to how supporters feel about their club presently and he said the atmosphere is not the same now as it was two years ago when we were last in this league. Of course, we were also wearing red while winning the Championship, but. for me, the atmosphere is worse because those still going to games tend to be a lot less tolerant of the rebrand than they used to be.
With morale so low among supporters, good quality winning football from the team would not completely overcome the depth of feeling against the red shirts, but it would at least lift the mood at matches and Ben was honest enough to state that it was down to the players to do their bit to improve the atmosphere. However, I keep on coming back to the point that's been on my mind for months – this is, almost certainly, the second most expensive squad in the club's history (actually, we have so many players that it might even be costing us more in wages than last season's did) and yet I saw Watford play more quality football in the first ten minutes at Fulham on Friday than I've seen from us all season. When, if ever, are we going to see something to justify all of the hype coming from the media and from within the club about how good we are – based on what I've seen since August, and, in particular, the rubbish that has been served up in the last two home matches, I've got to ask our players is that all you've got?
* picture courtesy of http://www.walesonline.co.uk/
+ picture courtesy of https://www.flickr.com/photos/joncandy/sets/