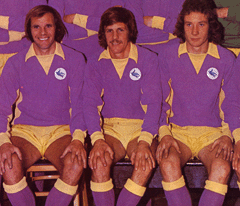 One thing that operating a blog makes you more aware of is how often you post stuff that completely contradicts something that was posted only a relatively short time earlier. For example, what would a supporter of another club have made of a match report describing my team's performance as "Right up there with the best" (for the Bristol City game) being followed by one five weeks later called "Right down there with the worst" (for the QPR match)? If they also noticed that the strap line being used by the blog's author was "A Cardiff City blog covering five decades of supporting the club", then they could be forgiven for thinking they were reading the sort of over the top, live for the minute rantings that make up so much of the stuff you read on the Internet.
I don't know, perhaps there was some hyperbole in the titles I gave those two pieces. All I can say is that they both represented what I felt at the time – that performance I saw against the wurzels was amongst the best I have ever seen by a City side, while, although there obviously was worse stuff to be watched during our basement years, the QPR match saw one of the worst performances I have seen by the team at this level.
Similarly, a week ago today I said on here that I thought Dave Jones' job would come under serious threat if City lost their two upcoming games – now two wins and ten goals later, I am left looking like an idiot, but, again, what I said reflected what I genuinely felt because we were in a run of awful results.
So what does all of this tell us about Cardiff City's 09/10 side? Well, obviously, they are inconsistent, but there is inconsistency and there is the schizophrenia that sees a team go from looking totally bereft of attacking ideas and threat in one home match to winning 6-1 in their next one!
I think to try and get some sort of explanation as to what is going on, you have to widen the focus away from just the City team to include the whole of the Championship. On the day we played so miserably against QPR, West Brom were winning 5-0 at Middlesbrough, how on earth could anyone have predicted that the following four matches would see them draw one and lose three? Look at Newcastle – since they beat us, they have won just two of six matches in all competitions.
If City are inconsistent (or even schizophrenic), then they are only mirroring what goes on every week in a Championship which has to be the most inconsistent division in the English league system – but is this inconsistency down to low or high standards?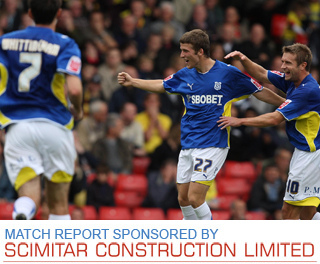 I am very much a "glass half full" person when it comes to arguments about how good or bad the Championship is and would argue that the influx of foreign players and the explosion of money into the top levels of the game in the past fifteen years has seen a trickling down of talent into the second tier that was not seen previously. I believe that this is seen in particular with younger players being loaned or transfered to Championship clubs who are of a quality which would have seen them being regular First Division performers twenty years ago.
By the same token, talented young British players at Championship clubs are not as likely to get moves to the top flight now because of the higher standards at Premiership clubs and so the Championship benefits again. While it's always hard to rate the football standards of one generation against another, I am convinced that the league we rejoined in 2003 was certainly a stronger one than the one we left in 1985 and I would also say that standards have risen in the six years we have been in this league.
Although I am sure that there are many who would disagree with me about the quality of the Championship, I am equally sure that there are very few who would argue with my opinion as to it's inconsistency and that inconsistency is one of the main reasons why I love this league. Yes, I want us playing Premiership football next season, but there is a part of me which says that I would definitely miss the uncertainty of the league we are now in – while I don't think the Premiership is quite as predictable as it was, you are still able to list before a ball has been kicked where you think all twenty clubs are going to finish and not be far out at all in your judgment.
So, if City are one of twenty four pretty inconsistent sides chasing those three promotion places, how do their chances rate at this time (because they might look completely different in three weeks time!) compared to the other twenty three?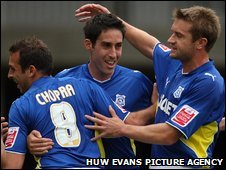 Well, we were in our "flat track bully" mode again yesterday, but, when you consider that this is the fifth time that this could be said to have happened in eleven league matches so far, then it has to be conceded that it is more than just an occasional phenomenon – if we can end up being flat track bullies in over forty per cent of our league matches, we've got a great chance.
Although, in a perverse sort of way, I would have liked yesterday's win to have been a ground out, backs to the wall 1-0 just to add to the currently slim evidence that we possess the mental strength to regularly achieve victory in the sort of tight encounter that will define where we finish this year, it has to be said that yesterday's victory was a very satisfying one for all sorts of reasons.
For a start, we scored four times and Michael Chopra didn't get one of them. That leads me on to the fact that Peter Whittingham confirmed his position amongst the division's top scorers with his two goals, Jay Bothroyd ended his lean spell with a great strike and that Adam Matthews got his first goal – okay, it was a fluke, but, having seen the quality he has in his right foot in youth matches, I am sure that there will be plenty more goals to come from him over the coming years (whether they will be scored for us though is another matter completely!). It was also good to see the team get another clean sheet (considering the stick certain members of our back four get, our defensive record isn't bad at all) and, finally, it was great to see Ross McCormack back ahead of schedule.
Notwithstanding my earlier comments about unpredictability, we are now at the stage of the season where managers tell us that the table gives a more accurate reflection of the relative merits of each side. Because of this, I am going to go out on a limb and state with total authority (no, scrub those last three words!) that the opening two months of the season have shown that our best is better than the best which most of our rivals can come up with – if we can graft on the ability, that last season's side showed for most of the campaign, to find ways of winning the games that could go either way, then we might be in business.