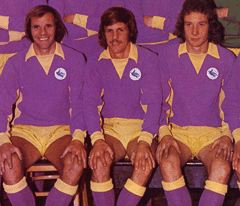 Anyone who was there to witness Andy Campbell's miserable penalty miss against Leeds in the 2004/05 season must be able to remember it, but whenever I have had to describe it to anyone who wasn't at that match, I say that goalkeeper Neil Sullivan could have dived the wrong way and still got up and saved it. That's not true of course but I was only trying to get across how woeful a penalty it was by Campbell – after all, no goalkeeper can commit themselves to going one way and then save a spot kick if the ball is moving away from them can they?
I watched Wednesday's penalty shoot out from the opposite end of the ground and when I saw David Marshall on the floor as Yann Kermorgant's penalty went above him, I said to no one in particular "he's scored", but the net never rippled and all of a sudden the City fans in the Grange End were going mad. It still didn't register with me what had happened for a second or two and although I then knew that the penalty had been missed, it needed a look at the replay of it on the big screen to see exactly how it was missed.
The type of penalty Yann Kermorgant took is nothing new – in fact it dates back to 1976 when the Czechoslovakian midfield player Antonin Panenka won the European Championship for his country by scoring the decisive penalty in a shoot out with West Germany. Panenka's penalty is the best that I have ever seen because, at that time, it was something truly original which required nerves of steel to try given what was riding on it. However, what Panenka  had going for him was that originality that I mentioned. The great German Keeper Sepp Maier could be forgiven for wondering exactly what had happened as he got back up with the ball behind him nestled in the net – a couple of years earlier he had been beaten in the very first minute of the 1974 World Cup Final by a penalty by Johan Neeskens which was blasted straight into the middle of the net as he dived to his right but such penalties were a rarity back then as they invariably were placed either side of the keeper.
Panenka's penalty began to change things though as players began to take up the option of hitting the ball down the middle more and so goalkeepers probably now have to consider the option of staying where they are as well as diving left or right. Understandably, players choosing the option of going down the middle mainly tend to hit the ball with power – our own Peter Whittingham tends to mix his penalties up a bit, but he opted for down the middle on Wednesday and, off the top of my head, I can remember him doing the same in the home match with West Brom and the away game with Sheffield United this season. Players using this method have to be very unlucky if the keeper saves the penalty having decided to go one way or the other as the only way the shot can be kept out really is by the ball hitting the keeper's legs – much the same applies to the Panenka type penalty, but, if it is executed properly, the ball should be too high for the keeper's trailing leg to become a factor.
That's the problem with the Panenka type penalty though, the player's technique needs to be perfect otherwise he risks not only missing the penalty but also being made to look an idiot in the process. In the domestic game, I can remember Dwight Yorke  using this method quite often, but he eventually missed one and, as far as I know, he never tried another one after that – Paul Hayes who recently signed for Preston from Scunthorpe often used the method as well, but has seen at least one of his "Panenkas" saved while there must be something about Leicester and this type of penalty because it could be argued that the most memorable single moment of Gary Lineker's career is his feeble missed Panenka type spot kick against Brazil which would have seen him become England's leading goalscorer on his own (rather than sharing it with Bobby Charlton) if he had scored.
The fact that the Panenka is fraught with danger can be shown by how the brilliant Zinadine Zidane almost made a mess of his penalty in the 2006 World Cup Final and so when a striker with one goal in twenty odd appearances for his club attempts one in a shoot out in what is probably the highest pressure game he has played in, there has to be a chance that it will all go horribly wrong. Yann Kermorgant had scored with at least one such penalty before though and if you enter his name on YouTube you can see that he is obviously a player with a high level of skill, but You Tube clips from his native France are one thing and and a penalty shoot out in a red hot atmosphere in a country where you have found it hard to adjust to type of football played there is another and it's hardly surprising that Kermorgant's technique totally deserted him when he needed it most.
It has to be said mind that I can't help wondering if Kermorgant would have been the subject of so much ridicule and abuse if he had been a British player. Ex players in the media tend to be very quick to have a go at foreign players when they do something wrong, but keep mysteriously quiet when a British player makes a similar type of mistake – Lineker's penalty miss for example is often referred to in a jokey type of way and former City player Jeff Whitley's embarrassing penalty miss for Sunderland in a shoot out in a Play Off Semi Final against Palace in 2004 didn't  get him the sort of national ridicule that Kermorgant has had to put up with.
However, putting tenuous accusations of bias against foreigners aside for now, the fact has to be faced that Kermorgant;s penalty was absolutely woeful. It's often said about players who wears brightly coloured boots that they have to be very good to get away with doing it and the same applies really to Panenka penalties – Kermorgant's effort would have put your average parks player to shame. While they may never find their way into the Oxford English Dictionary, the noun kermorgant as in "he's made a right kermorgant of that penalty"or the verb to kermorgant as in "oh no, he's kermorganted it" are surely destined to pass into football folklore – in twenty years time if someone mentions the name Kermorgant to a football supporter in this country, I'm sure their minds will go back to the Cardiff City Stadium in May 2010.