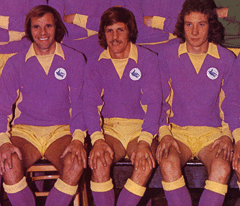 If Charlton Athletic are the side you usually tend to find at or near the top of the Southern section league in which Cardiff City's Under 23 side compete, then, based on my rather limited knowledge of the competition's Northern section, it's Huddersfield Town who are most likely to be somewhere near the top of it's counterpart.
In saying that, Huddersfield look likely to miss out on a top two finish this season, but they came into last night's match at Cardiff City Stadium in good form having won their last four matches.
Eight days ago, City, fielding the usual very young side full of teenagers, played Northern Section leaders Sheffield Wednesday at Hillsborough and, although you don't get the full picture of how a match goes from the brief highlights available on Cardiff City World, appeared to be well worth the very creditable 1-1 draw they returned with.
Huddersfield last night was a very different matter though. Birmingham were good in beating us 4-0 at the Vale early in the season, but they fielded a team with a smattering of first team squad members – from what I can gather, Huddersfield had no one with first team experience in their starting line up last night, so, for me, they have to be the most impressive side I've seen us play at this level this season.
Twenty year old Philip Billing, scorer of what is probably Cardiff City Stadium's goal of the season so far in Huddersfield's 3-2 defeat here back in November, has broken into the Terrier's successful senior squad this season, but, rather like at Charlton where the tendency at first team level lately has been to look for players in the transfer market rather than promote from within, it seems to be getting harder for the talented youngsters at the club to break through.
So, I'm not sure how many of the players in last night's very good winning side will get a chance at first team level at their present club, but some of them at least will surely be able to make a good career for themselves in the game if they can maintain the levels of pace, commitment, technique and intelligence they showed last night.
Unlike our Under 18s who are really an Under 16 team, our Under 23 side, which these days comprises mainly of kids still qualified to play for the Academy team and young pros not yet into their twenties, have been able to remain competitive for the second half of the season when facing opponents who tend to be a year or two older than them, but last night they came up against a side which was just too good for them.
Up until they faced Huddersfield, the current team had been able to hold their heads above water – true, away results have not been good, but at home they've coped well and when they are on their game, the youngsters play better, more effective and attractive, football than the older side that played at this level did during the first half of last season.
Within just a few minutes of the start last night we saw evidence of how well this young side can play as some slick and incisive first time passing completely opened up the left hand side of the Huddersfield defence to send right back Cameron Coxe scurrying into the area, but, forced to shoot with his left foot as he cut in, his effort flew well wide.
However, by the time Mark Harris forced visiting goalkeeper Luke Coddington into his first real save of the night, City had been reliant on a string of fine stops by Oliver Byrne to keep the game goalless. The keeper built on his good showing against Sheffield United last Thursday as he made four or five quality stops as Huddersfield warmed to their task.
Like most sides we play at Under 18 and Under 23 level these days, Huddersfield were that bit bigger than the City youngsters, but, unlike, say, Barnsley's Academy team who, basically, beat us on Saturday because they were able to bully us off the ball, they were also sharper and, on last night's evidence, better technically than us.
City were fortunate to get to half time with the game still goalless, but then early in the second period, came the moment that sealed their fate – they scored! Ibrahim Meite, on as a half time substitute for trialist Tom Rosenthal, did well to play James Waite into a position where he could take on the last defender. Waite is very good at turning such promising positions into goals and this time he was able to sidestep the defender and fire high up into the net from around the penalty spot.
For all of Byrne's heroics, Huddersfield had been guilty of being a little wasteful until that moment, but falling behind seemed to concentrate their minds and five minutes later they were in the lead.
The equaliser came when Jordan Blaise, part of a City back four that, despite the problems they were being caused, had defended pretty well until then, came out from his position to try and intercept the ball around the halfway line. It was the sort of thing that gets watchers complementing some good anticipation if it works, but offers a risk if the player involved does not come away with the ball – Blaise didn't and the visitors were able to exploit the yawning gap behind the City man as Ronan Coughlan was allowed to run twenty yards with the ball before coolly beating Byrne.
The keeper was also helpless when Huddersfield's impressive captain Regan Booty played a short corner, received the ball back and curled a lovely effort beyond him from the corner of the penalty area.
Huddersfield continued to look the better side and the more likely scorers of the game's fourth goal, but City responded well to falling behind and came close to equalising on a few occasions, most notably when Waite showed his quick feet to create an opportunity for himself which he fired very narrowly over – Jamie Veale's free kick flew not too far over as well.
However, the last ten minutes saw the visitors pull clear as all of the defensive work they had put into the game told on the City players – young Jack Bodenham lost a challenge on the edge of the penalty area which enabled Lewis O'Brien to score and then, as the game went into added time, Sam Warde headed home a corner on the far post.
4-1 was a bit harsh on a City side that had competed well throughout. It was hardly "another disastrous result for Craig Bellamy's team" as I saw it described on one of the City messageboards, they were simply beaten by a very good team on the night – there's no disgrace or disaster in that.