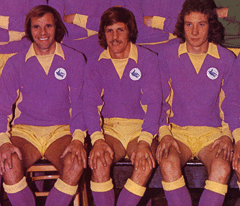 I wouldn't envy anyone the task, but, if they were to study each of the football matches that I have been asked to predict in the last sixty years, I'm pretty certain that the scoreline of 1-1 would be the most common one.
I'm not sure why, but it's always been the score which has seemed the most natural outcome of a game to me. Some of them just seem like obvious 1-1s to me and so I cannot really take too much credit for getting the outcome of Cardiff City's visit to Reading correct beforehand – this was one of the obvious 1-1s as far as I was concerned.
With City having fallen behind in the first half, a draw does not seem to me to be that bad a result. However, there are those who appear to believe that our hopes of making it to the end of season play-offs are now hanging by a thread.
Actually, I'm over dramatising things a bit there, but it does seem that there are those who feel we have now reached the stage where we cannot be dropping too many more points between now and the end of the season.
My own view is that, when you consider the opposition our rivals for the two play-off places up for grabs were up against yesterday, then it was always likely that we were going to lose a little ground on some of them.
Charlton Athletic may have beaten Middlesbrough last weekend, but the truth is that they are almost as good as down already and Sheffield Wednesday were always likely to end up winners of the match between the two sides at Hillsborough – although Charlton held out for an hour, this duly happened as Wednesday ran away with the game to the tune of 3-0.
At St. Andrews, Birmingham welcomed a Fulham team that has been dropping like a stone in recent weeks. The Londoners are now right in the relegation mix and so a home win seemed the most likely result. In the event, Birmingham would have been fairly pleased to have got away with a draw after having fallen behind early on.
The Ipswich side beaten at City last weekend were looking to make it successive home wins when they entertained Rotherham after having beaten Blackburn in midweek. Even though Rotherham have picked up dramatically since Neil Warnock took over as manager, they were still in the bottom three and so Ipswich had to fancy their chances. As it was, the visitors got their noses in front and were never pegged back.
All of these games were played hours after the lunchtime local derby between Derby and Nottingham Forest. Unfortunately, Derby, rather luckily I thought, edged this encounter by a solitary goal inside the last quarter of an hour.
All of this meant that Derby and Sheffield Wednesday were now five and three points respectively clear of us. Ipswich are another point back, while Birmingham are now six points adrift of the last play-off place and are beginning to find themselves in a similar type of position to Preston, who drew 1-1 at home to QPR, in that they cannot afford too many more dropped points now.
With a week's break now for international friendlies, Cardiff's next game when the league fixtures resume in a fortnight is at home to Derby. This will be described as a must win match I'm sure, but whether it is or not is open to argument – I think it is certainly fair to say it's a game city cannot afford to lose mind.
Since losing at Middlesbrough, City have played four times and the irony is that the match which has seen what was, by some distance, their best performance during this time was the only one they lost!
Yesterday was more the grafting and solid stuff that enabled us to beat Bristol City and Ipswich  than the good quality fare we saw in the 2-0 loss to Leeds, and so Russell Slade's mantra in recent weeks about performances taking second-place to points at this stage of the season is, once again, proved to be correct.
However, as I mentioned last week, I believe that we need a bit more than we have seen in three of our last four games if we are to stand a chance of achieving the five or six victories  that we are probably going to need from our last eight games.
I can well understand why many will view a point from yesterday's match as a disappointing outcome, however I would argue that when you take into account that there were patchy displays from some of our more consistent performers and that we were behind for a fairly long portion of the game, a draw is not too bad a result.
We are not quite at the stage yet where we need to go hell for leather for the win in away games we are drawing and, with Reading manager Brian McDermott, effectively, claiming his team were robbed of a win, the last quarter of the game for me always had the feel that a third, and match winning, goal was more likely for the home side than it was for us.
While "hanging on for a draw" would be putting things too strongly, I think it's true to say that City began the game in better style than they finished it. City came closest to a goal in the opening half an hour when Craig Noone headed against the crossbar from a Joe Ralls cross – Noone probably should have scored, but it was hardly the absolute sitter that some in the media insisted it was.
If City could claim that the game's first-quarter belonged to them, then Reading could certainly do the same for the second one. Substitute Gareth McLeary, on for injury victim Hal Robson-Kanu, who must now be doubtful for the upcoming Wales matches, volleyed the home team in front on thirty seven minutes, but there could have been goals either side of that -, first when City crowd favourite Yann Kermogant broke free only to be foiled by Simon Moore and then when Ola John really should have done better than shoot wide after being put clean through on goal.
Reading generally continued to have the better of things in the early stages of the second period as well, or at least they did until Russell Slade decided to take off Noone and Stuart O'Keefe and introduce Sammy Ameobi and Aron Gunnarsson.
Within seconds City were level as Ameobi got in a shot from the edge of the penalty area that got a slight deflection onto the post and bounced out to Lex Immers who headed home in a manner quite similar O'Keefe's goal at Bristol City.
I'm one of many who have been critical of our manager for his use of substitutes in the past and so it would be churlish of me now not to give him credit when one works as quickly as Ameobi's did yesterday- one or two more such inspired changes wouldn't go amiss in the next seven weeks!
The substitutes helped City to steady the way the game had been going for around half an hour, but, even so, Moore had to confirm his position as one of our best players on the day with a fine save from substitute Matej Vydra.
In the end though City got the result which means that we have not lost to Reading in the league since they scored ten against us in the two games we played against them while they were strolling towards the Championship title a decade ago.
That's some achievement when you consider that Reading have tended to be a strong outfit at this level during that time and that it's hardly as if the two teams have been avoiding each other since 2006.
So, although it has to be something of a long shot, City are going to enter the final few miles of the marathon that is the Championship still with hopes of playing Premier League football in 16/17. Having consistently argued that we were not quite up to finishing in the Play off positions for the first six months of the campaign, only to begin to have a few doubts about that in the light of how well we played against Wolves and Brighton, I'm not going to abandon my new found optimism quite yet – four points from our next two, very testing, games will keep us well in the hunt as we enter the last month of the season.
*pictures courtesy of http://www.walesonline.co.uk/