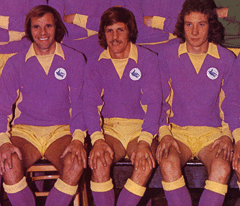 I've just got back from Cardiff City Stadium where I'd watched a game in which a team playing a pleasing brand of ground based passing football came back from conceding an early goal to beat a side using a pretty basic, power based, long ball approach, you may well think that you would be going on to read about a City defeat.
Not a bit of it though as City's Under 23 team beat their counterparts from Burnley in a very enjoyable encounter in their latest Premier League Cup game. It was City's first win at their fifth attempt in their qualifying gtoup, but it was enough to keep hopes of a top two finish and qualification to the next phase of this new competition alive – to get through they'll need to win at Blackburn in their final match and then hope that the Ewood Park side also lose to Sunderland.
To be honest, Burnley have a right to feel a bit hard done by after their defeat because Ben Amos was much the busier of the two keepers as he made himself a man of the match candidate with a series of good saves.
The opening stages of the game saw City clinging on for dear life at times as Burnley peppered them with a series of long throws and corners which one of their players invariably got to first, but that was hardly surprising given the difference in size between the two teams.
It took the visitors just five minutes to take the lead as Burnley striker Tommy Wood reacted quickest to a second ball by slamming the ball high into the net from six yards with Amos helpless.
Shortly afterwards, the ball was scrambled off the City goal line (I hardly had the best view of the incident, but it seemed to me that the ball may have crossed the line before it was cleared) after Burnley had dominated yet another set piece exchange and the siege continued with Amos just managing to scramble clear a dangerous cross.
At this stage, City were consistently being bullied off the ball by opponents who just seemed to have too much upper body strength and power for them. Burnley centre forward McNeil was proving a real handful for trialist centreback Elan Assiana who has been playing for Charlton after earlier spells with Fulham and Man City as, like so many of his team mates, he didn't look big enough to cope with the challenge Burnley were presenting.
However it was Assiana who provided the first hint that the match might not develop in the one sided manner it had been threatening to. While he was not wholly convincing in his centreback role, the trialist is also listed as a right back in the Google entry for him I read and he looked more suited to that position as he glided stylishly past three opponents in a run which got the home supporters in the sparse crowd excited for the first time.
Soon after this, captain Jamie Veale clipped the crossbar with a free kick as the game began to develop into an interesting contrast of styles. Burnley were dominant when the game was a physical battle and it stayed that way throughout, but, increasingly, bouts of football were breaking out and it was becoming clear that, when it was a contest where skill was the most important factor, City's nippy and quick ball players were better than their opponents by some distance.
Right back Cameron Coxe, another City Man of the match candidate, then tested visiting keeper Connor Mitchell with a shot from twenty five yards as the realisation dawned that this was a game City could still win if they stuck to their footballing principles.
However it was those footballing principles which almost cost them just before half time as their determination to play their way out from the back got them into one of those situations when you can see a team is getting themselves into more and more trouble with each short pass they are playing. The end result was that a Burnley player was presented with what looked like an open goal about fifteen yards our – again though, Amos was able to come to his side's rescue by getting off his line quickly to block the shot.
This seems an opportune moment to mention this, very good, interview with Craig Bellamy which has already been mentioned by someone in the Feedback section this weekend in which the club's new Player Development Manager outlined his approach to his job. Of particular interest when considering the incident I've just described is the following where Bellamy describes his playing philosophy;-
"If somebody, at whatever age level, gives the ball away in defence and the opposition score a goal, no-one is to blame them. You blame me because we're insisting upon that style, which has far more benefits to negatives."
Although City had definite grounds for hope in the second half as they went in at the break still a goal down, the truth was that, on the balance of play, Burnley probably should have been a couple of goals to the good, but the visitors were never again to enjoy the sort of control that had seen them metaphorically swatting their opponents away like flies at times.
Although there weren't too many close misses to suggest a City equaliser was coming, Theo Wharton and Marco Weymans were becoming increasingly influential figures and with Jamie Bird growing into his unaccustomed centre forward role, Burnley were definitely having to work harder to preserve their lead, while their attacking threat was now almost exclusively limited to the corners and long throws they were able to get into City's penalty area.
I daresay the visitors may have been beginning to fear the worst after their failure to turn their earlier control into something more substantial and that feeling must have grown when City were presented with the chance to equalise when James Waite was worked free and drove into the penalty area to get in a shot which was blocked by a defender with his arm.
I've got to admit I was surprised by the penalty award which followed, because it seemed to me that the defender had little time to get his arm out of the way as he was so close to Waite when he shot, but, just as he had done in the last home game with Millwall, Veale powerfully drilled his penalty just wide of the keeper to level the game up.
Burnley were now struggling to contain City's neatly built attacks with this being reflected in the three bookings they picked up in the last half an hour of the match and the fascinating battle swung in the home side's favour as they took the lead with fifteen minutes to go.
Waite was the scorer as he celebrated his recently awarded contract with a well taken goal. but much of the credit went to Weymans for his defence splitting which put the diminutive midfielder through on goal. One thing Waite can do is finish and I was confident he would beat Mitchell which he duly did by firing a low shot through the keeper's legs as he came out.
Burnley came back with more long balls into the box and Amos was called into action a couple more times, but City were fairly comfortable for the rest of the game thanks in no small measure to a very impressive twenty minute stint by sub Jack Bodenham at centreback – Bodenham, who has not got a great deal of experience even at Under 18 level, replaced Assiana, who appeared to have picked up an injury, and improved City's defending as he got the better of his duels with the dangerous McNeil.
Another sub, Sion Spence, came close to doubling his side's lead in added time when his shot from twenty yards cleared the bar by a yard or so, but the final whistle blew shortly  afterwards to end a game in which City's team brimful of teenagers had stuck to way they have been told to play and it was so good to see that belief rewarded – they should all be proud of themselves this evening.