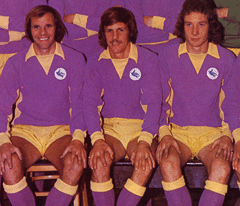 could they really come up with anything better than what nearly 24,000 Cardiff City fans were privileged to witness yesterday? The return of the home coming hero turned out to be all that it had been hyped up to be and more as Cardiff City didn't freeze on their big day (to be fair, we do that less and less lately) and turned in a performance which bodes well for the upcoming months.
It didn't look like it would end up like that though in the opening stages as Doncaster, relishing their role as potential party poopers, enjoyed a supremacy which had a bit to do with an understandable nervousness on City's part, but more to do with the fact that we were seeing a scenario unfolding which had become familiar over the past two seasons and more. In his post match press conference, Dave Jones defied the assembled hacks to name the formation that his team had used. Well, until Michael Chopra went off, I thought it was all too easy to identify how we were set up – it was with a very rigid 4-4-2 which seemed to me to play right into the hands of a side that values possession of the ball as much as Doncaster do.
City have struggled against some sides using 4-5-1 when the opposition are good enough passers of the ball to be able to exploit the three v two advantage they enjoy in central midfield as they work their way forward playing the ball around our two banks of four. When you consider that the one description that most supporters would probably come up with when asked to describe how Doncaster play would be "a good passing team", the opening half hour turned out to be  all pretty predictable as far as I was concerned – if you are going to set up like City did against a team like Doncaster, then you have to accept that you are not going to get a fifty per cent share of the ball.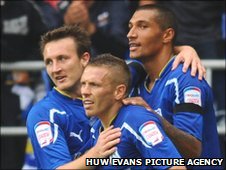 Although City had their goalscoring chances in the opening stages of the game, they tended to come about through individual moments of good play which didn't change the general theme of Doncaster dominance in the middle of the park and I don't think I was the only City fan who wondered if the substitution of Michael Chopra by Chris Burke was a tactical switch even though it was still so early in the game. As it turned out, the change which transformed the game seemed to have more to do with accident than design, but, even so, Dave Jones deserves credit for ignoring what seemed to be the more obvious option of moving Craig Bellamy up alongside Jay Bothroyd while using Burke and Peter Whittingham on the flanks.
Instead of that though, Whittingham came infield and in the last hour or so, Dave Jones' point about it being hard to pin down what our system was became much more valid. Crucially though it became three against three in central midfield and from that point on, it seemed to me that the result was never in doubt – the margin of victory may have flattered us a bit, but there could be no doubt who the better side had been. By making it an even contest in central midfield, we were able to see more of what Seyo Olofinjana and Danny Drinkwater can offer us – in Olofinjana's case that included an ability to use those long legs to keep possession of the ball when it just looks to be getting away from him, good use of the ball and an ability to sometimes get forward in open play, while Drinkwater again showed good ball winning skills, neat passing and a very impressive ability to make runs beyond the front men in the dying moments of the game.
It is a big compliment to City to say that by the end of the match, they had outDoncastered Doncaster if you get my meaning – they had taken on and got the better of their opponents in the area of the pitch where they are strongest and it seems to me that in doing that, the Cardiff City 2010/11 model possesses options that previously models did not. Dave Jones more or less acknowledged this after the game when he said he hadn't had the players to switch things around tactically so much in the past.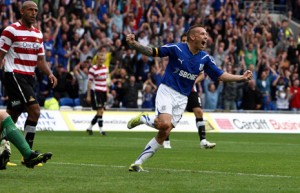 Dave Jones' point about it being hard to pin down how we were set up after that was proven by the performance of Chris Burke really. He certainly played down the left and played down the right yesterday, but any more of the way he played against Doncaster and the words of the Cardiff City version of Sloop John B will have to be changed to incorporate the addition of the words "he plays down the middle" somehow. In a team which featured many fine performances yesterday, Burke's was, perhaps, the most impressive with his cross from the right which, as was remarked on City messageboards yesterday, enabled Jay Bothroyd to provide a perfect memorial for Brian Clark with a classic far post headed centre forward's goal, which showed him in his "normal" role, to his goal which had him charging through the middle to outpace centre halves like a Chopra or Bellamy might hope to do, Burke reacted in the best possible manner to his unlucky omission from the starting eleven after a good performance at Derby.
Others worthy of a mention were Jay Bothroyd who, again, looked the complete target man at this level and Lee Naylor who did well when coming on after the worrying early loss of Kevin McNaughton with what looked like another hamstring problem. With Darcy Blake having cried off with an injury picked up in the pre game warm up, Naylor, who had only signed for us on Friday, was a very late call up to our substitute's bench and then found himself coming on with the match less than twenty minutes old. Despite his lack of match practice, Naylor did well enough defensively and put in one superb cross which suggested that he has not lost the ability he had at Wolves to provide a quality service to the strikers while he was up in Scotland.
However, if you are talking about individuals, it has to all get around to Craig Bellamy in the end and, after a start which he admitted reflected the tension he was feeling, he settled down to become a major factor in our win with two assists (the second of which was a sixty yard pass to Burke while he was back defending by the corner flag) and a stunning free kick goal from more than thirty yards out which was pure Roy of the Rovers. Bellamy left the pitch to a rapturous reception with three minutes of normal time left and that gave Jason Koumas a chance of a bit more match action.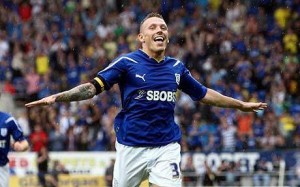 Mention of Koumas' very brief cameo brings me on to what yesterday's performance means in terms of what we can expect from the team for the rest of this season. Well, going back a year this weekend, City came up with a brilliant performance in beating Bristol City 3-0 – to my mind, how we played that day compares well with anything I have seen from a Cardiff City team over the past forty odd years, but, watching it, you got the feeling that this was as good as it could get for that team. While, that display against the Wurzels was a more complete one, I left the ground yesterday telling myself to stop those thoughts that were circulating in my brain that I had just watched an automatic promotion team in action because all that does is ramp up the expectation levels that bit further. Having slept on it though, I'm afraid the feeling is still there and the main reason for that is that it seems clear to me that there is quite a bit more to come from this team yet.