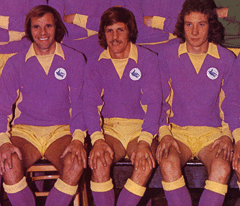 I've got this theory whereby if you were to ask somebody over the age of forty who had supported one team since they were a child to name the best player they'd seen at their club, the answer you would get would contain a heavy bias towards men who were in the team when the person was between the ages of, say, eight to eighteen.
For me, that ten years between when you first get into the game and when, for many, football starts to occupy a lower priority in your life, is the age when your strongest opinions are formed and, for nearly everyone who sticks with their club for life, most of the memories which sustain you come from that period.
For example, for forty five years my answer when asked who was the best player I've seen at Cardiff City was greeted with an answer which was akin to the sort of reflex action you cannot stop even if you wanted to – I'd say "Ian Gibson" almost before the question had been finished.
Gibson was not only the best player I've seen play for City, but he was also my favourite City player (often, the one doesn't automatically lead to the other) and the news which broke yesterday of his passing away at the age of seventy three was another reminder that time waits for no man – not even the brilliant Ian Gibson.
Now, of course, there is my theory to consider here when throwing words like "brilliant" around. After all, I was fourteen when we signed Gibson from Coventry for £35,000 in the summer of 1970 and sixteen when he was sold to AFC Bournemouth, for a joint fee of £100,000 with Brian Clark, in the autumn of 1972.
So, in my case, Gibson's stay at Cardiff coincided with that influential decade I talked about earlier and, more than that, it happened during that middle teen period when you think you know a lot more about the game than you actually do!
Therefore, is it possible that the "brilliant" Ian Gibson was someone who I would have rated completely differently if he was playing for us today in exactly the same way as he did getting on for fifty years ago?
Well, the first thing I'd say at this point is that, whereas your Don Murray's and Phil Dwyer's would have found it impossible to play in the same manner as they did in their pomp if they were around now, my recollection is that Gibson, most certainly, could have done.
After all, skilful, creative, playmakers with an eye for goal are always going to be in demand. It almost goes without saying that such players have to be brave mentally because they spurn the mundane and the safe options, but Gibbo was also brave physically. We are talking about a time when "hatchet men" were given a virtual free rein to cause mayhem and Gibson was always the City player they were most likely to target – far from backing away from the hard men, Gibson gave the impression he relished the challenge they posed and his response was  to fight fire with fire as he got straight back up and almost invited the "cloggers" to do their worst - that's not to say he was averse to putting himself about a bit as well mind!
From what I can gather, Jimmy Scoular was the sort of player who would have been looking to kick Gibbo up in the air if he had faced him, but, although his Cardiff teams could be physical (to put it mildly!), his best sides also had a nucleus of technically proficient players (e.g. Peter King, Bobby Woodfruff, Brian Clark, Leighton Phillips, Brian Harris etc.) who gave City the chance to prevail in a footballing contest as well.
More than that though, the really good Scoular sides had a flair player in them who was capable of moments which marked them out as being First Division footballers in exile.
On 4 October 1969 City were beaten 3-2 at Blackpool, but, worse than that, Barrie Jones sustained the broken leg injury that would end his career. The stylish Jones was the man who had provided the guile in the previous season's promotion bid as he prospered from a switch from the wing into the middle of the park and, looking back now, the failure to replace him probably had a lot to do with the way the 69/70 promotion challenge faded away badly in the second half of the campaign.
It took nearly a year, but Scoular got his replacement for Barrie Jones in the end and Ian Gibson played a leading role in a superb 1-0 win over eventual Champions Leicester at Filbert Street on the opening day of the 70/71 season.
The weeks which followed saw City not fully convincing in front of their own supporters, but this was down to individual errors at the back and in goal, Gibbo was more than doing his bit as his creativity brought chances aplenty and he was to maintain a high standard throughout the season.
Most memorable for me at this time was the way Gibson would head towards the opposition corner flag in the dying minutes if we defending a one goal lead and just keep the ball for the rest of the game – once Gibbo had the ball in the corner and he parked that squat body of his in front of it, our opponents were just not going to get it back as free kick followed free kick for a series of hacks at the City man.
However, if you were to ask me what was Gibson's best season with City, I wouldn't name the one where we beat Real Madrid and missed out on the First Division by three points, I'd opt for the one which followed that.
1971/72 saw City plummet down the table. The near promotion side of a few months earlier were transformed into strugglers as a number of players who had been club stalwarts for years lost form dramatically.
Only one side in the Second Division won fewer matches that season than City and, in the end, they only avoided the drop by a single point. There was only one player who, week in, week out was able to perform at the levels shown in 1970/71 and that was Gibbo.
I can still recall him turning in a virtuoso performance against Sunderland on the mudheap that was City's pitch that season as if it was yesterday. Gibbo was tremendous that day and his solo goal gave us a half time lead which, in typical fashion for that season, was turned into a 2-1 defeat by the sort of errors that were costing the team dear.
City managed to get their act together just in time to scramble clear of the drop that year, but I've always been convinced they wouldn't have done so without Gibson's contribution – there are "flair" players who are great when things are going their team's way, but then disappear when life becomes a struggle, if anything, Gibbo upped his performance and work rate during the struggles of 71/72.
The early weeks of 1972/73 saw City in the toils again and, this time, their talismanic playmaker was struggling as much as the rest. After a dreadful 3-0 defeat at QPR in front of the Big Match cameras, Jimmy Scoular come to a decision to virtually break up the team and bring in the likes of Dwyer, Johnny Vincent and Andy McCulloch. Even so. it was still a shock to see Gibson leave for Bournemouth and, perhaps, there is a grain of truth in the story I've been told on more than one occasion that a player, who certainly liked a bet, needed a move to help pay off his gambling debts.
Whatever the truth, Gibson only managed twenty appearances for Bournemouth before injury ended his time at Dean Court and, although he made a comeback of sorts with Highland Park and Berea Park in apartheid ravaged South Africa, his career was effectively over.
So, was Ian Gibson really that good? On the face of it, a mere two Scottish Under 23 caps seems meagre recognition for someone who is supposed to be the best player I've seen at Cardiff City, but it's true to say that, unlike today, Scotland was positively teeming with Gibson type players in the fifties, sixties and seventies and the notion of someone with his talent getting so little international recognition back then is not such a far fetched one.
Maybe he wasn't as "brilliant" as I remember him, but does that really matter? Surely what's important is that, against a lot of quality competition, he stood out as the best player in the Cardiff City team which made the biggest contribution in turning me into a lifelong fan of the club – I owe the likes of Ian Gibson, Brian Clark, Ronnie Bird and Brian Harris so much and it's sobering that they aren't around any more for me to thank them.
RIP to the best City player I've seen and condolences to his family and friends.