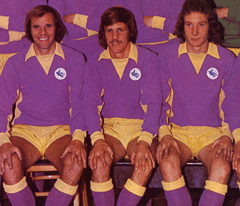 A little later than usual, I made my first visit of the season to a Newport County game yesterday when I watched them take on Stevenage at Rodney Parade. With County on a fine run and having scored six times in winning their last two matches, both away from home, I'd virtually made up my mind that, after City's last two home games, I'd finally be at a match where the side I wanted to win would be playing some good football, but it didn't really work out like that.
Truth be told, it was far from a classic – both sides played with three centrebacks and two strikers, so the midfield was a congested area where no one had much time on the ball with many of the passes played forward being uncontrolled, first time lobs as the ball was helped forward by players who knew they were likely to be closed down if they took the luxury of a second touch.
I'd heard reports that County were playing more of a passing game this season, but I saw little evidence of that as there was the reliance on long throws from both sides of the pitch for much of their goal threat which I remembered from matches I'd seen last year – manager Justin Edinburgh got it right when he described the match as "a dogged game in which there wasn't a lot of football played", but he could still point to a 2-0 win that lifted his side into sixth place, just three points short of the automatic promotion places.
There really wasn't a great deal between the two sides, but County made two set pieces count when, firstly, top scorer Aaron O'Connor neatly guided a header past Stevenage keeper Chris Day on twenty six minutes after Lee Minshull had nodded  on Ryan Jackson's long throw and then impressive centreback Darren Jones, looking suspiciously offside to me, shot home from close in after the visitors had failed to deal with a free kick by captain Andy Sandell in added time at the end of the first half.
After that, County had a good spell midway through the second half when, inspired by some good raiding down the right by Jackson, it felt like a third goal was imminent, but nothing came of it – in truth, just one would probably have been enough.
I say that because the visitors (who included former City loanee Simon Walton in their midfield – he made it clear was not happy to be substituted!) came up with little to trouble County after they'd made a misleadingly strong start by forcing a series of corners that saw a header deflected narrowly wide and an effort cleared off the line by Jackson.
After that, there was a shot from Charlie Lee that forced keeper Jamie Stephens into a good save around the quarter of an hour mark, but that was about it as far as Stevenage getting a sniff of a goal was concerned. County were able to keep their opponents at arm's length quite easily and, in a match that was never dirty, it was a surprise to see O'Connor kick out at defender Dean Wells in time added on at the end of the game. The County player was, rightfully in my opinion, shown a straight red card, but Edinburgh confirmed that the club would be appealing against the sending off which threatens to keep O'Connor out of the matches over the holiday period.
Once they'd scored, it always felt to me that County had control of the game and this takes me on to Cardiff City for whom those words certainly didn't apply at any time during their 5-3 defeat at Bournemouth yesterday – in fact, I can only think of three or four City matches this season in which I've had that feeling of us being in control of.
I've not seen any of the goals and only read and heard the odd snippet about the game, so it's one of those periodic away matches we play where I can only give general observations.
The first thing to say is that we hear often hear managers and players saying that someone is going to get a hammering soon if we keep on playing like that, but, for me, even when things were going better under Russell Slade in his first month in charge, it's been more along the lines of we are going to get a hammering soon if we keep on playing like that. It seems that the only reason yesterday wasn't that day is that Peter Whittingham can still deliver a quality dead ball or cross and Sean Morrison is proving to be pretty good at getting on the end of them.
I'd also say that a sure fire sign of a team that isn't good enough to challenge at the top of any league is that as soon as you start to take one part of it for granted by thinking it's sorted out, it goes right ahead and let's you down. That's what our defence did yesterday – before the game, I thought we'd lose 2-0, so I got the margin of defeat right. However, if someone had told me we would score three times, I would have said they were talking rubbish, but added the rider that, if it were true, we were going to get at least  a point.
Having not seen any of the action it's hard really for me to comment on how the Bournemouth match affected the critical messageboard clamour regarding Russell Slade's management except to say that, on the face of it, starting with Whittingham, Noone and Kimbo in a four man midfield hardly sounds like a selection designed to make us better at the long ball game we are, apparently, playing under him – these are all players who, at their best, want to get on the ball and make things happen, but they don't strike me as being physically equipped to prosper in the sort of approach we are supposed to be using under our new manager.
Talking of Kimbo, he, apparently, was so bad in the first half that the consensus from Radio Wales reporters at the match was that it would be his last appearance for the club – I must say he's done little in his first team appearances this season to back up his claim that he wanted to stay at Cardiff and fight for his place when he was linked with Celtic in the summer. There are also reports that Ravel Morrison has been sent back to West Ham (I'd been told by someone else on Friday that this had happened  the day before), while, unless Mats Dæhli was injured, his absence from the bench yesterday must, surely, indicate that his days at Cardiff are coming to an end.
This brings me on to what seems to me to have been the only positive from yesterday's match. Not before time in my opinion, Kadeem Harris finally got to some some league action in a Cardiff shirt and he appears to have been one of biggest factors in an improved second half City showing. Anthony Pilkington might just be ready for the Brentford match next week according to Russell Slade, but, if he isn't, I would have thought Kadeem must be the favourite to fill in for him against the club he did so well for in his loan spell last season.
Harris's surprise inclusion in the squad for Bournemouth suggests that the manager is prepared to look outside the twenty or so players he was reported to be picking his sides from and, if I were a youngster selected for tomorrow's Development team game, I'd go out on to the pitch determined to put in a good showing because it seems to me that a few of them may be as close as they've ever been to selection in City squad for a league match.
A greater reliance on youth is something that there has been the odd suggestion about in recent months and the suspicion persists that our manager is only here because he costs less than nearly all of the other candidates mentioned at the time Ole left would have done. Also, there are purely football reasons why you'd want to reduce a squad of 30+ senior players at a club in this division, but, again, the suspicion lingers that it has as much to do with finance as anything else.
The theory that Vincent Tan's continuing non attendance this season is proof of a loss of interest in his "toy" is another reason to believe that, unlikely promotion to the Premier League apart, the days of big spending at Cardiff may be coming to an end. If this means more of a chance for some of our best youngsters, then I'd have mixed feelings about it – to my mind, the likes of Harris, O'Sullivan and Oshilaja deserve a first team chance, but if, for example, those three became regular starters, it would carry obvious risks.
In fact, an increased reliance on youth as part of a cost cutting exercise at a club with smaller parachute payments could well end up in a downward momentum and when you throw in that we are talking about one that has huge debts owed to an unpopular owner who has helped bring morale levels among supporters down to rock bottom, then I'd say it's inevitable.
This brings me to the question I asked in the title of this piece. After yesterday's game, Newport County have only lost once in their last seventeen league games, figures like that strongly suggest that they'll be in the promotion shake up come May and. like Bournemouth I'd assume, there was a belief on and off the pitch that the club is going forward – they could well be in League One next season. However, if, as is rightly claimed in my opinion, Cardiff is not  football city, the same applies with bells on to Newport. Granted, Saturday's before Christmas are traditionally a poor time for attendances and Stevenage only brought about 50 fans to the game, but 2,976 is a poor crowd for a team doing so well – Newport has never supported it's football team with much enthusiasm, and I'm afraid I'd see Championship football as a step too far for them in their current circumstances.
If I'm right therefore, City would have to be relegated for Cardiff v Newport league matches to continue – while I'd say that is very unlikely this season, there are so many reasons to think it could happen pretty soon, clubs with as much negativity around them as this one has had for a year and more tend to only go one way.
* pictures courtesy of http://www.walesonline.co.uk/