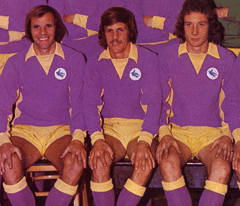 I wasn't expecting too much from yesterday's visit to Derby. Strong finishes to our first two games had, in my view, papered over some very ordinary stuff that had gone on for the majority of the time against Sheffield United and Burton and this, combined with our poor pre-season and Derby's fine result and performance at Leeds on the opening day had me in a frame of mind where I would gladly have taken a point beforehand.
To come back with all three of them then represents a very satisfying and encouraging outcome which should serve as a reminder to doubters like me that, despite all the negative stuff of the summer, we still have the vast majority of the assets which made us the Fourth best team in the Championship at the club (getting some of those assets to commit to new contracts would really offer proof that we are moving forward again mind).
I spent most of the second half of last season thinking that our attacking five of Burke, Whittingham, McCormack, Chopra and Bothroyd was as good a combination as any other in the Championship and at times it's been easy to forget that those five players are still at the club. Okay, it's looking likely that one of them will be leaving soon, but the addition of a player who has been amongst the very best of his type when he has played in this league in recent years means that, barring some dramatic late transfer window departures, our attacking options should be as strong as, or even stronger than, last season. Jason Koumas may have, understandably, looked a little off the pace at times last Wednesday but, after an hours football, he has already provided two assists. When you consider that Ross McCormack's departure will almost certainly be accompanied by the arrival of another striker, then you would have to say that most of our rivals must envy the attacking options at Cardiff.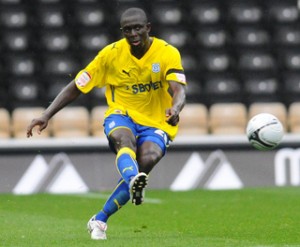 A quality goal by Michael Chopra, a winner by Chris Burke to back up a good personal performance and further proof of Jay Bothroyd's effectiveness at this level offered more evidence of our attacking riches yesterday, but it was in the area where many would say we were weakest last season that I thought the main reasons for optimism came. Despite the, perhaps understandable given the circumstances of his departure, playing down of Joe Ledley's ability by many City fans since he left for Celtic, I think it's fair to say that losing a player of his quality would leave a pretty big hole in any Championship team's midfield. I saw it said yesterday that Ledley would not get into the team now if he was still here, but, surely, it's true to say that we wouldn't have made at least one of the signings we have in that area if Joe was still here?
Whatever the truth is about that, the fact is our midfield looks stronger on paper than it did last season and yesterday offered positive signs that it will be stronger in practice as well.When you consider that we have Steve McPhail to come back into things, that Koumas, even if he will not be formally named in there, will make a contribution at times and that Peter Whittingham is spending more time in the middle of the park this season, our central midfield looks more creative before you even consider what the two starters in that area yesterday will give us.
I like what I have seen of Danny Drinkwater so far and another strong performance yesterday has me hoping that we have got an energetic player who can spot a pass and is also willing and able to do his bit in the defensive side of the game. However, it is the signing of Seyi Olofinjana which makes me believe that we have a stronger, and more adaptable, midfield this season – apart from some quibbles about "Olofinjana not able to impact on the game unless it came into his zone" (doesn't that apply to any player?) in a pretty downbeat Wales on Sunday match report, the general reaction to his debut has been very encouraging indeed. I am still not sure that Olofinjana is the midfield "beast" that some of our supporters think he is, but I believe he can do more that just destroy for us and I am hopeful that, although all of the midfield players I have named can be creative, we have got the balance right this time between the offensive and defensive side of the midfield game.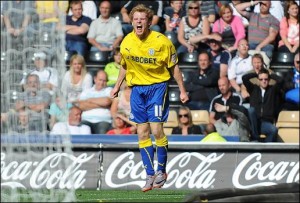 With the replacement of the increasingly error prone Peter Enckleman with Tom Heaton in goal, I believe that we are a little stronger in that position as well, but the goal we conceded yesterday offered more evidence that, defensively, things still don't seem right. While it would be easy to look at the role of Mark Hudson (who, sadly, looks to have become the one that all those supporters of our club who feel the need to pick a hate figure in the team have chosen this season) and blame him entirely for Cywka's goal, for me, all of the back four except Kevin McNaughton have to take some responsibility – Gabor Gyepes allowed Varney to put the cross in too easily and I'm still trying to work out what Darcy Blake was supposed to be doing.
All three goals we have conceded this season have been pretty sloppy ones and, taken with the poor defending we saw in our two final games of last season, I think any Championship opponents can go into matches with us confident of getting chances to score. In saying that though, it is always so easy to just look at the goals we concede and pick holes while ignoring the sort of defensive blocks that the likes of Burke, Drinkwater and Hudson put in when Derby piled on the pressure in the closing stages. While I agree that the defence currently does not match the quality of the goalkeeping, midfield and attacking departments, I believe we have capable defenders by the standards of this division – I would not say that they are top six quality as a unit, but top ten perhaps.
Although we could do with a centre back of the sort of quality we had become used to for about five years before Roger Johnson left, I'd still say that a specialist left back is the main priority when it comes to our defence and speaking of left backs, what is it about Kevin McNaughton that seems to attract the sort of injuries that we saw yesterday? I can remember a delay in a televised match with Barnsley in McNaughton's first season with us while he received treatment for a very severe looking head injury and I suppose it has something to do with the wholehearted way he approaches the game. Whatever the reason, the signs are that, just like against Barnsley, the injury he suffered yesterday isn't as severe as first feared and that is good news for all sorts of reasons – not least of which is that, after an iffy time of it last season, the early games of this campaign have seen Super Kev back to something like his best.