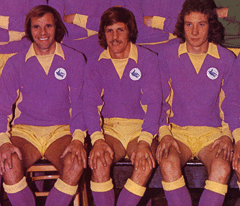 Cardiff and Millwall played out the best Under 23 game seen at Leckwith Stadium this season yesterday when they drew 1-1 on a wet, murky afternoon. Given that the three previous matches at the ground had seen awful 0-0 draws against Charlton and Blackburn (a real shocker that one) and a miserable 1-0 loss to Barnsley, it's rather damning yesterday's match with faint praise to say it was better than them – truth is that it was a pretty entertaining and competitive affair that kept your interest in a way the previous trio of matches had not.
I'd say the outcome was a fair one as well. City may feel aggrieved not to have won after. largely, controlling two thirds of the game with more of the pleasing pass and move football that had been well to the fore in their 3-1 win over Ipswich in their last home game, but, this time, there was a strange lack of a goal threat for the visitors to cope with, despite City tending to be in control in the middle of the park. My explanation for this would be that Mark Harris was, too often, left isolated up front as, for some reason, Jamie Bird (returned from his loan spell at Weston) and James Waite were not able to offer the sort of attacking support from midfield that you'd normally expect from them.
There was some support for Harris in the form of the unpredictable Ibrahim Meite out on the left. Based on this showing, our recent signing from Harrow Borough is an odd mixture of a very poor first touch (easily the worst out of the City outfield players yesterday) and the occasional moment of inspiration. Most of the time, any passing movement tended to break down when the ball was played to Meite, but, if he could get the ball under some sort of control, he had the pace and power to cause the opposition problems and he was the player in blue most responsible for getting City the first half lead which they could not cling on to in the face of a strong Millwall response to what I assume was a half time dressing down following their insipid first half display.
Millwall came out after the break far more fired up than they had been as they picked up three bookings for their more physical approach. More than that, they carried a threat going forward during their period of ascendancy (which, curiously enough ended after they equalised) that City could never manage and there was a definite feeling that their goal had been coming when Neil Leighton gave a good cross from the right the sort of finish it deserved with a simple header from close range.
Although Millwall were on the back foot for the majority of the match, there was no doubt which of the two keepers had to make the most saves – Oliver Byrne, making  a rare start at this level following Luke O'Brien and Ben Wilson's loan moves to Redditch and Rochdale respectively, had no chance with the goal he let in, but impressed with a series of saves as Millwall stepped things up in the second half.
By contrast, the visitors Harry Girling was restricted to good saves to deal with free kicks from Jamie Veale and Bird and a closer range block from a hooked effort as City responded to well to losing their lead – there was also a shot deflected narrowly wide during this good spell by City, but, off the top of my head, I cannot think of any other time when it seemed like the home team could get a winner.
Just as with his City counterpart, Girling had no chance with the goal he let in as captain Veale beat him from the penalty spot in the thirty fourth minute with a powerfully struck effort awarded for a needless handball after the defence had appeared to have dealt with the problems caused by Meite's long, meandering run.
The winger received the ball out on the touchline about forty yards from goal and proceeded to go on one of those runs where the player looks like losing the ball at any moment, but somehow manages to beat player after player. After he had gone past what must have been the fourth Millwall player who had tried to stop him, Meite was on the bye line moving in on goal. Instead of shooting he opted to put in a low cross, which Millwall looked to have dealt with until the handball by a player looking to break out of the penalty area himself.
For those few seconds Meite showed why he had attracted the attention of Premier League Champions Leicester and there was another powerful and pacey run in the second half as he proved too strong for opponents intent on stopping him by fair means or foul, but the impression given by him was of a very, very raw talent who may just develop into a type of player that we have lacked for some time at City.
If City had been able to hang on to their lead, they would have closed to within four points of leaders Charlton with a game in hand. As it is, they stay second in the table a point clear of Millwall, who have also played a game more than us, with Coventry a further four points back in fourth. So, there would appear to be every chance that we can make it into the end of season Play Off competition where the top two sides in the North and South sections are involved in a mini tournament to determine the overall winners, but we are picking much younger teams these days than we used to at this level, so it may be that results will suffer accordingly – although on yesterday's evidence, I'd say they should be alright as long as they can present more of a goal threat.
Finally, I must record that the planned visit of Prime Minister Theresa May to the match where she would be introduced to both teams prior to kick off before watching the first half, had to be cancelled because the likes of Nicola Sturgeon, Arlene Foster and Carwyn Jones kept her longer than expected as they continuously rabbited on about something called Brexit I believe. Just around the time Veale was scoring his penalty, the cavalcade of cars accompanying the Prime Minister drove past the ground on their way to Rhoose Airport after some initial delay where, pretty obviously, there was a discussion as to whether she could just nip in to the stadium to catch the last ten minutes of the first half – to the great disappointment of the fifty or so people at the game, it was decided that she'd have to miss out on the football.