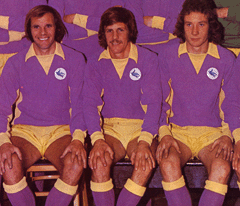 Cardiff City kicked off their home programme in what is their eleventh season at Academy level this lunchtime at Treforest, but, before I talk about their 3-1 victory over Barnsley, I thought I'd have a few words about how I feel the last decade at this level has gone.
In the early noughties, the hierarchy at the club were always telling us that gaining Academy status was absolutely vital if Cardiff City were ever going to fulfil what were the pretty enormous (bigger than Barcelona!) ambitions Sam Hammam had for his team.
At the time, Academies were definitely thought of as the way forward if English (and Welsh) international football was going to reflect the strength of the domestic leagues, but, with England's impact in major finals declining even further over the past ten years if anything, it's not uncommon to hear their value being questioned nowadays as some start to look for possible alternatives.
I'd say any debate about the impact Academy status has had at Cardiff would follow similar lines, with initial enthusiasm being replaced by a suspicion that it's failing to do the job it was set up to do – produce first team footballers for the club.
My piece for the midweek win over AFC Wimbledon in the League Cup included a criticism of manager Russell Slade for what I see as a failure to give young players a first team opportunity in a string of matches over recent months that have struck me as being ideal opportunities to do so – I stick by that view, but I'd like to qualify it somewhat when considering the overall impact of our Academy.
I've mentioned before on here that Sam Hammam's opinion that an Academy could be seen to be succeeding if it produced one first team player a season seemed a sensible base to work from and I'd say for the first half of it's ten years existence, that target was being hit.
Having watched something like 80% of all Academy home matches played in the past ten years, my record at spotting players who would make a big impact at first team level is hardly faultless – I claim little credit for identifying Aaron Ramsey and Adam Matthews (the best two players I've seen at youth level in the last ten years) as future stars and Jon Brown never reached the heights I thought he would after watching him orchestrate a memorable 5-1 win over Man United in 2006, but I did rate the likes of Joe Jacobson, Aaron Wildig and Jon Meades as ones who had a decent chance of making a career for themselves in the pro game.
All of these players fall into the category of being first five years of the Academy prospects though, since we've gone into the second phase of it's existence, a couple of things have happened – I've seen less youngsters that I've regarded as potential first teamers and out of the ones I did think had a chance, few of them have really kicked on to the extent I hoped they would.
I can think of five players still on the club's books who I had high hopes for who have not played any league football for CIty yet and I'm beginning to doubt that they ever will do, while a sixth has been released, but has wasted no time in making a first team impact at his new club. Up to now, Declan John and the recently departed Ben Nugent (he joined Crewe on a free transfer a couple of weeks ago) have reached the first team without establishing themselves and Joe Ralls (who I liked from the first time I saw him) is the only player I can think of who has come through to fulfil that old Sam Hammam criteria.
So, while I believe Russell Slade is doing little or nothing to foster the notion that there is a way into the first team for the current crop of youngsters if they apply themselves properly, in fairness to our manager, I should temper criticism with a recognition that we just aren't producing the Ledleys, Gunters, Ramseys and Matthews', at the moment.
Anyway, were there any players who may become as good as that quartet on show at Treforest today? Well, I'm going to be boring and say it's very tough to say with any degree of confidence when it was the first time I'd seen the majority of them – I'd say about seven of the starting eleven were new to me and I always find it's as much as I can do to identify players in these early season matches, marking some of them down as future internationals takes a little longer!
However, there were a few players who took my eye – I thought keeper Luke Wakeman (who I've seen once or twice before) did well, while Keiron Proctor on the left has quick feet that earned his team a lot of free kicks as well as pace and Mark Harris on the right scored what was a candidate for the best individual goal I've seen City score at this level.
As for what type of match it was, it followed the pattern of many games at this level really in that it started off as quite a tight affair with not much goalmouth action, but progressively got more entertaining and open as the second half wore on.
The first hint of a goal came when a neat through ball opened up the Barnsley defence to put City's number seven through only for the visiting keeper to rescue his team with a fine save. Minutes later, after CIty's defence got into trouble trying to deal with what should have been a routine throw in, it was the opposite goalkeeper's turn to impress as Wakeman kept out a fierce shot by Barnsley strike Tom Clare.
Unusually for a City youth team in my experience, they were superior to their opponents in terms of physique and power and this began to tell a little as half time approached. Captain Rollin Menayese nodded in a free kick only for the referee to disallow the goal and order it to be retaken despite him having blown for play to recommence and when Menayese got his head to a corner soon after, one of City's defenders could only put his hurried effort over the bar from close in. Within a minute or two, Barnsley's keeper had to turn aside a shot by our number seven at his near post and Menayese was not to be denied this time as he rose unmarked to head in the resultant corner to give City a half time lead.
The third quarter of the game saw City looking pretty comfortable without really suggesting that further goals were imminent – Barnsley had their moments, but they never amounted to more the odd cross or shot being comfortably dealt with, while City wasted a few opportunities on the break with wrong decisions or poor final balls.
Therefore, it came as a bit of a shock when Lloyd Humphries' free kick from around thirty yards, although well struck, was mishandled by the keeper and ended up in the net via a post. It was a bad error, but the game would have been over as a contest soon afterwards if the goalkeeper hadn't made another fine save in a one on one situation, this time after a neat ball by Proctor left Ibby Sosani in the clear.
For twenty minutes or so, this threatened to be a turning point in the match because, to their great credit, Barnsley reacted to going two down by upping their game as suddenly they began to win the sort of challenges they had been coming second in for the past sixty minutes or so.
It took a little while for Barnsley to turn their new found supremacy into any kind of goal threat, but a couple of snatched efforts wide and then a twenty yard drive which drew Wakeman's best save of the game suggested a goal was coming and it duly arrived when Clare made a fairly difficult chance look easy as he turned in a driven cross from the left via the underside of the crossbar.
Now City were hanging on for a win that had looked to be theirs for the taking a few minutes earlier, play was heading almost completely towards their goal, but when they were finally able to work the ball to the right touchline about forty yards from the Barnsley goal, Harris beat a couple of opponents as he cut in and then powered past another before calmly rolling his shot beyond the oncoming keeper to restore the two goal lead.
There was more drama in the aftermath of the goal when we saw that rarest of birds in Under 18 matches, a red card. Although he seemed a bit too quick to blow up for free kicks, it's true to say that the ref had quite a bit on his hands as the match had something of an edge to it throughout. There had been four yellow cards, all of them deserved in my view, before Harris' goal and when Barnsley's right back, the recipient of one of them, made an abusive remark within the referee's earshot he was shown another one.
After their scare, City were now able to cruise through the last ten minutes or so and they had a chance to give themselves what would have been a flattering three goal victory margin when a fluent move created a shooting opportunity for Harris from which he fired narrowly over.
So, a win to follow up an opening day 1-1 draw at Sheffield Wednesday for the new intake of Academy scholars- maybe they'll provide the player(s) which give us that one new first teamer a season average over the next couple of years?