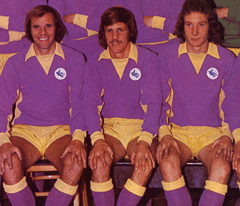 "You don't have a week to think about what you're doing, and you need to recover quickly in order to perform in the game on Tuesday. We've stayed tight as a group the past couple of days to make sure we are physically and mentally recovered. We're now confident and looking forward to tomorrow night."
and
 "We've got a second string side here which could go on to win the league."
The first of those comments was made by Cardiff manager Ole Gunnar Solskjær at the pre match press conference for last night's game with Middlesbrough and the second one was made by centreback Sean Morrison about three weeks ago following the 1-0 defeat by Wolves.
Based on what was on offer last night at Cardiff City Stadium as the team slumped to their third defeat in four matches (the only point picked up during that time being when we were largely outplayed at Fulham by a side who avoided defeat in the Championship for the only time this season), those two quotes are just meaningless and hollow words.
I cannot speak for others and, for now, I'll just stick to this season, but the way I feel currently is that as each game comes along, I become a little bit more optimistic about it's outcome – this is going to be the one when I finally see some signs of cohesion, a plan and the quality that everyone keeps on telling me we have. Yet, it all ends with the manager having to admit that, for spells of the game at least, that was the worst we have played so far this season. I don't think Ole has said that so far about the truly dismal 1-0 loss last night, but, if he doesn't, then it won't be because it isn't true – we hit new lows against a Boro side that didn't really have to play that well to record a win which was much more comprehensive than the scoreline suggests.
Going back to those quotes and, in particular the Morrison one, the manager's habit of ringing the changes after every game (there were four last night plus a positional change) means that it's hard to know what our second eleven looks like, but here's a side made up of players who have not played any league football this season yet;-
Moore; Barnum-Bobb, Turner, Gabbidon, Oshilaja; Noone, Wharton, O'Sullivan, Harris; Velikonja, Healey
Not quite a side to win the league then, but when you consider that, just seven matches into the campaign, there are twenty two Cardiff players I couldn't pick because they have been featured in the Championship for us then it's not too shabby a line up – don't forget as well that we have players such as Joe Mason (who scored a hat trick last night), Joe Lewis and the two Kevin's, McNaughton and Theophile-Catherine, out on loan.
So, even if what Morrison said is over the top, you would have thought somewhere among the twenty two who have played, the eleven in that team I picked and the seven I believe it is who the manager has chosen to loan out, we should be able to put together a starting eleven that comes up with more than we saw last night – after all, we are talking about forty players who have played first team football for the club here.
I have been arguing for a few weeks that our squad isn't as good as the hype suggests, but that isn't to say that we don't have the quality within it to come up with far, far better than we saw last night.
As mentioned earlier, whereas Norwich showed for about two thirds of Saturday's match why they currently top the league, Middlesbrough needed to look not much more than a mid table outfit to beat us pretty comfortably – they may well have it in them to play better than they did, but it was still more than enough to see off a Cardiff team which the BBC stats tell us had one effort on target in the ninety minutes, but, for the life of me, I cannot remember it.
There wasn't much on display which put me in mind of the summer's entertaining World Cup, but one thing that did was the way that Boro took a leaf out of the book of quite a few sides we saw in Brazil by looking dangerous when breaking from what were defensive set pieces for them. The first evidence of this came after about ninety seconds when Adam Clayton played a long diagonal pass to Albert Adomah who was in glorious isolation on our left hand side. Adomah took the ball forward and crossed to where centre forward Kike scored from about eight yards out with no Cardiff player besides David Marshall anywhere near him.
It was a dreadful start for Bruno Magna who was part of a remodeled defence that saw him line up alongside Juan Cala in the middle, with an uncomfortable looking Matt Connolly outside them on the left. Although there were times when, understandably, he looked a little out of sync with his colleagues, I thought the Gabon international was one of our better players – mind you, given what was going on around him, he only needed to look adequate to manage that.
What was Cardiff's response to this early setback? Well, in a truly desperate first half, there wasn't much – Cala was not too far away with a header from a Peter Whittingham corner and a long range effort by Anthony Pilkington may have caused Dimi Konstantopoulos one or two alarms before going wide, but, apart from decisively dealing with a few corners and crosses, the ex City loanee had a very quiet evening.
Despite, never really getting to see the whites of the opposing keeper's eyes, City did liven up somewhat in the second half – the introduction of Gunnarsson for the languid (there are other, less complimentary, words I could have used there!) Macheda couldn't help but improve things in that department, while LeFondre for Dæhli (again on the periphery of things) gave Kenwyne Jones a bit more support up front than he had been getting.
However, if there was a positive from last night, it was the performance of Javi Guerra. I thought the reaction to his cameo against Huddersfield was a little over the top, but I was impressed last night and, based on what he has shown in the rare chances he has had so far, he offers more than at least two of the strikers who seem to be further up the pecking order than him.
That said, why it was Pilkington who made way for the Spaniard baffled me. The winger may not have had a great game, but, with his departure following Dæhli's, City gave up on any attempts to play with width as, the full backs apart, the pitch may well have been only as wide as the penalty area for all of the use City made of the room on the outside.
So, once again, it comes back to our manager and the decisions he makes. To be fair to Ole, when the team plays so poorly every match, it hardly makes a manager think "I'll go with the same side next time". So, to that extent, I believe his tinkering is a slight red herring. What I find truly concerning is that, following those words about staying tight and being physically and mentally recovered from Saturday which I quoted at the start of this piece, what we saw last night was the best his charges could come up with – sadly City looked nothing like a side putting their bodies on the line for their under fire manager.
Ole didn't inspire confidence last season, but he had the excuse that it wasn't really his team. That proviso no longer exists and he has been given more financial backing and freedom than I for one thought he'd get during the summer. I think it's pretty obvious that the wage bill for the current squad is the second highest in our history – it's not just that we are watching crap football, it's crap football that is costing a club with a near nine figure debt (according to the last accounts) an absolute fortune!
Ole will probably shuffle the pack on Saturday at Derby, but why should the outcome be any different there than it has been in the majority of matches he's been in charge of – as I keep on saying, it's the lack of any signs of progress that is so damning for our manager and the last four days have seen a hemorrhaging of support for him among the fanbase, are those in the Boardroom, reluctantly, coming to the same conclusions as the club's dwindling support?
* pictures courtesy of http://www.walesonline.co.uk/