Any side that has to rely on a freakish set of events which happen for the first time in their Football League history to secure victory has to acknowledge that luck was on their side, but I would argue that Cardiff City deserved their good fortune last night in their 2-1 win over Bristol City at Ashton Gate. Having spent a sleepless night researching the matter (yeah right!), I can confirm that last night was the first time that the opposition has scored twice for us in a game since we joined the Football League in 1920/21 – and they were own goals, Joe Mason was looking more at crossing the ball rather than shooting on both occasions in my opinion.
No doubt if, God forbid, I were a wurzels fan, I would be bemoaning my team's bad luck at both ends of the pitch, because it has to be said that, prior to the winning goal, it was Bristol who looked more likely to score as Brett Pitman (twice) and sub Sean Davis came very close to putting the home team in front. However, certainly with both of Pitman's efforts, the chances came about because the wurzels spent much of the time playing like an away side looking to hit City on the break as we dominated both territorially and in terms of possession.
This goes to the heart of why I believe we were worth the three points last night – in so many of our away games this season it's seemed as if we have been happy to settle for the draw if we were level going into the last quarter of an hour or so – I'm not saying we have had everyone back behind the ball, but we haven't had many players busting a gut to get forward either. Yesterday was different though – after a first half where City were determined to keep their shape and only offer fitful support for Kenny Miller, they came out for the second half set on adding to the lead they had gained in added time before the break.
This was a sign of a positive approach which reasserted itself after the shock of the home side's out of the blue equaliser wore off and, for me at least, it helped create an impression that we were in control of the game for long periods – except for  when we almost got caught out for pushing too many men forward. Malky Mackay's post match press conference confirmed the suspicion that he had recognised this as a must win game – too many matches have been drawn at the grounds of the teams fighting relegation and, even with three home matches to follow, yet another 1-1 away draw having scored first was just not good enough. I can't help thinking that Filip Kiss for Liam Lawrence would have been the substitution we would have made in so many other matches before now, but, this time it was the more attacking Harris Vuckic who came on and the young Slovenian responded with what I thought was his best performance in a City shirt so far.
It wasn't all good as far as City were concerned of course. What was especially disappointing was that we conceded a goal at a time when we were looking as comfortable as we had been at any time in the match. It looked a pretty straightforward ball that caught Andrew Taylor out as well – Taylor is an assured and composed footballer when in possession, but there are times when you can see exactly why Tony Mowbray kept selecting him as a left sided midfield player last season. We really do need to relearn how to keep clean sheets, because in recent weeks, we have been bedevilled by individual mistakes at the back of a type we weren't making in the first half of the season – we cannot keep on having to score two or three times to win matches and I would say that all four regular members of our back four have to up their recent performances in league matches both individually and as a unit.
The recent decline in standards by our defence was shown in other ways. For example, although the sitting midfield players were able to make themselves more available for the back four than they had been against West Ham in particular, our defenders seemed to want to persist with long balls aimed vaguely in the direction of Miller – Mark Hudson, whose passing has been pretty good this season, was especially guilty of this at times in the first half. The pointlessness of just wellying  the ball forward was shown when City it down and started to pass it properly – although all of our midfield players were guilty of giving the ball away cheaply on occasions, in general they were able to move the ball around as a unit far more effectively than the wurzels could and, when we did that, Joe Mason began to come into his own.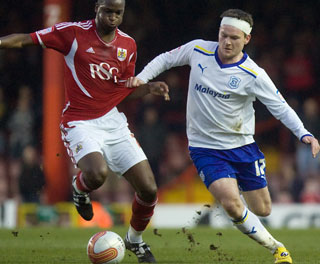 To be honest, I was a bit surprised by the man of the match award going to Mason – he barely got a kick in the first twenty minutes and there were times when you could see why there was the need for him to put in the time he has, apparently, been on the weights lately, but his cleverness and natural aptitude for finding space in the penalty area becomes much more of an influence when we pass the ball like we did for both goals. Those who accuse us of just playing hoofball should look especially at the first goal which came about as a culmination of an eighteen pass movement (featuring a good contribution by Hudson) and while the move for the second (started by a calm Hudson header) didn't feature as many passes, it was an object lesson in how to get the ball forward quickly, but in a controlled and organised manner.
It was in this facet of play  that we were so obviously the better team and, having accused the likes of Peter Whittingham and Aron Gunnarsson of showing signs of tiredness in recent weeks, it's only fair to record that I saw few signs of that last night or at Brighton – these two along with the assured Lawrence and the unselfish Don Cowie gave us an edge in midfield which Vuckic also helped maintain when he came on.
Almost two years ago to the day, City won 2-1 at Coventry, courtesy of a very late goal, to end a run of which had seen them pick up just seven points from eight matches. From that point on, they went on to qualify for the Play Off's quite easily and with the imbalance of fixtures which has us playing seven of our last eleven matches at home, there is every chance that we can do the same this time around. The automatic places are, almost certainly, beyond us now, but I would say that an unbiased observer would be inclined to tip us for a top six finish because, Birmingham apart, we have at least two home matches in hand on the other clubs in the top nine and only Blackpool out of the those clubs have as few promotion six pointers left as us.
* picture courtesy of http://www.walesonline.co.uk/footballnation/cardiff-city/cardiff-city-fc/2012/03/10/bristol-city-1-2-cardiff-city-mason-double-secures-win-91466-30500780/?
+ picture courtesy of http://www.cardiffcityfc.co.uk/page/MatchReport/0,,10335~58642,00.html?