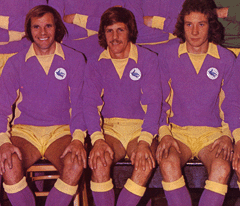 The announcement that Spurs and England defender Steven Caulker had agreed to join City didn't quite come as the complete bolt from the blue (that word again!) that our signing of Andreas Cornelius was a few weeks ago. Speculation linking the centreback, who was a member of the Great Britain squad at last year's Olympics, with us began on Tuesday and everyone who is anyone in the media was reporting that he was having a medical at Cardiff in the hours before the signing was confirmed yesterday evening.
However, for a fanbase that had been through the long drawn out saga of the Thomas Ince bid and the protracted, and still ongoing apparently, negotiations with Etienne Capoue and his representatives (Malky Mackay's response to questions about our pursuit of the French international midfield player after our games at Cheltenham on Saturday and Brentford on Tuesday were very similar except that he didn't say anything about the negotiations being at a "delicate" stage in his latest response), the speed at which the Caulker transfer was sorted out must have come as a shock.
Malky Mackay's comments in this piece make for interesting reading – Spurs Executive Chairman Daniel Levy is a notoriously difficult customer at the negotiating table if you are a club after one of their established players (I'd say Caulker would fall into that category despite his youth) and you can't help feeling that City's recruitment team need to be complemented for stealing a march on other Premier League sides by getting in first for the player and then for getting the deal concluded in a way that gave those other sides little chance of sabotaging  it – Liverpool and West Ham, to name but two, were mentioned as clubs who might have been interested in the player and I get the definite feeling that our chances of signing Caulker would have declined dramatically if things had dragged on for a few days.
The news came as a different kind of shock for numerous Spurs, Bristol City and Swansea fans (Caulker had successful season loan spells at the latter two clubs before becoming a regular member of the Tottenham team last season) as well as various sections of the media who expressed surprise that, firstly, Spurs were willing to sell the player and, secondly, that he chose to sign for Cardiff. I'll admit to sharing those feelings when I first learned of the deal, but, perhaps, the perceived "facts" in this transfer are not quite the correct ones?
For example, the widely held view is that it was Spurs who instigated the transfer – after all, with Dawson, Vertonghen and a fit again Kaboul to choose from and reports of other central defenders coming in this month, it maybe that Andre Villas-Boas decided that Caulker was surplus to requirements. There may well be some truth in that, but I'd go along with the suggestion that, with England likely to playing in Brazil next summer in the World Cup, Caulker figured he needed to be playing week in, week out in the Premier League to stand the best chance of making it into his country's squad for what I still regard as the biggest football tournament of  them all – so, while the player might not have been actively looking for a move out of White Hart Lane, did the Tottenham hierarchy know that he wouldn't be averse to one either?
If that was the case, then the move to Cardiff does not look quite as surprising. I say quite there because the fact has to be faced that we are widely expected to struggle next season and questions might well be asked as to why Caulker didn't opt for a more established Premier League team (I'm sure there would have been some out there willing to sign him given the opportunity). However, by choosing to come to Cardiff, Steven Caulker has sent out a signal that the club's transfer policy this summer, which has seen us behave more like an "established" club rather than one tentatively trying to make their way in their new surroundings by going for "safer" signings (like people like me have been urging them to do!), is beginning to bear fruit and that a move to Cardiff need not necessarily mean nine months of struggle with a fair chance that you'll end as part of a relegation squad at the end of it.
It has to be said that City's approach in the transfer market so far this summer has been both interesting and brave – so many people were saying that it was essential that we bring in some experienced Premier League performers to guide what is largely an inexperienced squad at this level through the season. There is still a chance that we will see these old hands arriving in the coming weeks, but so far we've signed four players with the oldest of them being twenty five, have been rejected by a twenty one year old and there's another twenty five year old in negotiations with the club.
I'm struggling to think of another newly promoted side who have gone down the route of buying very promising players for relatively large sums before and this is what makes us an interesting side for next season because one or two more signings in the Cornelius/Caulker mould would see us becoming a side which had the potential to comfortably avoid the drop, but it's also a brave policy because, especially with the very testing start to our home programme we have, we could be left with a group that would find it very difficult to turn around a difficult start to the campaign.
Whatever the merits or otherwise of the club's recruitment policy, it needs to be said that defensive performances so far (yes I know they're only friendlies!) indicate that we needed an injection of quality into the back four. Three goals conceded at non league Forest Green Rovers was followed up by an early goal let in from a corner in a low key 1-1 draw at League Two side Cheltenham on Saturday (Kimbo got our equaliser) and we conceded three sloppy goals in letting a 2-0 lead slip as we lost to a League One outfit on Tuesday, albeit a good Brentford side who I wouldn't be surprised to see challenging at the top of the league this season, – Kimbo, again, and Fraizer Campbell got our goals at Griffin Park. Room for improvement then for the seniors, but the Development team followed up their win at Haverfordwest last week with a 3-2 victory at Barry with Kadeem Harris getting his fourth pre season goal and Etien Velikonja and Rhys Healey getting the others, while the in form Harris provided assists for Nicky Maynard and Joe Ralls in last night's 2-1 win at Port Talbot – Saturday's match at Hereford promises to be their toughest test so far.
Finally, as one centreback arrives, another leaves – albeit on a temporary basis. Ben Nugent has been loaned out to Brentford – I've seen it mentioned on  messageboards that it's until 1 January but there's been no official confirmation of that yet.
* Picture courtesy of  http://www.walesonline.co.uk/