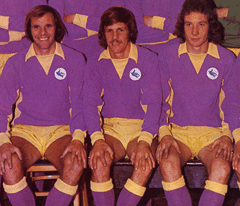 In his pre match press conference, Dave Jones continued his curious brand of supporter and media relations by referring to Cardiff City as a "but" club as in "you're playing really well, but", "great win yesterday, but" etc. Well, just like everything else really, there are two sides to every story and the "but" from last night's 0-0 draw in the Championship Play Off Semi Final first leg at Reading comes in the form of the title I have given this piece – it wasn't great by any means and the entertainment value was virtually nil, but a draw was a highly acceptable outcome for someone like me who, being honest, was half expecting worse than that after our last two matches.
In the Champions League, a 0-0 away draw in the first leg of a tie tends to put the team who are at home in the second leg under pressure. This is wholly because they know that, with away goals counting double, a score draw on their own ground will see them go out of the competition. With that rule not counting in the Play Off's, any away draw in the first leg has to be seen as a good outcome that, notwithstanding the statistical quirks I outlined in my piece yesterday, gives us a very slight advantage in terms of that apparently all important element, momentum going into Tuesday's return match.
Quite what a neutral would have made of last night's game I dread to think mind. One thing I'm sure of though is that if they had watched both Play Off matches so far, they would be saying that the media darlings of Swansea City were looking the likely winners of this mini tournament, but (there's that word again!), the reality is that all that has happened so far is that the sides who finished third and fourth in the regular season have, effectively, won the right to stage what becomes a one off match on their own ground to decide who will play in the Final at Wembley on May 30th.
From a Cardiff perspective, that neutral would have seen many of the negative ingredients as to why a top two finish proved beyond us. For example, despite a decent shift by Darcy Blake on the night in an unfamiliar position, we have issues at left back when Kevin McNaughton doesn't play there, they would also have seen that we give the ball away much too often (not always when under a great deal of pressure either) and that Jay Bothroyd should spend more time utilising his, considerable, talents in causing discomfort to opposing defenders rather than going to ground too easily in a, usually, unsuccessful attempt to win a free kick or penalty. What they would have seen as well though was a City team that defended very resolutely with the back four as a unit having a good night as they often pushed up together to get pretty tight, but correct, offside decisions in their favour.
Paul Quinn did well again before going off with an injury which has generally been forgotten in light of Craig Bellamy's misfortune, but our two centrebacks were tremendous with McNaughton just pipping Keinan for the Man of the Match award in my book. These two took a lot of, justified, stick after the Middlesbrough horror show and super Kev could have done a bit better for QPR's second goal three weeks ago I suppose, but this has to be balanced against the results we have got since they started playing together against Derby – despite all of the post Middlesbrough doom and gloom (of which I have been a major purveyor!), it is just one defeat in eleven now.
In front of them, the midfield four deserve credit for sticking to their tasks defensively in a manner that would not come naturally to some of them, but the truth is that, if selected, all four of them need to improve when in possession if they are to give us a more solid platform from which we can go on to win the tie without going through the agony of another penalty shoot out. I only say this about Peter Whittingham mind because he is capable of causing so much more damage if he can get on the ball more than he did last night -as it was though, with time and space at a premium as tackles flew in everywhere, he was still able to hit what may well have been Cardiff City's pass of the season in the first half and come as close as anyone to winning the game after the break with a shot which, I feel, would have beaten Federici if it had been a a yard or so further to his right.
I must admit to being disappointed with Reading (I daresay their supporters are saying the same about us mind). Maybe they were really missing Jimmy Kebe, but I thought they were pretty one dimensional as they looked to hit Hunt and Long early with long balls and build from there – there was plenty of energy from them and their approach did look like succeeding for a while towards the end of the first half, but, apart from a few dead ball situations, they never really threatened after the break. I thought Reading would play more football, but, although we didn't manage to do it enough, we were the ones who looked to get the ball down and play for most of the time. Indeed, while Craig Bellamy was on the pitch there were a few signs that we were getting on top as he dropped deeper to provide the link up play that neither side really had for most of the match. Bellamy's replacement Michael Chopra was a willing runner, but he has never been the type to make the sort of contribution that Bellamy was threatening to – his strengths lie in other areas and he needs a service of a type that was virtually non existent last night.
There can be no getting away from the fact that the likelihood of Bellamy missing out on Tuesday is a huge blow to our hopes of getting to Wembley and it has to be admitted that there are still plenty of reasons as to why the more pessimistic among us can have a field day prior to Tuesday's match. For a start there is the way that the Play Offs have recently defied normal footballing convention as the away teams enjoy so much success and the "curse of the cameras" that I talked about in yesterday's piece – since November Reading are far less used to losing matches than we are as well.
As for what's in store in the second legs of both ties, I'll make one prediction and say that I get this feeling that we aren't going to see an all Welsh final now. Given what I said yesterday about expecting Swansea to beat Forest it looks like curtains for us then, but (there's another one of them Mr Jones!) things have changed a bit since then because I also mentioned that many of my misgivings about our chances were down to the fact that I thought we weren't a team in the best sense of the word. Well, apart from a few too many self indulgent flicks and tricks on the edge of the Reading penalty area at times, we certainly did look a team where everyone was united in a common purpose last night and it has to said that the 2003 comparison lives on. Let's face it, if that neutral I was talking about was watching last night, they would have, almost certainly switched channels after about ten minutes in reality, just as they would have done if they had been watching any of our matches eight years ago!