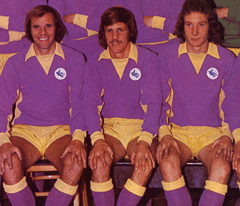 Last week CIty's Under 18's played very well for an hour, but ended up beaten 2-1 by league leaders Brentford after a late fade out – this lunchtime their play never really hit the heights reached at times a week ago, but this time around they ended up on the right side of a 2-1 scoreline.
City's opponents today, Crystal Palace, have traditionally produced strong youth sides that have tended to get the better of us at this level down the years and they were somewhat unlucky to lose today because the teams were very evenly matched.
However, maybe City just about deserved their win because, after falling behind early in the second half, they were able to create the only two goalscoring opportunities in the remainder of what became a pretty scrappy affair and score from both of them to edge home.
The game got off to a pretty lively start which saw CIty get themselves into a threatening position straight from the kick off as they forced the first of a series of early corners that didn't come too anything.
For Palace's part, they showed a capacity to counter attack quickly and this helped them to create the game's best early chance when they got to the bye line and the resultant low cross rolled invitingly into the path of one of their strikers only for a superb block by City's right back to come to their rescue when scoring had looked a formality.
I should apologise at this stage if I get the names of any of the City side wrong – I'm taking a guess in many cases when I give a name because there were a few unfamiliar looking faces in the CIty side today and often I'm basing their identities on the players who have usually played in those positions in previous matches this season.
Therefore, I think it was it may have been Dylan Rees who made that fine block, but I could be wrong. That one opportunity apart, the visitors didn't really suggest they had a goal in them until a strange incident with about ten minutes left of the first half when their centre forward chased a through ball that City's goalkeeper first starting backing away from, but then came charging out for and, for me, took out the striker for what looked a pretty obvious penalty, only for the ref to give CIty a free kick for a foul by the Palace player,
There were some Palace fans sat quite close to me and they were amazed that a penalty wasn't given – they also thought the officials gave their side very little throughout the game and while I wouldn't go that far, I do agree that there were quite a few arguable decisions that went City's way.
For their part, City had slightly more of the play than Palace in the opening forty minutes or so without creating anything as clear cut as the those two opportunities their opponents had. What problems there were for Palace tended to involve Jake Watkins on CIty's right as a couple of neat build ups flaw him first cut in threateningly only to scuff his left shot which allowed the Palace keeper to make an easy save and then, somewhat surprisingly, he opted to pass rather than shoot only for the ball to be diverted for a corner by a defender,
In the five minutes before the break though, City had their best attacking moments of the half when their number 10 (think it was Jamie Veale) curled a lovely shot from twenty five yards on to the crossbar and then a fine cross by Watkins was headed just wide by their number eleven.
0-0 was a fair scoreline at half time, but, within a few minutes of the restart the visitors were ahead as City paid for a lack of concentration when facing up to a free kick about thirty five yards from their goal. For me, it was too far out for a wall to be needed, but with the keeper lining one up anyway, Palace took.a quick free kick which caught City completely on the hop and this time the ref agreed it was a penalty as Watkins' clumsy challenge sent one of their players flying inside the area.
The keeper went the right way for the penalty taken by Palace's number eleven, but it was well placed into the corner and, having reacted so poorly after conceding a penalty last week, City now faced a test of character as well as stamina.
Within a few minutes though they were level as Veale was put in possession inside the penalty area  after some fluent passing. For a second it seemed like the midfield player had worked himself a shooting position, but a defender got a foot to the ball which only knocked it into the path of Eli Phipps and City's top scorer this season is too good a finisher to miss a chance as simple as the one he was presented with,
Two goals inside the first ten minutes of the second half offered hope for an entertaining final third of the game, but, partly due to a wind that was stronger than it appeared to be from the stand, it was all pretty disjointed from then on in with chances at a premium,
In fact, I can only remember the one which came inside the last ten minutes when City managed to keep possession well and some patient passing enabled their left back to work himself a position. where he got by his marker and put in a beauty of a cross which was swept in from about six yards out by sub Jamie Bird for the winner.
The quality of the cross was out of keeping with most of what was on offer in the second half, but in a game where the two sides were so evenly matched, moments like this make such a difference – sorry, I don't know who the left back was, but I thought he, along with centre back Rollin Menayese were City's best players on the day.
Finally,news of a couple of games played this weekend – Palace won the Under 16 match between the two sides 3-2, but I assume that City's team was a little below full strength because there were four of our players in the Wales side which kicked off their Under 16 Victory Shield campaign with a 1-0 win over England in Bangor with one of our players getting the goal – here's a report on the match.
Edit – Since typing this report up I've learned what the City team was, Luke Wakeman was in goals, it was Cameron Coxe who made the excellent block in the first half, Rhys Abbruzzese was the left back who played so well and it was Tom Pearson who headed just wide in the first half.