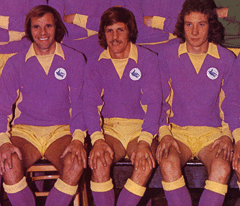 With his equaliser in the 1-1 draw when they last came to Cardiff, his goal in our usual 2-1 win at the City Ground last October and now the effort which decided yesterday's match, Nottingham Forest must be sick of the sight of Aron Gunnarsson. However, they must also be preying that the Iceland captain gets the chance to inflict further damage on them next season, because, barring a shock move for Gunnar to, say, Doncaster Rovers in the summer, there's a real chance now that he won't be facing them next season – the twice European Cup winners are in real danger of dropping into League One.
With three matches left to play, Forest have home matches with a Reading side with faint hopes of an automatic promotion, but also the odd habit of imploding with very heavy defeats every now and again and an in form Ipswich (3-1 winners over Newcastle yesterday) to come. A trip to a QPR side that have lost their last five would offer hope normally, but Forest are so woeful on their travels that you can't help thinking that, if they are to stay up, they are going to have to get the points they'll probably need to do so at home.
For what it's worth, I think they should stay up because Blackburn really needed to beat Bristol City at Ewood Park yesterday (they drew 1-1) – a run in consisting of Wolves and Brentford away and Villa at home looks a tough one for the Lancashire side to me. If Blackburn are to survive, then maybe Birmingham (2-0 losers at home to Burton yesterday) offer them the best chance of doing so, they're two points clear of the bottom three, but travel to to Villa for the second city derby on Sunday (when they could, conceivably, be occupying a relegation place), then they have Huddersfield at home, before finishing at Bristol City who are by no means safe yet themselves. You'd think though that Birmingham's hopes received a boost last night with the news that Gianfranco Zola had brought his disastrous association with them to an end by resigning.
Although, by keeping a lower profile and making what appears to be a good managerial appointment six months ago, it can be said that Vincent Tan's stock among City fans is higher now than it has been at most times over the past five years, but, nevertheless, I'd still say that an awful lot of them would come out with his name if asked to give examples of foreign football club owners who have been far from successful during their time in charge.
Tan portrayed as the Bond villain from our days in the Premier League seems quite a long time ago now, but a recent report outlining how much each of the twenty four clubs in this season's Championship spent on agent's fees during the period February 2016 to January 2017 made for sobering reading. Hardly surprisingly, the three relegated sides from last season featured strongly at the head of the listings - Newcastle were top with their £10.44 million being almost twice as much as anyone else had spent, then came Villa on £5.42 million and Norwich were fourth with £3.27 million.
Given our pretty low transfer spending over the period covered, the relative lack of new playing contracts agreed and the fact that we had a transfer embargo on us for the early months of the period covered, you would have thought City should have been pretty low down the table on agent spending, but, not a bit of it- we managed to scrape into the Play Offs in sixth place having spent £1.97 million!
I can only think that the figure was so high because of spending on agent's fees when it came to negotiating departures for players, and managers, whose contracts had not run out. There was a time when I'd see that a player's contract had been cancelled by mutual consent and think it meant that both parties had decided to go their separate ways as some sort of gentleman's agreement had been reached with no money changing hands – sometimes  I wish I was still so naive!
City may be a better run club than it was, but spending of nearly £2 million on agents over a period when we were supposed to be cutting back is something of an indictment. However, if you were to ask supporters of the three clubs I listed earlier as the ones most likely to occupy the final relegation place (I'm assuming that, even if Wigan beat us on Saturday, they are not going to get enough points from their other matches, at Reading and then at home to Leeds, to stay up) if they would swap Vincent Tan for their current owners, I think they'd all say yes without a moment's hesitation.
Mr Tan took over from the Venkys at Blackburn as the national media's epitome of dreadful foreign owners when we replaced them in the top flight, but, although the madcap spending has long since ended at Ewood Park, the fact that fan demonstrations are still taking place against the people in charge at Blackburn only emphasises that the club is still on a downward trajectory.
Birmingham's decision to sack Gary Rowett in December when they were one point off a Play Off position looked mad at the time and looks even madder now, but, arguably, Forest have the worst foreign owners of the lot.
The only two Championship clubs from 15/16 above City in that agent spending table were QPR (another "joke" club who, presumably, have had to pay big fees in "mutual agreements" because their transfer spending has been pretty modest, by their standards at least, lately) in fifth place with £2.28 million, and, splitting those relegated sides in third, Nottingham Forest with £3.53 million – don't forget this is a club which was hit with a transfer embargo in January 2015 and then flitted in and out of them for the next two years.
As soon as their latest embargo was lifted on 13 January this year, Forest started spending again as Zac Clough (only a sub yesterday) came in for £2.5 million and the loan signing of Ross McCormack from Villa must have cost them a lot of money – former Forest great Kenny Burns had this to say about McCormack after he was left out by Forest recently having scored just once in his seven appearances for them;-
"I looked at Ross McCormack in particular and I think he needs to buck his ideas up. Getting rid of Nicklas Bendtner last week was the best bit of business Forest have done this season.
He never looked up for it, but so far I've not felt McCormack looks up for it either. He's only here on loan until the summer and you sometimes see players come in and not approach their best form in those circumstances.
That's what I've seen so far. He's a better player than he showed at Burton. At least I hope he is."
Now, there have been plenty of times over the years since he left us when I have wished we hadn't sold McCormack, but not this season – he's been in "don't touch with a bargepole" territory since his big money move to Villa Park as far as I'm concerned.
Forest look to have made a good managerial appointment in Mark Warburton to me, but, if they have done, it'll be the first time that's happened in years at that club. The demotion they suffered in 2004/05 should have been a one off in the Premier League era for a club of Forest's size, but, good managerial appointment, some impressive young prospects like Smith, Worrall, Brereton, Osborn and Cash or not and my earlier comments about them notwithstanding,  they had a bit of a look of a relegation outfit about them yesterday to me.
I can remember that Forest team of twelve years ago being thumped 3-0 at Ninian Park in a bottom of the table clash and thinking how awful they were – they looked every inch a relegation side. Yesterday was different though to the extent that, while they hardly put themselves in line for contention in any award for the best side to visit Cardiff City in 16/17, there have definitely been worse sides than them to have come here this season and they can count themselves unlucky to have lost.
However, relegation sides tend to lose late season matches against teams with nothing to play and are lacking the intensity and purpose they were showing a few weeks earlier. It often seems to happen as well that they lose such games to a goal of a quality out of keeping with so much else that went on around it.
One award that I'm fairly sure Forest would win this season is for the visiting side that had the most goal attempts in a game at Cardiff City Stadium in 2016/17. According to the BBC's stats, they managed twenty three of them, which meant that there were thirty eight goal attempts in total during the ninety minutes, but, if ever a match told you about the limited value of such stats it was this one, because the two teams only came up with three on target attempts between them (we had two to Forest's one).
So, if those twenty three attempts to score might not look as impressive in practice as they did on paper, then, taken together with a possession advantage of 61/39 and a corner count of seven to one, it's enough to make you think that City were a little fortunate to gain a third consecutive home win.
As promised, Neil Warnock made changes from the side beaten at Sheffield Wednesday on Friday as Lee Peltier made his first appearance after a couple of months out injured against one of his former clubs, Peter Whittingham was also in, as was Anthony Pilkington with Jazz Richards, Greg Halford and Joe Ralls dropping out.
Pilkington's inclusion gave City plenty of attacking options as we went with the quartet which had transformed what had been looking like a miserable 1-0 defeat at the seventy minute mark at Bristol City three months ago into a glorious 3-2 win.
That day, the pace of Kenneth Zohore, Junior Hoilett and Kadeem Harris terrorised the wurzels in the closing stages and with Pilkington weighing in with a couple of goals, including a twenty five yard belter for the winner, those twenty minutes epitomised a period when we looked to have the attacking weapons to be a real threat going forward at this level.
The contrast between then and now was a stark one yesterday. We won the game because we generally defended well against what was at times concerted pressure, but at the other end of the pitch we did little to suggest that the team with the worst defensive record in the division, apart from tailed off Rotherham, were going to have another difficult afternoon.
Zohore was just wide with a decent effort in the second half and his all round play wasn't bad, but he wanted too many touches with an early opportunity that I felt he would have put away pretty comfortably back in February or March – he wasn't terrible by any means, but, like his team really, it seemed to me he was not quite "at it" in the way he has been for most of the second half of the season.
It was the same with Hoilett, he wasn't poor, but his performance levels have dipped somewhat lately and there was another miss from a chance that you would have thought someone with his ability should do better with. On the other wing, Kadeem Harris went through a horror period lasting about a quarter of an hour in the second half, but, just like against Brentford, he played a big part in the goal which decided the game – the trouble is, whereas he was looking like someone who was tending to make a lot of right decisions a while back, now he is, once again, resembling one of those wingers who offer the occasional nugget among a multitude of wrong options.
There seems to be a growing feeling that Pilkington will be one of those players we will be encouraging bids for this summer and, just as with most of his recent appearances for us, there was little from him yesterday to dispel this notion – I think Pilkington has it in him to make a decent number ten, but they have to remain just thoughts because there has been little or nothing happening on the pitch lately to suggest I'm right.
As it was, the main danger to the Forest goal came from shots from distance by our two deeper lying central midfielders. Whittingham shook the crossbar from getting on for thirty five yards early on and then Gunnarsson's aim was a little bit truer from slightly closer in just as Mark Harris was about to be brought on for a league debut. Having a lead to hang on to prompted a rethink as the introduction of Halford and Ralls (Richards has already come on for Peltier) reflected a what we have, we hold mentality – hopefully, Harris will get his chance before the end of the season.
*picture courtesy of http://www.walesonline.co.uk/