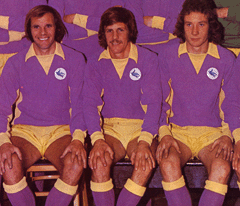 Although I've not seen it reported anywhere else, Wikipedia is saying that former City player Graham Moore (the man who scored the fine goal that beat Aston Villa 1-0 on 16 April 1960 to send us into the old First Division) passed away on Tuesday.
Possibly prompted by the Wikipedia entry, there has been a thread posted on a City messageboard I use in memory of him.
I posted the following in the aforementioned thread;-
"He played a little too early for me to have seen him in action for us and my memories come more from him playing for Charlton against us in the late 60s when he forced his way back into the Welsh team.
However, the overriding impression I get from my seniors who did see him play for us is that he looked a tremendous prospect when he broke into our team as a teenager.
I must admit I've always had a bit of a problem with reconciling those sort of comments with what happened in the rest of his career. True, he did play for Chelsea and Man United, but neither club were that powerful at the time and so it seems to me that the early promise he showed was never quite realised – I'd love people who saw him play to put me right on that view if you think I'm wrong.
I see from his Wikipedia entry that his time at Old Trafford was hampered by injury, did this hold back to the extent that he was never quite the same player again?
What cannot be denied though is that he was someone who will always have a place in Cardiff City's History – RIP and condolences to his family and friends."
and, as I mentioned, would appreciate some "education" on him from those on here who saw him play for us because I'm sure you can give him a much more fitting obituary than I can – I'll integrate any replies I receive into this piece, rather than just keep it in the feedback section.
RIP.
A thank you to those readers who have posted their own tributes on here – here's what they had to say;-
Obama Kelly says: