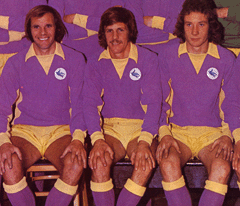 Does the name Ken Wimshurst mean anything to you? It's hardly surprising if it doesn't, Wimshurst played in Bristol City's midfield around forty years ago and in the opening minutes of a game against Cardiff City at Ninian Park on 3 April 1971, he scored a weird headed own goal that gave us a 1-0 win over our local rivals. We were going for promotion to the old first division at the time whereas the wurzels were a side that seemed to struggle to survive at second division level every year – we always beat them around that time and, if the result was worthy of any reaction, it was probably one of surprise that we only managed a single goal win achieved by an own goal.
How things were to change for the rest of that decade and the two that followed it though. There are bogey teams and bogey teams and then there's Bristol City! We did manage a 1-0 home win over them in the first leg of a first round League Cup tie in 1992, but normal service was resumed as we were stuffed 5-1 in the return game at Ashton Gate. Our record against the wurzels in the thirty two years after Wimshurst won that match for us was truly horrendous;-
Home P 12 W 1 D 2 L 9 f 9 a 23 Away P 12 W 0 D 3 L 9 f 6 a 21
Overall P 24 W 1 D 5 L 18 f 15 a 46
The 2002/03 regular season had been pretty typical of Severnside derbies since 1971 – City matched the wurzels into the second half in both games, but, dodgy decisions against Peter Thorne and Danny Gabbidon gave them penalties which Brian Tinnion put away both times and with Cardiff born Christian Roberts twice adding to that lead it was home and away 2-0 defeats by City.
Normally, that would have been an end to City/wurzels skirmishes for the season, but this time around both sides had been challenging for promotion throughout the campaign and, with us finishing sixth and them third, the teams were paired to meet in the Play Off Semi Final.
In many ways, City's end to the 2002/03 campaign matched the one of 2008/09 – after going into their last five matches with a great chance of a top two finish, that 2-0 defeat at Ashton Gate I mentioned earlier had followed 2-0 and 3-0 defeats by Peterborough and Colchester respectively. The difference with last season though was that we just did enough in our last two matches to squeeze into the top six as Champions Wigan were held 0-0 at Ninian Park and runners up Crewe 1-1 at Gresty Road.
Even so, with just one goal and two points to show from our last five games and a couple of matches against the wurzels to come, I don't think there were too many City fans expecting an appearance in the Play Off Final at the Millennium Stadium that year!
With us having the lower finishing position of the two sides, the first leg was played at Ninian Park on 10 May on a dank, miserable afternoon and it was, predictably, tense and tight. City, with Gareth Whalley having one of his best matches for us, started the better and may have capitalised on one of the half chances that came their way if they had been in more confident goalscoring form, however, it was the visitors who came closest to scoring when Neil Alexander produced a marvellous save to keep out Roberts' curled shot.
Chances were at a premium in the first half, but, if anything, there were even less of them after the break – City with Danny Gabbidon starring after missing most of the season through injury, were pretty comfortable at the back, but it was hard to see where a goal was going to come from when, on 74 minutes, Willie Boland's cross from the right was headed home at the far post by Peter Thorne.
If the quality of Boland's cross came as something of a shock when you consider how rarely he found himself playing on the right wing, there shouldn't have been too much surprise that Thorne would score in that situation. Although looking at it now, Thorne's return of sixteen goals that season doesn't seem too bad a tally at all, such were the expectation levels back then that it was considered nowhere near good enough by many and it led to him being christened "Barn door" by some as in "couldn't hit a ……….."! However, Thorne's aerial ability was never really in doubt even at that time and that chance couldn't have come to a better player as far as were concerned. Thorne, whose goal celebrations were usually pretty understated, reacted this time by ripping off his shirt and waving it above his head as he headed to the corner flag at the corner of the Grange End and Bob Bank pursued by delighted team mates.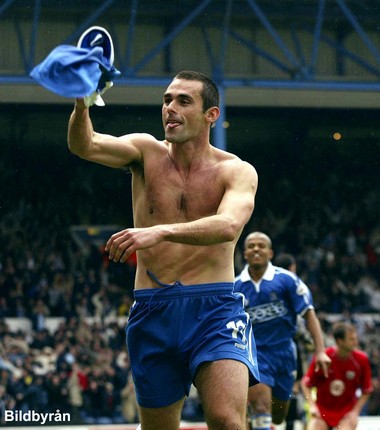 The ecstatic celebrations following that goal both on and off the pitch seemed to suggest that all involved knew that they had just seen a very significant moment in City's recent history – it also appeared to have knocked the stuffing out of the wurzels, temporarily at least, as Earnie wasted a fine chance to double the lead, but, at the final whistle, I don't think there was any one in the City camp who would not have taken a 1-0 win beforehand if it had been offered to them.
The three days between the first and second legs seemed to drag on for ever and with some of the wurzels team saying they would make City pay for what they saw as over the top celebrating of the first leg win combined with our long tradition of failure and heartbreak against them, I still could not see a way we would win the tie.
I have always maintained that those City fans present at Ashton Gate that night had the best of the deal compared to those who had to watch it on television in every respect – not just because it became a true "I was there" moment, but also because City games always seem that much harder to watch on the telly!
Thousands of South Walians could have been spared the gut wrenching tension of the second half though if City had been able to take advantage of a nervous home team in the first half as the occasion got to them and their supporters. City had some decent chances in the first half hour or so, but an awful miss by home skipper Tommy Doherty following a spell of wurzels pressure just before the break was a sign that the balance of the game was changing.
So it was that the second half became an all hands to the pump exercise by the City team as they created next to nothing going forward and were forced back by what at the time seemed like non stop home pressure. Having seen the game again since, I now know that it wasn't really like that, but every few minutes or so, the City goal would come under real threat and if players like the much maligned Spencer Prior had not stood strong against the home attackers, then I think we would have wilted and lost.
However, the real moment that broke Bristol hearts came when Neil Alexander produced what must be his most remembered save in a City shirt to keep out Tinnion's header. It seemed somehow pre destined that Alexander would produce special saves to deny the two players who had won the games for the wurzels during the regular season and, after that, I think that, even though City fans wouldn't acknowledge it, the home supporters probably knew we were on our way to the Final.
People can talk about Swansea as being our main rivals, but I know that I have never celebrated a win over them as much as I did the one over the wurzels that night. After thirty two years of undeserved defeats, being robbed by awful refereeing decisions and, to be fair, a few hammerings as well, we  had won the one that really counted. QPR in the final would be a doddle after this – but that's another story!