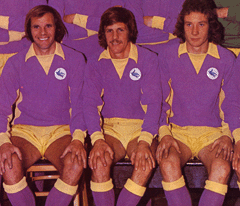 On 15 December Danny Johnson scored the only goal of the game pretty late on to notch a win for Cardiff City's Development team against Crystal Palace. I note this only because it was the last time our Under 21s managed to find the net in a home match. Since then, the Development teams of Colchester, Brentford, Charlton and now Millwall have all gone back up the M4 having prevented Cardiff from scoring, but at least the last named did not head east with all three points like the others did.
Sometimes 0-0 can be a very misleading scoreline because you get the occasional goalless match that keeps your attention throughout – anyone with a high boredom threshold and an awful lot of time on their hands could read through all of the entries on here and find two or three examples of them I'm sure. Sadly, last night's 0-0 at Cardiff City Stadium did not come even remotely close to falling into that category because once Millwall had survived a pretty testing first twenty minutes or so, it never looked like a game that was going to produce a goal.
So, it's still just the five goals I've seen us score in the eight Development team matches I've watched this season. Three of those came in one game when Bristol City were dispatched 3-0 (to put that result into some sort of context, Millwall, the least threatening side I think I've ever seen us play at this level, put seven on them in their previous match), there was a penalty in a 3-1 loss to Huddersfield and that Johnson goal against Palace.
I mentioned about Millwall's lack of an attacking threat earlier – indeed it will only take one sentence for me to describe it. Just before half time in their best spell of the game, their number eight Jamie Philpot hit a sliding shot which forced home keeper Ben Wilson into a good diving save. That's it, apart from that, Millwall never suggested they'd score, but, in the interests of fairness, I should say that Wilson's save was, by some way, the most difficult one either keeper had to make in the ninety minutes.
In saying that, this was a game that City could and should have won. They controlled proceedings for long periods and must have done something like three quarters of the attacking, but they were unable to convert that "dominance" into anything tangible in terms of clear goalscoring opportunites. Actually, that's not quite true because, shortly after Macauley Southam had a well struck twenty yard shot deflected not too far wide, they squandered the game's outstanding opportunity when Abdi Noor, making his first start for the Under 21s, burst on to a Gethyn Hill headed flick to have a clear run in on visiting goalkeeper Harry Girling. It wasn't a sitter by any means, but it was the sort of chance you'd expect a striker to put away on most occassions, instead, Noor sliced well wide.
Noor soon showed what he could bring to the team with a neat lobbed pass that almost put Ben Watkins in on goal and there was a similar clever pass to Tyler Roche that almost worked in the second half.
If Millwall had slowly grown into the first half to the extent that the half time whistle came at just the right time for City, the second period saw virtually all of the play heading in the direction of their goal – there were moments of alarm for the visitors when Tom James (playing at left back in Declan John's absence) looked to have beaten Girling with a shot from the edge of the penalty area that flew just wide and he wasn't too far away with a curling effort just before the final whistle, but it was hard to avoid the feeling that, for much of the time, City were not expecting to score.
The main attacking threat came from Roche on the left who generally had the better of his marker and so was able to get himself into good positions for crosses. Unfortunately the quality wasn't always there when it came to the final ball from the winger, but he was also unlucky when a couple of intelligent passes aimed for Noor missed their target by inches. Roche also laid on a decent shooting opportunity from twenty yards that Southam dragged wide and despite the side's miserable goalscoring record, I think it's been a good first season at this level for the winger.
Roche apart, the better players for City were all defensively minded really, all of the back four could be pretty pleased with their contribution and Watkins was a solid presence sitting in front of them, but their lack of fire power is probably going to cost them when it comes to a top two finish and a place in the end of season Play Offs.
The question has to be asked though as to whether this should be the intention at the start of every season or should a "Development" league be about player development first and foremost? In the three seasons we've been playing at this level, there have been confused signals as to what the intention was.
Under Malky Mackay, there was always a smattering of senior players in our Under 21 teams and this may have explained why there were plenty of high scoring Monday nights wins during that time – the philosophy appeared to be that if you weren't in the first team, then you would, in all likelihood by in the second side. After Malky left though, Ole's approach was different, senior players might feature occasionally, but there was still a pretty strong Under 21 team because the better age group qualified players were still at the club.
Now, under Russell Slade, we are seeing a different approach again as, possibly driven by the need to cut costs, our "senior" Under 21 players have nearly all been loaned out to other clubs .
Slade cops a lot of, often justified, flak for his work with the first team, but I tend to be on his side on this matter. Players such as Healy, Johnson, Oshilaja,  O'Sullivan and Tutonda are better off playing first team football on loan (as long as they are being selected regularly) because, certainly in the case of the first four named, they have not got much left to prove at Under 21 level.
Therefore, although it's hard to think like this when you're freezing cold and getting wet while watching a miserable 0-0, City are probably serving the true purpose of this league by picking the sort of sides they are  (besides Noor, Under 18 regulars Robbie Patten and Dylan Rees got what I believe is their first experience of Under 21 football last night with substitute appearances) than they would do by including, say, Fabio, Adeyemi, O'Keefe and Macheda and winning by two or three goals last night.