Ipswich Town were a team in transition when they came to Ninian Park for a third round FA Cup tie in January 1984. Bobby Robson had left to manage England, while their Dutch midfield pass masters Arnold Muhren and Frans Thijssen had departed for Manchester United and Nottingham Forest respectively (they were also to lose the prolific goalscorer John Wark from their midfield within weeks as he signed for Liverpool). Although Ipswich, now under the management of former City full back Bobby Ferguson, were  still a useful team, their days of being league title challengers and FA and UEFA Cup winners were over – they were one game into a horrendous run of ten defeats in eleven league matches which would see them drop into the relegation places, before a late season rally took them to the safety of mid table.
Therefore, with cash strapped City not doing too badly at all in the Second Division following their promotion the previous season, you would have thought that the game should have been seen as one where there was the real possibility of a Cup upset – the reality was somewhat different though. I say that because Ipswich were facing a side that was going to be well under strength in the striking department. Although Gordon Owen had done a good job in taking over from the talented Dave Bennett, the further loss of Bob Hatton through retirement and Jeff Hemmerman through injury meant that City had lost all of the strikeforce that had seen them to promotion in 82/83 and, hardly surprisingly, manager Len Ashurst had struggled to replace their goals.
Recent signings Ian Baird and Trevor Lee did as good a job as anyone as replacements for Hatton and Hemmerman, but, with Southampton not allowing the on loan Baird to play and Lee already cup tied, the England centreback pairing of Terry Butcher and Russell Osman were set for a relatively quiet afternoon.
Having tried all manner of players up front already that season, Len Ashurst decided that drastic action was called for and brought in Paul Evans for his first Cardiff City start. At the age of twenty seven, I would have been at my peak as a footballer, but I'm afraid that our manager must have thought that a balding, five foot eight and slightly overweight (there might have been a few who disagreed with the use of the word "slightly" there!) central striker was not quite what he was looking for and so, instead, turned to Brentwood born Wales youth international Paul Evans who had been scoring lots of goals for City's reserve and Under 18 sides over the past year or so.
Having featured as a substitute in the recent league defeats by Blackburn and Sheffield Wednesday, Evans followed youth products Chris Townsend, Wayne Matthews and Russell Heycock into the side, but. although Matthews went on to make around twenty first team appearances, none of those three ever really suggested that they could prosper at Second Division level and did not stay at the club for long (Townsend did make a scoring return to Ninian Park five years later though as part of the Cloucester City side which drew 2-2 in a Second Round FA Cup tie in 1989/90).
Unfortunately, much the same happened with Paul Evans – he never featured again in the first team and left on a free transfer at he end of the 1984/85 season. From what I can remember, Evans' performance matched the rest of City's under strength team that day in that he gave his best and, for long periods, competed well against top flight opponents, but, ultimately, that extra bit of class proved decisive.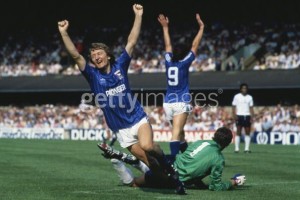 On this occasion, the majority of that class came from Eric Gates who won a couple of England caps during a career which saw him make over 350 appearances for Ipswich before moving on to Sunderland and, finally, Carlisle. Gates was one of those players who it is hard to classify because he wasn't exactly a midfield player or a striker in much the same manner as, say, Paul Brayson and Jason Bowen were during their time with us. Not being the best defender in the world, Gates was given few responsibilities in that area by his Ipswich managers and it was his stylish contribution that proved decisive this time as he scored all of the goals in a 3-0 win that was probably a bit harsh on hard working City.
Gates' goal had Ipswich ahead at the interval, but it was his two from distance (with one being a lovely curled and placed effort from about twenty yards) in the second half that really took the eye as the visitors repeated their Third Round win of six years earlier (Paul Mariner had scored both goals in a 2-0 victory as Ipswich began on the run which would see them beat Arsenal in the Final). By the time the third goal went in, the outcome of the game had been obvious for some time and there was even some applause (not much mind!) from City's fans in appreciation of Gates' skill.
City banked the cash from their big pay day (it's incredible to think now that the disappointing looking attendance was actually City's fourth biggest of that season) and continued to fight a losing battle on the financial front which would eventually culminate in us dropping two divisions over the next couple of seasons while Paul Evans went on to score goals galore for a host of non league sides in this area. There was one more brief acquaintance with league football as he scored a couple of goals in ten appearances for Newport County during their last season as a Football League club in 1987/88, but, looking back at it now, the day he was up against Butcher and Osman in an FA Cup match might well have been the highlight of Evans' career.
6 January 1984
Cardiff City 0 Ipswich Town 3
City Dibble; Elsey, Dwyer, Bennett, Bodin; Tong, Gibbins, Vaughan, Burke; Owen, Evans; Sub (not used) Heycock
Ipswich Sivell, Burley, Buthcher, Osman, Gernon; Parkin, Wark, McCall, O'Callaghan (D'Avray); Mariner, Gates (3)
HT 0-1
Att. 10,118