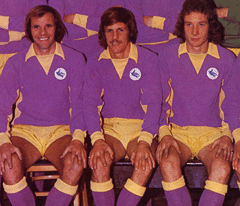 To no great surprise, Gary Speed was unveiled as the new Wales manager at a press conference in Cardiff yesterday. It had become obvious over the past few days that the FAW wanted to go outside the quartet of applicants they had interviewed already (Chris Coleman, John Hartson, Brian Flynn and former Sweden boss Lars Lagerback) in favour of the man who has been manager of Sheffield United for less than four months. One can only hope that they have made the right choice because Welsh football is at a very low ebb currently and, first and foremost, it needs someone to start getting people (both supporters and players) enthusiastic about their national team again.
Whether Gary Speed is that man is certainly open to debate because his appointment cannot be said to have captured the public imagination in the way an announcement that, say, Ryan Giggs was the new Welsh manager would do – but, in my opinion, that is a bit of an unfair reaction for a couple of reasons. Firstly, if Giggs can undoubtedly be seen as the best Welsh player of the last twenty years, then Gary Speed has to be a very strong candidate for the second best one and I can remember a former England manager saying when Speed was in his early twenties that he was the only non English qualified British player that he would have liked in his team – that's quite a compliment for a player who had a superb career which was virtually all played out in the top level of the domestic game.
I can't help thinking that Gary Speed's appointment would have been greeted with far more enthusiasm if it were not for his short spell in charge at Bramall Lane – after all he ticks so many of the right boxes. Although I have heard criticism of him for the way he once missed a Wales match in June to go on honeymoon, as far as I am concerned, he was one of the best we have had as far as turning up for squads was concerned and I would also say that, although he did retire from international football early, he was thirty five when he did so.
Speed has been written off already as a manager by many on the messageboards who see Sheffield United's position just above the Championship's relegation zone as proof that he doesn't have what it takes to make a success of his managerial career, However, with him being restricted to only being able to bring in loan signings during the vast majority of his time in charge at Sheffield, the side can hardly have been said to be his own – Gary Speed may or may not turn out to be a poor manager, but, surely, it's too early yet to come to any definite conclusions on this?
What I would like to think that Speed will have is the respect of his new players because even the youngest of them should have some memory of what he did as a player whereas even the oldest players in John Toshack's squads would not have been able to remember him playing. Hopefully, this will mean that players will be less inclined to turn their back on their national side as soon as they see the big three O approaching and that some of the poor dears who have said they find the whole thing a bit to much for their delicate constitution can be persuaded to change their minds.
If that happens and we can get all of our best youngsters out on the pitch at the same time, then I can definitely see better days ahead under Gary Speed, but I believe that he needs some experienced mentors around him and, on that score, I really hope that Brian Flynn  doesn't decide to walk away from his job after being turned down for the main one – Flynn has the admiration and respect of a generation of, potentially, very good Welsh players and, surely, he needs to be kept on.