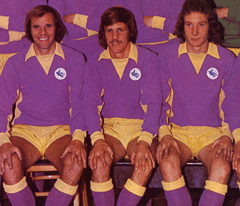 Even if you are a City fan born long after we played there, you are probably aware that the capital of Uzbekistan, Tashkent, has a significance in the history of your club. Therefore, the clever title "From Tashkent with Love" of Mario Risoli's latest book grabs the attention of almost all supporters. For those old enough to remember that afternoon in March 1968 when the team, watched by a group of brilliant/faithful/fanatical/barmy (delete as you see fit!) City fans, played Moscow Torpedo in the second leg of their European Cup Winners Cup Quarter Final having flown 2,720 kilometers to Moscow and then further still to Tashkent because snow in the Russian capital made it impossible to play there, the book is one that will bring the memories flooding back.
For any supporter unable to make the Tashkent connection, the book's subtitle "Cardiff City in the Cup Winners Cup 1964-1993″ tells you all you need to know about the subject matter and, honestly, someone who wasn't around when we played that last European tie (against Standard Liege) twenty one years ago should still find plenty to interest them in what is simply one of the best books I've ever read on the club I've supported all of my life.
Released to coincide with the fiftieth anniversary of the 1-0 aggregate win over Esbjerg of Denmark that marked City's entry into European competition, "From Tashkent with Love" has chapters on all twenty four two leg ties they played during the period when the Welsh Football League clubs were able to qualify by winning their domestic cup competition. Such was City's domination of the Welsh Cup during much of the sixties and early to mid seventies, it was possible at times to take European football for granted – it's easier now to see how lucky we were.
There was a chance that a book like this could become a somewhat dry regurgitation of statistical data, but by getting the stories of the people who played for the club in these matches, Mario Risoli ensured this was never going to happen. The real strength of the book is that Mario has not just tracked down four or five players who talk about their European experiences with City, he's got more than seventy of them! This enables you to get a better idea on what happened because, invariably, about half of the team that featured in any game are giving their different perspectives on it.
One thing I must mention at this stage is that one of those players, Peter King, the man who scored our first ever European goal, does a superb job in setting the tone in one of the best Forewords I think I've ever read in a book – it really is excellent and he is very good when talking about Jimmy Scoular.
In fact, I found the recollections on the man who was our manager for our best days in Europe to be a fascinating part of the book because the opinions on Scoular, although generally balanced, were so honest and, at times, critical. For example, in that foreword I mentioned, Peter King talks of his former manager's intolerant attitude towards young players and Terry Lewis, a defender who made a few, impressive, appearances in the late 60's before emigrating to Australia, in particular has some harsh things to say about the man who so many older fans rate as the best manager they've seen at the club.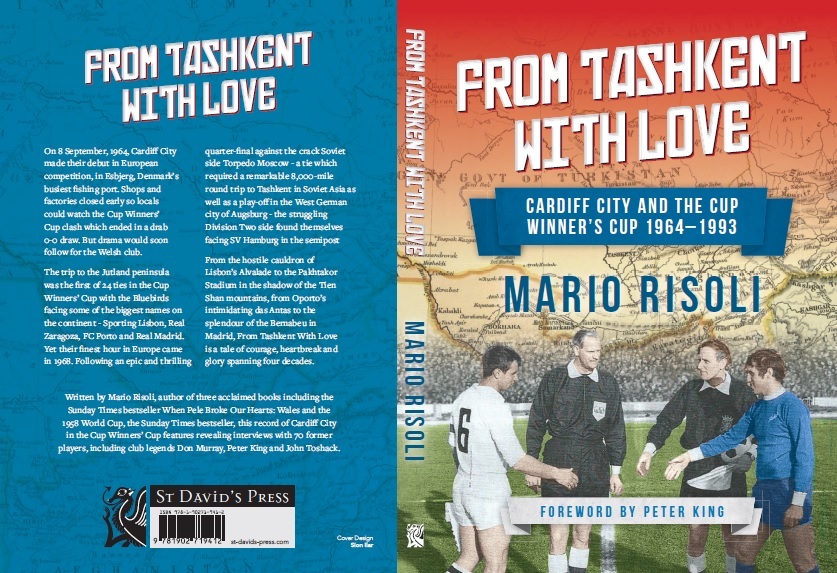 It was sad to read that Mr Scoular stuck to the promise made to goalkeeper Bob Wilson in the dressing room after his blunder in the last minute of the Semi Final second leg against Hamburg had consigned City to a heartbreaking defeat, that he would never play for the club again. That game was played in May 1968 and Wilson never featured again until he left for Exeter early in 1970, yet, we would never have got as far as we did in the competition were it not for the keeper's heroics.
On a lighter note, Scoular exhorting Mel Sutton to "do" a referee who he felt was favouring the home side in the game in Porto in 1968/69 is one of several examples of the man's ferocious competitiveness and I also laughed at the antics of the mad coach driver from Tashkent.
More seriously, the book is intriguing on City's trips behind the iron curtain, particularly when recording the locals reaction to what were pretty inexpensive (by western standards anyway) gifts City players gave them – Berlin seemed to be the bleakest place visited.
I also liked the way Mario offered a short footballing background of the teams we played and a more general description of the cities and towns visited – as I mentioned earlier, there is so much in this book to take it above a mere statistical record.
On the down side, if the best books build to an exciting climax, then, I'm afraid, this one doesn't do that – the best bits all tend to come early on. This is no fault of the author of course, but more a reflection of the decline of Cardiff City as a football team which, in European terms, began with our defeat by Real Madrid towards the end of the 70/71 season. The book did remind me what a fine achievement it was to beat Dinamo Tbilisi in the first leg of our tie in 1976 , but, that apart, our results for the last twenty one years in Europe reflected what we were domestically –  a side where, for every good season, there were at least three bad ones.
Still, it comes to something when that is the only, partial, fault I can find with a book – it would make a great Christmas present for any City fan and I can heartily recommend it, nine out of ten.