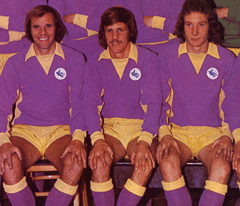 Friday's backs to the wall 1-1 draw at Blackburn saw City in possession of the football for just 35% of the game. After around 15 minutes of the second half of last night's 2-1 win at Coventry (sorry, Northampton) in the First Round of the Capital One (League) Cup, a display came up on the screen to show that, since half time, Cardiff had been in possession for 81% of the time.
That figure merely confirmed that the second half was going the same way as a one sided first half which saw City in complete control throughout – they were dominant in all areas of the pitch as proceedings took on the look of a practice match. So, having shown determination and defensive organisation at Blackburn to chisel out a point when they had so little of the ball, would it be right to think that City were thoroughly convincing when they had so much of the ball in a match which could not really have been further away from what we saw at Ewood Park?
My answer is no, not really. As to why that should be, I think I'd best sum it up by saying that, despite all of that possession and a palpable gap in quality between the sides, City did not come remotely close to putting the game to bed in that one sided first sixty minutes. Having scored very early on, when Nicky Maynard did well to control Magnus Eikrem's long pass to find Guido Burgstaller who capitalised on some dozy Coventry defending to score his first goal for the club, City never got me thinking that a second goal was coming – apart from Maynard shooting not far wide from a Declan John cross and Kimbo, selfishly, shooting from an angle when he had team mates better placed inside him, there were few real chances resulting from their control of the match.
This was despite facing a team who decided to forego the widely accepted route to beating a higher placed opponent in a cup tie by opting to take City on in a football match rather than try to get into their faces at every opportunity. Coventry were happy to stand off and let City play, while their attempts to build from the back often saw them surrendering possession in dangerous areas of the pitch thanks to a combination of a their own shortcomings and City's impressive closing down of their defenders with Maynard to the fore in particular here.
Yet, there was something almost anaemic to City's approach for much of the time. Maybe that's not the best way to describe it, but there was a lack of drive to really go for the Coventry jugular when their hard work was rewarded with the ball being presented to them in the final third without too many opponents in front of them.
Instead, City seemed content to pass the ball around at a measured pace – yes, a lot of this passing was neat and well put together, but it didn't take advantage of the opportunity they had been given. In my view, this was partly down to the fact that, too often, there was no one in our midfield busting a gut to get forward to support Maynard.
I must admit I find it hard to distinguish when a 4-5-1 formation becomes a 4-3-3 and vice versa. On the face of it, Friday's selection of Jones, Maynard and LeFondre meant we were playing with three strikers, so I, like virtually everyone else I would think, reasoned that we were playing a 4-3-3 and, as I mentioned in my piece on the Blackburn match, this left me concerned that Gunnarsson and Whittingham could be overrun in the middle of the park.
This was never going to happen last night, because Ole's selection (forced on him to some extent by a lack of fit strikers) was undoubtedly a 4-5-1 rather than 4-3-3. Burgstaller, Kimbo, Gunnarsson, Ralls and Eikrem are all midfield players first and foremost in my book and, from  us having not enough bodies in that area in our previous game, we were almost in a position where we had too many – it was the first three named who appeared to be charged with getting forward to support Maynard, with Ralls and Eikrem charged with more defensive duties.
To a large degree these two performed those duties well (albeit the defensive side of them weren't tested too much), neither of them gave possession away too much and Ralls (my City man of the match) was able to slide some clever and accurate passes through congested areas to pick out runs by Maynard and  Declan John in particular, with the latter bringing out a decent save on his near post from Coventry keeper Burge.
Of the others, Burgstaller did well in the first half an hour as he consistently got forward to help Maynard, but then faded somewhat, Kimbo showed occasional flashes of  quality, but mostly frustrated with his lack of an end product and Gunnarsson worked hard without achieving a great deal – in the modern game, the term "number 10″ has come to describe the player who plays a bit deeper and provides creativity for and support to the striker(s), none of the three players charged with the job of making attacking midfield runs last night were able to satisfactorily carry out such a function.
Ironically, the game began to change from virtually the moment that display I mentioned earlier showed City's 81% possession figure. Coventry finally began to show some some fight and passion which started to force the occasional mistake from City and with that came the revelation that the home team had the players to cause our defence problems. Swanson and substitute Wilson were able to provide City with more anxious moments in the closing twenty minutes than they'd had to endure in the previous seventy with the latter missing a great chance when the otherwise impressive Matt Connolly missed a straightforward long ball forward.
Perhaps the change in the game also had something to do with the introduction of Mats Dæhli and Kadeem Harris from the bench with twenty five minutes to go? Neither player are great defensively and Coventry broke dangerously when the first named lost possession cheaply, but they are both well suited to exploiting gaps as opponents chase a game in the closing stages and, while we looked weaker at one end of the pitch, they did make us a bit more dangerous at the other end.
This was shown with ten minutes to go when keeper Simon Moore's long clearance was misjudged by a defender and Dæhli got free to deliver a wicked cross to the far post where Harris, showing a desire and timing of run that wasn't always present in his team mates, forced Coventry's young left back Haynes to turn into his own net. That should have been that for City, but Ole was denied a very rare clean sheet under his management when Wilson swept home from close range. To be fair to our central defenders. there wasn't much they could do to prevent this goal – maybe Haynes should have been prevented from crossing the ball, but his delivery was so good that Wilson could not really miss.
City had one or two chances to restore their two goal lead after that, but, by the same token, Coventry might have been able to take the game into extra time and the final whistle was greeted by a sense of relief that there really shouldn't have been given that City had controlled about three quarters of the game – there could be no doubt that the right side had won, but they hadn't done so with conviction or a great deal of confidence.
Just a couple of other points to finish on, City fielded the exotically named Jazzi Barnum  Bobb at right back – he joined us earlier this year after being released by Watford and had mostly been used as a sub in Development matches, so it was a shock to see him thrown in at the deep end, so to speak,  like this and the teenager didn't do too badly at all. In saying that, he was hardly tested defensively, but he looked a composed footballer with a nice turn of pace.
Finally, it was reported yesterday that City were signing Anthony Pilkington from Norwich for a fee of around £1 million. The Rebublic Of Ireland international winger was left out of the Norwich side at the weekend with manager Neil Adams saying he wasn't fit – Pilkington took to Twitter to deny this and, since then, it has looked like his time at Carrow Road might be limited. Assuming the reports are true, I reckon we've got a potentially very good player at this level for a price that is more than reasonable. You Tube videos have a poor reputation with City fans after the Andreas Cornelius experience, but this one is well worth a look – if nothing else, it shows Pilkington is genuinely two footed and has a fine long shot on him.
* pictures courtesy of http://www.walesonline.co.uk/