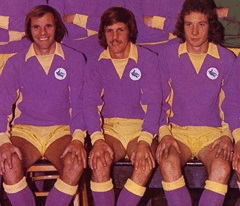 If all football matches were cases of "goodies v baddies", then much of the post match reaction to yesterday's top of the table clash at Molineux, where Cardiff City stretched their club record winning run to start a season to four matches at the expense of an expensively assembled Wolves team that had won their previous three games, appeared to indicate that the baddies had won.
After all, in a clash between the team with the second lowest number of yellow cards in last season's Championship and the one with the most cautions of any side in that league in 16/17, it was the side who, we were told, used all of the tricks in the book and played "anti football" of the sort their "dinosauric" manager has advocated all of his career that prevailed.
Wolves fans expressed their frustration at referee Scott Duncan for what they saw as his lax handling of Cardiff's cynical, roughouse tactics with this lucid comment
"Lets get things straight ! Cardiff are NOT a good footballing team. The referee was a complete tool and, come next May, Wolves will be at least ten points clear of cardiff. Warnock is a dinosauric manager and the only good thing about today is that Santos will now understand that we won't always be allowed to play how we do. If an opposition player gets into the ear of the official from the first minute, we have to lower ourselves to sunday league level and do the same. Fein injury, allow a keeper to take three minutes to resume play and shake hands with opposition players, on the field of play, ten minutes before the end of a game. I also state that certain players didn't play well ( Doherty, Enobakare, Saiss ) but the be all and end all is that cardiff have one way of playing and, imho, it's the only way they'll ever know how to play. Please spare me the "we weren't at it" , "they eserved it" bole axe."
taken from the reaction section to a newspaper piece summing up what was, obviously, a miscarriage of footballing justice!
Even Wolves boss Nuno Santo joined in. This is the newspaper piece I referred to earlier and it can be seen that, although there was some criticism of his team and how they adapted to the challenge their opponents had set, the inference was clear – basically, his team lost because the referee was rubbish and, to mix my sports, the opposition's approach was just "not cricket"!
The thing is, you know exactly what you are going to get from a "Warnock side" don't you. On the messageboard I use, links have been posted on the last two Fridays to Villa and Wolves sites where supporters have talked about what their side was going to be facing in their next match – lots of high balls whacked forward and, seeing as they were facing a Welsh team, a physical approach that owed more to rugby than football.
Now, I would be a hypocrite here if I did not point out that, up until the 2010/11 season, my attitude towards an upcoming Cardiff game against a Neil Warnock managed team would have been pretty similar – you only have to read this piece from 2009/10 to see that!
However, I have no problem whatsoever admitting that I was proved wrong within eighteen months of making those comments as Warnock's QPR team won the Championship by playing a more attractive brand of football than I thought was possible from a Warnock side – inspired by Adel Tarrabt (who Warnock gave full licence to), Rangers came to Cardiff City Stadium in late April 2011 and played a full part in one of best matches seen in our new ground so far.
Therefore, my feelings had mellowed somewhat towards Mr Warnock by the time he was appointed our manager last autumn and I thought he was the right man for the managerial challenge Cardiff City represented at that time. Nevertheless, I'd be lying if I said that there wasn't a sense of foreboding about the sort of football I'd be seeing from my team over the coming months – especially when you consider that they were deep in a relegation scrap at the time.
Speaking as someone who always prefers to see my team get the ball down and play "good football", I admit that my fears have been realised to a degree – we are very direct, barely ever build from the back with our goalkeeper playing the ball short to a defender or deep midfield player, religiously use the long throw in certain areas of the pitch and our possession percentage always seems to be in the thirty/forty range (I was expecting it to be a lot lower yesterday than the thirty six per cent shown on the BBC's stats).
The thing is though, I soon found that I was coming out of matches played by Neil Warnock's City side feeling I had been entertained. I can think of home matches against Sheffield Wednesday and Barnsley while we were still in real trouble where I felt like that and while the match with promoted Brighton might have been short on thrills, there was still much to admire in our performance – a month or two later, we played Fulham in what I would say was the best match I've seen us involved in for about four years and the thing which links all four of these games is that we won none of them, so it was hardly a case of the result being everything as far as I was concerned.
The ten months or so in which Neil Warnock has been in charge have seen me begin to question my belief of what "good football" really is. For example, is good football continuously passing the ball back and forth in your defence and deep midfield against opponents perfectly happy and willing to let you do that in certain areas of the pitch?
Just over a week ago, Villa messageboards were telling all and sundry just what they could expect to see from Cardiff when their team visited there for their next game. In the event, City's "cloggers" ran Villa ragged with their pace, power and skill as they played effective, no frills, attacking football – there was also not one Cardiff player booked.
This brings me back to the subject of discipline. Earlier when I was talking about "goodies v baddies" and the perceptions of Wolves fans both before and after yesterday's match, I mentioned that the side with the second lowest number of bookings in last season's Championship were facing the one that picked up most yellow cards, but a look at the disciplinary table for last season reveals something you may not have expected – yes, the second best disciplined side in the league last season when it comes to yellow cards was playing away yesterday, while the worst behaved were in front of their home crowd!
It's also worth noting that, despite all of the post match fury from the home camp, there were thirteen free kicks given against either side for fouls.
It's only fair to say that not all Wolves fans were as one eyed as the one I quoted above. Although they were in a minority, there were quite a few messageboard posts saying we deserved the win that were complimentary to our team, some of the players within it and there was even the odd one that had a good word to say about our manager!
As an example of what I mean, I think the analysis in this video piece is a very fair one. Yes, there are criticisms of what they felt was an over physical approach on our part, but there's also a recognition that you can hardly expect teams that face Wolves to stand off their continental stars and just let them play (as may have been the case to some extent in Wolves' first three games). City may have sailed close to the wind at times in the first half and four bookings is a lot by their standards, but, as acknowledged in that video, the outcome of the game was not just down to one team intimidating the other.
Stats can lie at times of course, but when they show that an away side went to a rival with a one hundred per cent record beforehand and won the goal attempts battle seventeen to twelve, the on target attempts one five to three and had four corners to their opponents two, as the BBC's do, then it must say something about the attitude and approach of the visitors.
Neil Warnock stated in his post match remarks that the the plan had been to attack Wolves  from the start and the general agreement that we were on top for the first twenty minutes or so, tends to back him up – City have had a very useful blend of attacking pace and power throughout 2017 and have added to the effective Zohore/Harris/Hoilett trio of late 16/17 during the summer (more on the latest new arrival later).
If you add the man who has to be the division's leading match winner at the moment to that attacking mix, then it should be plain common sense to see that attack is the best form of defence and a typical Yorkshireman like Warnock will tell you (more than once I'd guess!), people from that county do not tend to be short of plain common sense!
Although my pre match pessimism meant I didn't see it happening, it could have been scripted that Nathaniel Mendez-Laing would return to the club he started at to score the winning goal couldn't it. I tend to agree with the Wolves fan in the video when he says home keeper John Ruddy could have made a better job of trying to keep out the winger's shot from the edge of the penalty area following good set up play by the again impressive Kenneth Zohore, but when a player is in the form of his life, such things tend to happen to him – anyway, our free transfer signing from Rochdale more than proved his worth yesterday with a selfless showing which saw him having to undertake wing back duties at times.
The question was also raised as to whether Ruddy should have saved our opening goal by Joe Ralls, but I think he was powerless to keep that one out because of the quality of a shot confidently rolled beyond him by a player who now has the reward of a goal in a very important game to put alongside his fine displays so far this season.
At the opposite of the pitch, I thought Neil Etheridge might have been able to push out the long range shot which eventually led to Wolves' equaliser more towards the corner flag, but, if he was to blame for the goal to some extent, then it's the first blemish of what has been an impressive introduction by him up to now and his overall contribution still has to be significantly in the plus column.
Turning to transfer matters, I'll say first that the club soon strongly denied the line from yesterday's Daily Telegraph that a bid of £10 million plus Tomer Hemed from Brighton had been accepted by Cardiff. There are still stories out there saying that the south coast club (who have no points and no goals scored from their first two Premier League matches) have put in a bid for our number one striker, but you can draw your own conclusion from the fact that Zohore played the full ninety minutes at Wolves.
In the light of the midweek stories about Fulham having met the release clause valuation in Joe Bennett's contract, there were claims that Preston had turned down a £2 million bid for their left back Greg Cunningham (who it turns out, now faces a lengthy spell on the injury list with a knee problem picked up at Derby last Tuesday) and Fleetwood knocked back an approach from us for their left sided defender Amari'i Bell. However, Bennett (who, just as against Sheffield United, was missing yesterday with a minor injury of his own) tweeted on Friday that he would be staying at Cardiff and our manager confirmed shortly afterwards that this was despite the London club offering him better terms than he was on here.
So, it seems we won't now by signing a left back before 1 September. However, the speculation I alluded to in my Sheffield United reaction piece regarding Wigan striker Omar Bogle turned out to be on the mark as we completed his signing, on a three year contract, for a fee believed to be around £700,000. Bogle was an unused sub yesterday and, apparently, joins Bennett and Sean Morrison in rejecting offers of more pay from other clubs – it's said that Queens Park Rangers were in touch with him on the night before he signed for us, but he told them he'd already made up his mind and would be joining Cardiff.
Put those three examples with Bruno Manga signing a new deal on a reduced wage and you begin to see that there is probably something to the claim that is often made in the media that Neil Warnock gets players to want to play for him. Certainly, while it's always so much easier to make claims like this when a team is winning of course, this side (and last season's) seems to have a spirit and unity to them that has been hard to detect in a City team since our Premier League season started to fall apart.
Qualities like this count for so much in the Championship, it's a league where, far more than in the division above, spending power is not the be all and end all. If it were, we would not have made a record breaking start and be top of the table with victories over rich, highly fancied West Midlands teams on successive Saturday's behind us – if other clubs, and their supporters, don't realise and accept that we are a bit more than a "typical Warnock side" and prepare accordingly, it may take them a lot longer than they think to catch and overtake us.