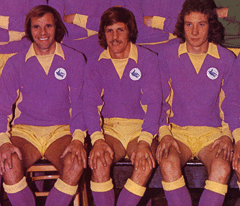 In his post match interview following yesterday evening's 1-0 loss at Bristol Rovers in the First Round of whatever the League Cup is called this season, Paul Trollope confirmed that Cardiff City are close to signing Wigan Athletic's twenty two year old Welsh international midfield player Emyr Huws on a permanent deal.
Now, based on what I've seen of him, I like Huws and think this could be a move that works out well for both parties. For me, one of the very few things Chris Coleman did wrong this summer was to leave Huws out of the final twenty three for the Euros, but it was still very encouraging to see the player giving his all in the final warm up game against Sweden despite knowing at that stage that he had missed out on selection for the Finals.
So, yes, provided the deal can be finalised, I think Emyr Huws can be a good signing for City, but, still you have to say that there has been an element of Nero fiddling while Rome burns about our summer so far because an own goal and a penalty in nearly five hundred minutes of football since Lex Immers scored in the early minutes against St. Pauli nearly three weeks ago is all the confirmation needed to tell you that our biggest problem last season has not been adequately addressed – in fact, the signs so far are that the problem has got worse.
When a side is not scoring, the tendency is to look at two areas when trying to work out why this should be – essentially, it's because the strikers are not good enough or the service they are getting isn't good enough.
To look at the latter first, although Joe Ralls hit a lovely defence splitting pass very late on to help create the chance from which we came closest to finding the net, the central midfield trio we started with last night of Ralls, Aron Gunnarsson and Stuart O'Keefe had a functional rather than inspirational look to it – even at their best, it's not a threesome which has you thinking that they'll tear the opposition apart with their creativity.
We have been told on a constant basis that City are adopting a more patient approach this season and so we are going to see more building from the back than we've been used to from the team. Now, I'm all in favour of this, but I hope and trust that if any of our back three see that a long pass (as opposed to hack downfield) which could hurt our opponents is on, then they are encouraged to play it, rather than told to play a shorter, "safer" ball – for much of last night, you might have thought that passes from the back into the channels were banned.
To digress a little for a moment, I wasn't best pleased to hear that Don Goodman would be the "expert" alongside the commentator for Sky's coverage of the game. It's not that I particularly dislike him, in fact I quite enjoy listening to him when he's not covering a City game. However, it's always seemed to me that he barely ever has a good word to say about us when he watches our games – even when we were winning the Championship, he seemed to be very grudging in his praise of us.
So, at first I bridled somewhat when he started being critical of our "passing for the sake of passing" last night, but the evidence of what I was watching meant that I couldn't maintain this approach for long – Goodman was right to be critical of our laboured passing game which was being played, almost entirely, in areas where Rovers were perfectly happy to let us have possession.
A few years ago, "possession" football was King, but we seem to be in a period of some reappraisal of that idea now and the success enjoyed lately by a few teams who don't seem to be too bothered about losing the battle for possession of the ball is showing the limitations of an approach where keeping possession of the ball is key.
Even someone like me who is much happier to see me my side with the ball than without it, can see the potential problem of continuously playing balls which ensure you keep possession – such passes can take longer to play and, in general, the further you look to play the ball, the less the chances of keeping it become.
There have been times in the past few weeks when City have struck me as being guilty of trying to keep the ball at all costs. Looking at this from a striker's point of view, I would have thought that it would become very discouraging as you continuously looked to make runs into space only for a team mate to check back and, typically, play a five yard pass backwards or sideways.
So, going back to our lack of goals, it could be that our strikers are good enough and are making the right runs only for the desire to keep possession to take priority over a willingness to take a bit of a gamble. I believe there is a small element of truth in there somewhere because we do look as if the choice between risk and reward that all sides which value possession have to make is weighed a little too much towards the avoidance of risk currently.
There is a converse to this which I believe applies far more to us here though – if your strikers aren't giving the players behind them good options when they have the ball, then the choice the man in possession has is whether to look for the simple pass which keeps you in possession or hit a "fighting ball" forward towards a largely static front player perhaps half a pitch length in front of them – if the man with the ball chooses the former, then inevitably, this will lead to accusations of a lack of urgency in the side's passing.
For me, this was, by far and away, the main reason for our pedestrian and punchless performance. Now, it needs to be said that you don't get the sort of complete picture as to how much work off the ball your strikers are putting in if you are watching a game on the television rather than in the flesh, but, for me (and Don Goodman's comments backed this up), our starting front two did nowhere near enough to present the sort of targets to those looking to hit them that they should have done.
From what we've seen up to now, it's pretty obvious that Paul Trollope sees Anthony Pilkington and Frederic Gounongbe as his first choice front two, so last night should have presented Kenneth Zohore and Craig Noone with their opportunity to prove the Head Coach wrong, but, instead, all they did was confirm that Trollope is correct in his current thinking.
Zohore's career at the club so far has been a mixture of long famines interrupted by the occasional feast which suggests that there might be a player there who can become a quality Championship performer, but it was back to the famine with a vengeance last night.
Some credit should go to the Rovers back three (the best of whom was yet another centreback we decided wasn't good enough and released in their mid teens!) mind for their clean sheet, but, in truth, they'll seldom have such an easy game over the coming months. I'll not accuse Zohore of doing this on the basis of just one game, but we can all probably think of players we've had in on loan who let their standards slip once they had the security of a nice, long contract behind them can't we. As I say, it's too early to leap to conclusions about Zohore yet, but he cannot afford too many more showings like that.
As for Noone, I was only mentioning yesterday that I thought he could make a success of the number ten role, but this was the old frustrating and too familiar Noone I'm afraid . We can all remember that display at Man City, the spectacular goals and the pin point crosses, but, for the past two seasons, he's been living on those while his performance generally falls thanks to a mixture of predictability, wrong options taken (a failing too many of our forward players were guilty of last night) and poor execution – I always say that players of Craig Noone's type will frustrate you at times, but the balance between this and those occasions when his talent makes a telling difference has shifted far more towards the former since we were relegated.
So, our second choice front two showed exactly why they are down the pecking order last night and it's true to say that, just as our creativity should improve when our two most perceptive passers, Peter Whittingham and Lex Immers, are restored to the side, then we did look more of a threat when Pilkington and Gounongbe appeared off the bench.
Indeed, I thought Gounongbe did pretty well as he tried his best to give our players that moving target to hit that they had not seen in the opening hour. Pilkington is our best option when it comes to movement and awareness around the penalty area and, after Chris Lines' fine strike (again though, I found myself agreeing with Goodman when he claimed Simon Moore maybe could have done more to prevent the goal) five minutes from the end of extra time, he received Ralls' pass and played in Gounongbe brilliantly only for the import from Belgium to be denied an equaliser as his effort bounced to safety off the inside of the post.
Perhaps Gounongbe could have done better, but I'd say his miss last night had more to do with bad luck than any ineptitude on his part. It seems to me that those claiming to use what happened last night as evidence to write him off already, are doing so entirely on the back of his far worse miss at Birmingham - if it wasn't for that, the criticism for last night's miss would have been far less.
Nevertheless, even though we have four players (at least) who can come into the side and give us more of a goal threat than the starting eleven carried last night, I still look at what we saw during the second half of last season, when three of those four were available, and what's been on show in the past month or so and think we are a long, long, long way short of what's needed to have a strikeforce which will win you promotion from the Championship.
We're, possibly, signing the central midfield player who can give us more authority in that area and I would have thought we will look to add a full back/wing back when Fabio completes his move to Middlesbrough, but, even if we make a couple of very good signings for these areas, it's hard to see an improvement on last season's Play Off challenge which never really ignited, if we don't get someone in up front who is better than what we have presently. Forget about whether he'll get us twenty goals a season or not, at the moment, I'd happily take someone who has the cleverness, fitness and mobility to make the runs that will trouble centrebacks while also giving our deeper players the forward passing options that we lack.
Finally, it looks like we'll be missing Stuart O'Keefe for a while with a broken arm which meant that we had to play out the last ten minutes or so while a man short – I've only seen the incident once, but it looked like it was a pretty dodgy challenge which caused the injury. Also, apologies for the lack of pictures from the game to accompany this piece - I'm afraid that it's looking like it's going to be tougher to come across photos in the media from our matches which people like me can use from now on.