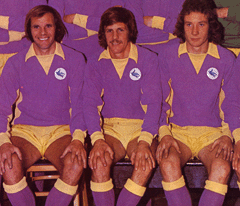 On Tuesday I met up with Richard Holt, who wrote The Journey Back with me. After a brief general chat, we came around to the subject we were trying to avoid – the previous night's game with Bristol City.
Richard said that, having seen so many poor City teams during the getting on for sixty years he has been watching us play,  he was usually pretty philosophical about the games he attends, but on Monday he had a very unusual reaction to our display – he got annoyed.
Knowing Richard as I do, this should have surprised me (he always comes across as pretty easy going), but it didn't, because I had felt precisely the same way as I watched our bumbling attempts to play something resembling football.
My City watching history doesn't stretch quite as far back as Richard, but, like him, decades of watching us play have made me pretty tolerant when it comes to poor displays by the team. Last season was a miserable experience with barely anything to recommend most of the matches we played at Cardiff City Stadium, but, while this was, undeniably, frustrating, I tended to try and find some humour amongst the dross.
It was different on Monday though. I'd been in good spirits before the match, but, within ten minutes of it starting, I was in a foul mood and that didn't start to change until about a half an hour after the final whistle when I began to slip into "oh well, it's only a game" mode.
I daresay that there have been a few other games I've watched during my time supporting City when I've been as angry with my blood pressure going through the roof, but, if there have been, I can't remember them now. What happened on Monday night felt like a first for me and it's an experience I'm in no hurry to repeat – I don't go to watch the team I've supported all of my life to feel like that.
So, why did two people react in such an atypical way on Monday as a team who have let them down so many times in the past turned in one more substandard showing to go with the hundreds of others we've witnessed down the years?
I don't know the answer to that question, but my theory is that thirteen months of watching us play under a manager who, almost certainly not on purpose, has drained so many of the things which make you feel pride in the team you support from the club are taking a progressive toll. Sadly, watching City under Russell Slade has become an empty experience where the pre match sense of joy and anticipation I used to get no matter how the team was doing or what league we were in has almost faded away completely.
Before I develop this theme, I should just say that one thing Russell Slade has achieved during his time in charge is to correct a mistaken belief I had for just over fifty years. You see, my attitude was always that as long as we won, I wasn't too bothered about entertainment – the win was what really mattered to me.
That's changed under Russell Slade. We have won home matches in the last year or so (Reading in the league last year and Huddersfield this season spring to mind) that saw me leaving the ground with none of the elation I would previously have expected after a City victory – it's taken a very long time for the penny to drop, but in the last year I've realised that I do, in fact, want to be at least partly entertained when I see us play.
City games are having the enjoyment hoovered out of them by this manager. As to how this happens, well, for me, there are two factors – the boring football that comes from what is, essentially, a defensive tactical approach even at home and the complete absence of the sense of pride and achievement supporters feel when "one of their own" breaks into the first team after coming up through the youth ranks.
Regarding the first of these matters, we have been playing a lopsided 4-4-2 system this season which, fair play, proved to be pretty successful in the opening weeks of the campaign, but, like all things which appear to work very well when you first see them I suppose, the passing of time reveals flaws that lead to questioning of the positive opinions formed during initial viewings.
In this piece Nathan Blake explains what a lopsided 4-4-2 is and puts his theories forward as to why it didn't work on Monday night while coming to a conclusion as to our manager's feelings on the system he is using. I have to say that, although I'm unconvinced that our manager wants to change from his beloved 4-4-2,  it all seems pretty sensible to me and I certainly agree with Blakey's opinion on the importance of the full backs when it comes to how sides should attack when using this formation.
Blakey is one of tens of examples I could quote of local boys who have been given their chances as teenagers in City's senior team and not looked out of place at all. Often the introduction of some youthful enthusiasm by a beleaguered manager can help get the crowd back on his side, while also giving a team an injection of the vibrancy it may previously have lacked.
We've seen next to nothing like that from Russell Slade though – before someone mentions Joe Ralls, he was an established performer at Championship level with over fifty appearances behind him when Slade took over, he "broke through" at Cardiff under Malky Mackay's management.
Russell Slade has been critical of the club's youth development and last week he talked of how our "recruitment" needs to improve at that level. Those remarks confused me – did he mean that our recruitment of younger players consists of signing other club's cast offs (e.g. Ajayi, Weymans, Blaise and O'Reilly) or was he saying that we need to be signing better local young players?
Either way, our manager was hardly giving a ringing endorsement to the young players who were already at the club when he took over, because it could be argued that he was either ignoring them or saying they weren't good enough – I believe supporters want and like to hear their manager talking up the young players at their club rather than the implied criticisms we hear from Russell Slade.
If I can be allowed to play amateur psychologist for a while, so much of Russell Slade's decision making suggests someone who constantly looks for the easy, and safe, option because he fears that, having been given an opportunity that he must, at times, have thought he was never going to get, he doesn't want to do much that could persuade his somewhat unpredictable employer that a change of manager is the best course of action.
Of course, this is understandable on many levels when you look at it from Russell Slade's perspective. However, speaking as a fan, I strongly believe the caution which is apparent in so much of what he does is helping to feed the waves of apathy which are only making it that much harder for City to move forward.
For example, going back to those home wins which I didn't enjoy I mentioned earlier. Although we hadn't played well, we were 2-0 up at half time against a Reading team in a dreadful run of away form that had been reduced to ten men and yet we came out after the break and played as if we were up against Bayern Munich! The "what we have we hold" attitude we showed that night saw us hanging on at the end to a 2-1 lead in a game that I maintain would have been won by three or four goals if one or two pretty recent Cardiff managers I can think of had been in charge.
Similarly, at 2-0 up in the closing stages against Huddersfield, we were taking the ball to the corners to waste time and showing little inclination to get men forward. I can understand that approach when we've taken an 86th minute lead against one of the promotion favourites like we did last week, but Huddersfield were in something of a goalscoring drought at the time – again, caution when it wasn't really called for.
In the same sort of vein, Russell's Slade's frequent talking up of forthcoming opponents is all suggestive of an underdog attitude that says if we manage to get ourselves a lead, we should making holding on to it the overriding priority.
It's only fair to say here that, having, in my view correctly, identified that the squad needs more pace and creativity, our manager is, apparently, being given very little in terms of financial support to try and make these improvements. It cannot be easy in so many ways being a manager of a Vincent Tan owned club and this should be factored in when making any sort of analysis of the job Slade is doing at Cardiff.
Nevertheless, I don't believe I'm the only City fan who finds themselves wishing our manager would reveal a bit of the sort of gambler's instinct that other managers show when faced with the choice of attack or defence or whether to risk that youngster rather than continue with the senior player that isn't really doing the business – I certainly know a couple of former City fans who feel like I do.
In the days following the Bristol City match, two people got into touch with me to give their thoughts on the game they had watched on their televisions on Monday night – what would Russell Slade have to say about the following extracts of what they had to say?
" I've just read your blog on Monday's game. I don't post on the messageboard or your blog so thought I'd drop you a line directly.
As usual it was a really good read but I could only relate to your report on the first half of the game. I'm afraid I simply couldn't put up with watching the second half. Monday's first half reminded me of last season's games when I used to walk out at the 75 to 80 minute mark feeling bored and depressed. The football was so bad on Monday that when the second half was on I was watching a recording of Sunday's episode of Downton Abbey which was tactically much more entertaining!! I feel sorry for you and the other 13,000 or so genuine, die-hard fans who deserve so much more for the money that you've all forked out.
The City played a big part of my life for 57 years but no more. As well as taking a liking to the Gaelic sports I confess that I've been swept away with the passion of rubgy union during this World Cup. I never thought it would come to it but this is what Russell Slade's brand of football has done to me – and, I suspect, many thousands of others as well. I really don't think it can get better until there's a manager at CCS who can put some passion into the players and get them playing at speed. "
and from the long standing fan whose e-mail had the title I've given this piece.
"I'm sorry it always sounds so sour, but – as you understand, I know – it
comes from passion and raised, but dashed, expectations.
I'm genuinely bewildered by the evidence of the inept and block-headed
standard at which we operate.
A wondrous talent like Whitts is reduced to an alarming haplessness (I know,
tempus fugit), and a gifted player like Noone performs as if appearing in
one of the London Parks where I played on a Sunday morning in the 70s and
80s.
Can you imagine our putting on a show – in all senses – like Sheffield
Wednesday last night, which, until relatively recently, we might have done?
To illustrate what a 'proper' and substantial entity it is that we all
love – if you have the time – go to this link:
He is a pal of mine, from Montpelier, married to an Icelandic girl, who,
before they retreated back to Reykjavik, insisted I bring him to a City
match.
22nd Feb 2014 – City 0 – Hull City 4 which, as you may remember, I regard as the day when I knew we were doomed, under OGS.
It didn't prevent Hugo from becoming besotted with the Club, the atmosphere,
the city, the country.
(Words of 'Men of Harlech' on big screen – " Lindsay – what ees zees word
'yield'?").
That's what we've got, and it's disappearing, rapido."
On the same sort of theme, the reason why I can say confidently that this blog has improved markedly in the last year is that it now has a smattering of regular correspondents who, through their contributions which can be found in the feedback section, provide great City related chat. Looking at the responses to my piece on the wurzels game is both instructive and interesting – not all of the comments are critical regarding our manager, but, for me, a sense of sadness and opportunities in the process of being lost comes through.
Two things need to be said here. First, that I believe all of those who I've talked about in this piece are of an age where they cannot be seen as new supporters who are thinking of jumping ship at the first sign of choppy waters – as I mentioned at the start, we are talking about people who stayed with the club through the dark days of the eighties and nineties.
Second, it needs to be remembered that we are not talking about a team that is losing every week here – in fact, results have been pretty good under Russell Slade when you compare the number of matches won to lost. Even so, there is plenty of evidence around (for example polls in the local press citing a lack of entertainment as easily the biggest factor as to why people did not renew their season ticket), that the level of interest in Cardiff City is still heading in a downwards direction despite results and a league position which you would have thought would see things moving tentatively upwards.
I used to say that the fact that Malky Mackay had worked in a bank before he became a professional footballer meant that he had a better understanding than most in his profession of what it was like to be a fan.
On the face of it, given his background, this should apply even moreso to Russell Slade, but I see little or nothing from him to suggest this is true – quite the opposite actually.
Russell Slade's first match as City manager was against Nottingham Forest and I can remember him saying that he became a Forest fan in the 80s while teaching at a school in that city, so, to some extent at least, he has a team which he regards as his.
I know the chances of our manager getting to read this are tiny, but if it does happen, I'd like to ask him, truthfully, what would he have been thinking as a Forest fan if his team had adopted the same tactical approach in home games especially and attitude to home produced youngsters as he has done at Cardiff in the past thirteen months? One of the things which I hope shines through in this piece is that, even among those who do not attend any more, there is still a great deal of goodwill towards the club – people really want it to succeed, but it's so hard to remain optimistic under your tenure Mr Slade, it really is.