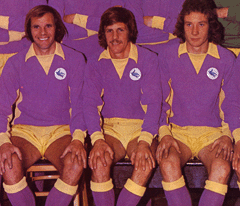 A night of pathetic defending by Wales was summed up by the sight of the two Collins' tripping each other up in the build up to Switzerland's final goal in their 4-1 win yesterday. City's Darcy Blake made his full international debut filling in for the suspended Chris Gunter at right back and, after a solid and pretty assured first half showing, suffered an awkward few minutes before being taken off ten minutes into the second half after he almost cost his side a goal through his not dealing with a cross fired in from Wales' left. It appeared as if that mistake was a final straw for Brian Flynn as Blake was replaced by Christian Ribiero, but, if the caretaker manager had applied the same standards to the other members of Wales' back four, none of them would have made it to half time!
Although not quite as laughable as England's defending against Germany's opening goal in this summer's World Cup game, Wales ran it close with their brain dead attempts to stop Switzerland's first goal as, for some reason, Danny Collins decided he was playing centre half and jumped for the same ball with Ashley Williams. A simple flick on by the one Swiss player (Streller) left two of the back four out of the game and a gaping hole down Wales' left for Barnetta to run onto. A minute later Collins was at it again, but this time with less disastrous results. I suppose he might have thought Williams needed help because he struggled in the air throughout and his failure to deal with another straightforward long ball almost cost Wales another first half goal – I think Ashley Williams has looked a Premiership class player for much of the last eighteen months or so, but he has been a long way off his best in the past few days.
Alongside Williams, James Collins gave a third consecutive Welsh performance in which his standards fell a long way short of those he sets in the Premiership week in, week out – if Switzerland's second goal was a fluke as Streller capitalised on some more dodgy defending to score with a totally miss hit shot, it was ultimately down to Collins playing three Swiss players on by standing five yards behind his fellow defenders. Behind a back four that leaked like a sieve, Wayne Hennessey was having a fine game until, unusually for him, his distribution started to let him down and, as Wales struggled to plug the gaps in the second half, I was reminded of comments by two former International players.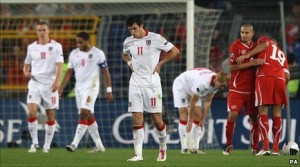 The first came from Hennessey's club manager Mick McCarthy who explained his decision to leave out the young Welsh keeper for the ageing and, far less talented in my book, Marcus Hahnemann a year ago by saying that the American would be more vocal and organise his defence more – although it's galling to see a good young keeper like Hennessey on the sidelines, you have to admit that Wolves are conceding far less goals since McCarthy made that change. The other comment came from Kevin Ratcliffe on Friday night when he said that Chris Gunter's sending off in particular and many of Wales' problems in general were caused by them having no one to organise and talk the defenders through the game. Ratcliffe gets plenty of stick on Cardiff City messageboards for what he says when reporting on games for Radio Wales, but watching Wales' pitiful defending last night, I'm not going to argue with him on this matter.
The shame of it was that Wales played pretty well going forward with Gareth Bale being outstanding. That really shouldn't come as a surprise to anyone who has watched him play in 2010, but what was were the performances of players such as Andrew Crofts and Simon Church. Having watched Crofts' earlier Welsh performances and the way his career had gone off the rails as he had a spell playing Conference football at Wrexham, I wasn't expecting much from him, but I had been forgetting that he is now a regular in a Norwich side challenging at the top of the Championship and he certainly looked a more complete and confident player last night. Andy King was another one in the midfield who did well and when you add the likes of Ramsey, Collison, Ledley, Allen and Stock to those on view last night, then Wales do seem to have the makings of a midfield that can be competitive at international level.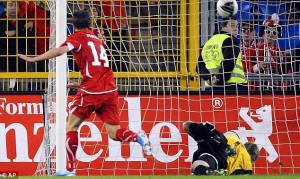 Before running out of steam (like many of his colleagues) in the second half, Simon Church also did himself no harm at all as his intelligence and mobility offered evidence as to why the likes of Liverpool were taking an interest in him last season – Church also has a very good understanding with Ramsey which should bode well for the future. With Wales looking so much more lively and inventive when attacking, it is not being biased to say that they could easily have scored three or four times. However, by the same token, although the margin of victory, courtesy of a penalty given after a dive by Barnetta and close range goal by Stocker, flattered the Swiss, the truth was that Wales were so disorganised at the back that the home side could have got into double figures if they had been more clinical in front of goal.
It's hard to say where all of this leaves Brian Flynn now. Beforehand it was being said that the manager's job was his to lose – well the bald facts say that we lost at home to a side with a very poor recent record and lost while conceding four to a team notorious for it's lack of goals. That's hardly a ringing endorsement of Flynn's claims and while he can claim, with justification, that the sides he put out were seriously under strength, I'm not sure he has done enough – it's a tough decision, but, if it was mine to make, I think I would look elsewhere.
The question is though, who is there to go for – none of the other Welsh born candidates stand out for me (I liked what Chris Coleman had to say about what happened with the Croatia friendly last season though) and the only "outsider" that seems to get mentioned is Terry Venables who would certainly come with a lot of baggage. What Venables would bring though is internationally recognised coaching talent and I am reminded of what he managed to do with a Middlesbrough team heading for relegation from the Premiership a few years back simply by getting them organised to the extent that they stopped conceding silly goals. It would be tougher doing that with the limited access he would get to an international side of course, but, in the absence of an outstanding candidate to perform such a role on the pitch, I would be inclined to go with someone who might be able to do that from the sidelines.