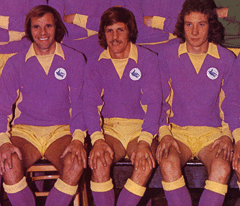 For about a month now Russell Slade has been making occasional references to how we are at the stage of the season where results take priority over performances. I suppose the real truth is that this is the case even in August when everyone starts on zero points, but, speaking as someone who has learned under this manager's time in charge that being entertained by City means more to me than I thought it did, I take Mr Slade's point – I'm not going to be turning my nose up if nine more matches like yesterday's 1-0 win over Play Off rivals Ipswich at Cardiff City Stadium see us end up in the top six,
It is ironic though that since our manager has been emphasising the value of points over performances, we have, largely, been getting the two of them at the same time. It's the performance levels shown recently against the likes of Brighton, Wolves and, to a lesser extent, Preston that has got me believing now that I might just have been wrong in the view that I held for the first two thirds of the season that, while we may be a top ten side, I did not see us as a top six outfit.
This change in viewpoint has come about because, since the turn of the year, the team have sometimes shown that they have a higher level they can go to that, from August to December anyway, I had suspected wasn't there.
The important thing about those three matches I mentioned in which we looked like a top six team was that we also got nine points from them, whereas on Tuesday, despite playing better than we did against Preston, we ended up with nothing against Leeds.
Now, at the risk of contradicting myself somewhat, I would say that if our performance level in our remaining matches hits the same heights we achieved against Leeds, then I believe we have every chance of finishing in the top six because we are not going to be facing opponents who will be as lucky as they were in everyone of those nine games.
Moving on to yesterday's match, I would say that despite my comments in the opening paragraph about accepting nine more games like that one if we ended up in the top six, the truth as I see it is that we would need generous helpings of the luck we didn't have against Leeds for that to happen. We won a very, very tight game yesterday, but if all of our remaining fixtures pan out in the same way, the odds have to be that there will be more games than we can afford where it will be our opponents who end up edging the narrow win.
In many ways, yesterday's match was a throwback to much of last season and the first few months of this one whereby we looked pretty solid at the back, but lacking in forward areas with little creativity in open play.
The similarities with those days even stretched to the goal we scored. One of the reasons I would not have been disappointed in seeing Sean Morrison recalled and Matt Connolly moved to right back (in the event, Lee Peltier recovered from his recent injury to fill in for the suspended Fabio) for this game was that he would make us more of a threat from set pieces (I mentioned in a recent piece on here that we have not scored from a dead ball cross since Morrison was injured in December). However, that run ended when Bruno Manga reached a Peter Whittingham corner first to power home a header in the eighteenth minute.
Ipswich manager Mick McCarthy, rightly, criticised his team's shoddy defending for the goal (I thought Ipswich's set piece defending was pretty poor all game) and you could understand where he was coming from really when he stated that there was barely a chance at either end throughout the game, so, while they didn't do enough to win the game, his team did do enough to get something from it.
I agree that a draw would have been a fair result over the ninety minutes, but Ipswich's manager did pay us a compliment of sorts by saying that we did to them what they have been doing to other teams recently.
A little research into Ipswich's record since the turn of the year tells you what their manager meant by that remark. While their league record before yesterday of four wins, three draws and four defeats since January 1 had been good enough to keep them in the hunt for a top six finish, the fact that they had only scored ten times in that period shows that watching them lately must be quite like watching us in the autumn when you knew that we were unlikely to win a game if we conceded a goal.
I read something on a messageboard last night saying that City players had not won any of the individual battles in yesterday's match. I beg to differ, and the reason I do so is that Ipswich looked exactly like a team with the sort of miserable scoring record described above – Daryl Murphy, so prolific last season, has eight goals this year, but only two of them have come since November, Freddie Sears has scored six times, but not in 2016 yet and while Brett Pitman has ten goals to his name, he only has three from his last seventeen appearances.
When you think back and try to recollect the times when Ipswich looked like scoring, you have to conclude that our central defenders, certainly, and our full backs, probably, won their individual duals as, collectively, a fine job was done in protecting Simon Moore who came in for the ill David Marshall for his first league start in over five months – while not totally convincing when coming for crosses, the understudy keeper had a quiet afternoon and can take heart from his clean sheet.
In midfield, given that Stuart O'Keefe was not as influential as he has been recently and that Ipswich had more possession, I suppose it could be argued that they just edged things, but little came from this "domination", so I'd say that it was more or less even steven in this area – Ipswich were good at denying us time to build attacks in this area of the pitch in the manner we've became used to lately, but in terms of individual battles, I'd say both sides, largely, cancelled each other out.
The area where Ipswich definitely had the edge was in their defensive third. For just about the first time, we looked like a team without a specialist striker yesterday. Anthony Pilkington (a surprising choice for me as captain in Marshall's absence) struggled with Ipswich's high line and was caught offside too often when you would have thought the right pass and properly timed run on his behalf would have seen him clear on goal with our opponents not having the pace to catch him – rather as happened for his well taken goal against Sheffield Wednesday.
All in all, it was a frustrating afternoon for the closest thing we have to a specialist striker in the team currently and those who have also been coming up with goals lately struggled to make an impression as well. Indeed, although Whittingham was able to deliver some threatening crosses, I cannot at the moment recall another effort at goal from us in the first half, apart from Manga's header for the goal.
This trend continued into the second period and it was only in the last third of the game that we came close to getting a second goal when visiting keeper Bartosz Bialkowski was forced into action as he tipped over a Pilkington header and dealt with  a Whittingham shot from twenty yards. Significantly, both of these came from set piece situations and it was only when Lex Immers' lovely little flick sent Malone racing forward for a shot which flew a yard or two over that anything suggesting a goal was created in open play,
Of course, all of this may mean that Championship teams are becoming more familiar, and therefore better equipped, to deal with the way we've been attacking in recent weeks, but I'd like to think that the evidence of our last few games before this one suggests that this was a one off and there is no need to look to change things too much yet.
Mentioning changes, there was one unforced one as well yesterday when Craig Noone was recalled in place of Tom Lawrence. Now, speaking as someone who expressed surprise on here about the withdrawal of Lawrence for the closing stages of the Leeds game, I feel that was somewhat harsh on the on loan Leicester player, but, by the same token, I could see that a convincing half an hour or so off the bench from Noone against Leeds made a strong case for him to start against Ipswich.
In the event, it was the frustrating and generally ineffective Noone of last season and the early part of this one who showed up yesterday rather than the more confident and productive one of recent months.
Given this, you would have thought that Lawrence would have been given his chance off the bench at some time yesterday, but it never happened as the substitutions Russell Slade did come up with were of a far more cautious nature.
Around the hour mark as Ipswich were probably enjoying their best spell of the game with Ben Pringle firing what was probably their clearest chance wastefully high and wide and Malone forced to clear off the line amid some rare defensive uncertainty by City, I mentioned that I'd be looking to shore up our central midfield at this time. Therefore the introduction of the fit again Aron Gunnarsson for Whittingham a few minutes later made sense to me, but it struck me a bit as overkill in this area when Kagishoi Dikgacoi was brought on for the last ten minutes instead of Pilkington.
I was critical of Russell Slade when he made exactly the same substitution against Preston with us 2-0 up and well in charge, but, although I wouldn't have made yesterday's change if it had been my decision to make, I think I might see where our manager was coming from this time.
Having previously said that the likes of Pilkington, Immers and Noone achieved little in attacking areas for us yesterday, I should also mention that, apart from Malone's energetic bursts down the left, they never really got the support from others in the side in open play that they have become used to recently.
To my mind, the mindset from team and players this time was very much "what we have we hold" – having got in front in a very important game where goalscoring opportunities were at a premium, the objective was to make things even harder for opponents struggling for goals to come up with the one which they needed.
At this stage, it's worth me reminding myself that while us armchair critics can sound off about "negative" substitutions, the people within the game who make these decisions have the big advantage of seeing what has been happening in training in the days before a game – in the modern game they also have analytical tools which can help compare the fitness and stamina levels of their players to what they would normally be.
So, it does not seem beyond the bounds of possibility to me that the huge effort put in on Tuesday (especially when we were down to ten men) may have had repercussions when it came to how ready physically some of the team were for yesterday's challenge.
I've already mentioned that the likes of O'Keefe and Pilkington were not quite their usual energetic selves and, although he still had a pretty effective match, I thought the same was true of Immers to some extent, while Noone's below par showing might have had something to do with a very intense half an hour on Tuesday on the back of so little football for a month or so.
Hopefully, a week's rest before Reading and then a fortnight without a game over the international break will recharge a few batteries for the crucial last phase of the campaign.
However, I do have a concern that our relatively small squad will run out of steam in a similar manner to the way in which Dave Jones' early sides did nearly a decade ago and I just wonder if the loaning out of Federico Macheda and Tommy O'Sullivan to Nottingham Forest and Newport County respectively in the last few days is the prelude to one last loan signing before the window closes later this month?
*pictures courtesy of https://www.flickr.com/photos/joncandy/