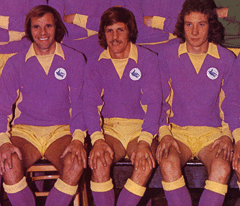 I daresay the name Jakup Emil Hansen doesn't mean much to you, it didn't to me until I started doing a bit of research for this piece, but back in the summer of 2011, he was the youngish man who enjoyed his fifteen minutes of fame when he helped heap even more embarrassment on a Welsh footballing fraternity that had become far too familiar with that feeling around that time.
Hansen was studying for a political science Masters degree at the time, but he didn't have to call on such talents while making a nuisance of himself to Welsh football and the worst thing was he had right on his side.
Hansen was a follower of the Faroe Islands football team and, with the draw for the qualifying stages of the 2014 World Cup due to be made in a months or so's time, the Faroes found themselves jointly ranked at number 114 in the world with us.
The one consolation was that the islands located about seven hundred and fifty miles north of the coast of Scotland were a tiny fraction below us in terms of the number of points they had in the FIFA rankings, so, while the difference wasn't enough to place them below us in terms of world ranking, it was enough to ensure that they'd be in pot six in the upcoming draw to our pot five.
However, Hansen's calculations had it that the Faroes' 2-0 win over Estonia a couple of months earlier had put them 0,07 of a point in front of us and, after he informed FIFA of his findings, the governing body agreed with him.
So it was, that Wales had the ultimate ignominy of being in the bottom pot along with the Andorra's and San Marino's (very interestingly, Iceland were in there as well) of this world when it came to the seedings for the qualifying group stage to see who would be going to Brazil in the summer of 2014.
A good autumn of 2011 which saw Wales end another qualifying campaign (this time for the 2012 Euros) with wins over Montenegro, Switzerland and Bulgaria, as well as a 1-0 loss to England that could have been described as a moral victory for the Welsh, meant that, by the time the qualifiers for 2014 began there were still the usual optimistic expressions that this would be the time we ended that wait since 1958.
A 2-0 home defeat by group favourites Belgium was hardly an ideal start, but Wales still traveled to the Balkans to face an out of form Serbia side with hopes of the top two finish that would secure them a Play Off spot at least still very much alive.
Chris Coleman has, hardly surprisingly, described, the 6-1 defeat that followed in Novi Sad as the bleakest moment of his Wales management career. That devastating defeat on 11 September 2012 meant that, for a team, management group, Football Association and fanbase still struggling to come to terms with the tragic and truly shocking loss of Gary Speed some nine months or so earlier, yet another qualifying campaign was over – this time a mere four days after it had started.
Yes, there were still plenty of points to play for and a failure to qualify was not even close to being a mathematical certainty yet, but few were accepting such deluded thinking – we were back in the old routine already whereby our fixtures were all about trying to get sufficient points to avoid more visits to pot five and six when the draw for the next competition was made.
This then is how our previous attempt to make it to the World Cup Finals ended almost before it had began. Two games and less than a week was enough to convince those with the best interests of Welsh football at heart that it would be another four years, at least, until we would get a second chance to pit ourselves against the best football teams on the planet in a competitive environment.
Therefore, when you hear the Welsh manager and many of his players saying that we didn't play well in drawing 2-2 with Austria in Vienna last night, you get maybe the clearest confirmation yet that the national team has been on the most incredible journey in the past four years. More than that, perhaps the most impressive thing about their climb of over one hundred places in the World rankings since we were tied with the Faroes is that the reaction to what happened in the Ernst Happel Stadion from the Welsh party is one which you would expect from a team seeded number one in their group this time.
For myself, I'm still like a kid in a toy shop when it comes to Wales' new found identity of being something of a power in the game, there is a sense of wonderment and disbelief and, this time at least, I'm going to keep it and not become like those expressing disappointment at just a draw or those in the media who are using words like "flat" and "disappointing" to describe last night's performance.
I can understand the thinking of the professionals to a degree, because they tend to be of the mindset that any team that goes away and scores twice should be looking at a win as a reward for doing so – especially when they have been ahead a couple of times. However, the media moans are a bit harder to take and strike me as a reminder of how short some people's memories can be.
My preamble to this piece was pretty long, but I wanted to get over just how much things have changed in Welsh football in a relatively short space of time. Last night, we were playing at the ground of a team that had won their last nine qualifying games there and they were defending a run of ten consecutive wins in qualifying group matches – Austria have been on a steady ascent up the rankings for a few years now and their only recent disappointing spell came at the worst possible time, in this summer's Euros.
Apart from that, Austria have been one of the form teams in the world lately and for Wales to go there and draw without Aaron Ramsey (who is now going to miss at least a third of the qualifying campaign because his club manager treated him  differently to all of his other players who made it to the closing stages of the Euros), without Joe Allen for about forty per cent of the game and with Gareth Bale turning in a pretty muted showing is a brilliant result I think.
Nevertheless, it cannot be denied that last night's showing by Wales was an unusual one that offered the possibility that the character of the team might be changing. Dean Saunders mentioned in the post match discussion during Sky's coverage that we have now scored sixteen goals in our last eight matches covering the whole of the Euros and our first two qualifying matches.
When I think back to our eleven goals scored in ten games while qualifying for those Euros and how hard we made scoring look in the friendly matches leading up to them, the notion that we could be averaging two goals a game over a fairly substantial number of matches a few months later would have been a very hard one to accept.
It happens so often in football that when a team having goalscoring problems finally rediscovers the knack of putting the ball in the net, there is a corresponding increase in goals conceded as well.
Wales had been able to avoid that happening in the seven matches before we faced Austria, but we were some way short of the standards we have set ourselves defensively last night. The fact is that our two left sided defenders are not getting regular first team football this season and, at times, it showed. On the right, although I'd blame our midfield more for the first Austrian goal because they gave Alaba too much room for a sublime pass which set up Arnautovic, Chris Gunter was caught flat footed somewhat both times when our opponents scored, while any player who is at Aston Villa currently, must find it hard to maintain high standards while playing for such a basket case of a club and James Chester was unusually sloppy at times as well.
In front of the defenders, Joe Allen scored another fine goal for his country to add to the recent ones he's got for his club, but it was his careless pass which provided the "assist" for his club mate Arnautovic's second equaliser. "Careless" was the right word to describe some of the things we saw last night from players who have made a habit of not performing in such a manner when representing their country lately, but was it just a one off or a sign of the sort of decline in defending standards when a team becomes more dangerous going forward that I alluded to earlier?
Time will tell I suppose, but it was revealing that, on the fairly rare occasions they could get at the Austrians, the home defence also looked wobbly. I described Bale's display as "muted" earlier, but he always finds ways to influence matches and, this time, his burst of pace down the left followed by a wicked cross was instrumental in creating the room for Allen to measure his volley from Gunter's knock back to perfection as he netted from twenty yards.
Then, with the game going into added time at the end of the first half, Sam Vokes glanced Bale's long throw into the path of Chester who was denied a first goal for his country by keeper Almer, only for the ball to hit the grounded home defender Wimmer on the leg and roll gently back into the net – lucky perhaps, but good enough for Austria coach Marcel Koller after his mean spirited comment beforehand that Wales only got to the last four of the Euros, while his team went home early after two defeats and a draw in their group games, because of a generous helping of that commodity.
The sixth pot representative in this group is Georgia and, as with Wales four years ago, their qualification hopes look all but over after defeats in their opening two matches. However, a 2-1 home loss to Austria followed by what looked an unfortunate single goal defeat in Dublin last night suggests that Wales are not going to have things all their own way by any means at Cardiff City Stadium on Sunday – especially if Allen is absent after going off with a tight hamstring last night.
With Serbia recording a 3-0 away win over a Moldova team that, increasingly, are looking like the group's whipping boys, the "big four" who were expected to contest for a top two finish are all level on four points. So far, the two matches in which the four favourites have faced each other have ended up as 2-2 draws with I'd say Wales and Ireland being the happier because of their away points and so, with us to face Serbia in Cardiff next month to follow the home game with Georgia, the opportunity is there to put ourselves in a powerful position going into the new year when we face a run of four away games out of five.
Anyway, enough about Wales for now, let's get back to Cardiff City! About five hours before the international kicked off, Neil Warnock faced the media for the first time as City manager and, as you would expect, it proved to be a lively, and revealing, affair.
I say "revealing" because Chairman Mehmet Dalman stated that Warnock had been our first choice pick once before when the manager's job became vacant. No details were given as to when this was, but, presumably, it must have been either this May before Paul Trollope was appointed or two years ago when Russell Slade took over.
When the matter of Mr Warnock's contract came up, the man himself was pretty reticent as he questioned the worth of them in the modern game. With Mr Dalman also reluctant to comment, the matter was taken no further, but the possibility has to be that our new manager is working without a formal contract. This doesn't have to be a bad thing, but, with him emphasising that his age (he'll be 68 in December) means he's not one for long term planning in terms of the manager's job, the feeling that Neil Warnock is here to do a fire fighting job seemed to gain a little credence – although, intriguingly, he did talk about the possibility of working in a behind the scenes capacity at a club when his managerial days are over.
I was very pleased to hear our manager say that he would not be doing the very thing that I said he would in that piece from 2009 I linked in my post on Wednesday  about Warnock's appointment. Far from imposing a preferred way of playing on a new club, he said it was more sensible to look at the strengths and weaknesses of the players you inherit and then come up with something which suits them best – this is something which I have always believes sorts the managerial wheat out from the chaff and I look forward to seeing what Mr Warnock has in mind for his new club.
Finally, there was a bit of talk about some possible new signings before we play next, against Bristol City, a week today – in fact within no time at all it was being reported as if we had all but signed winger Junior Hoilett already. As an out of contract player, Hoilett, who was regarded as a potential world beater in his early days at Blackburn and has played for Warnock before at QPR, fits the bill, but it should be pointed out that he played ninety minutes for the Canadian team which beat Mauritania 4-0 yesterday and so I wouldn't seen that any deal for him is imminent.
The Hoilett rumours were quickly followed by ones linking Sol Bamba, who left Leeds for "personal reasons" (interestingly, he had twice publicly criticised Leeds owner Massimo Cellino during his time at that club) last month, with City. The idea that we would be looking for another centreback would have struck me as daft in the summer when I thought we had a trio as good as most in the division, but, based on what we've seen so far this season, it comes as no surprise now – that said, as something a bit left field, I will point out that Bamba, who also played under Warnock at Leeds and has forty four caps for the Ivory Coast, did play in a defensive midfield role for a while during his time at Hibs.
Today there are also stories circulating that Marouane Chamakh, the former Arsenal striker will be teaming up with his former manager at Crystal Palace again. On the face of it, a Chamakh/Lambert striking partner would seem an unlikely one, but a common saying used to be applied to Neil Warnock about ten years ago was that he loves to have a lot of strikers at his clubs.
If I had to predict, it would not surprise me at all if all three of them are Cardiff players by the time the wurzels arrive. I've read that Bamba may be coming here on an eighteen month contract, but I've not seen anything about the other two, so it could be that they will only be here on short deals. However, I would have thought that the wages involved for all three would be on the high side and so, with salaries for a new Manager, Assistant Manager and First Team coach to find, along with severance payments for the trio who left the club this week, we can expect a few of the current squad who can command a fee to be sold in January to keep the club within the confines of the FFP regulations.
*picture courtesy of http://www.walesonline.co.uk/