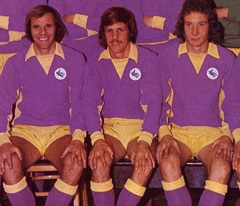 Having watched quite a few City v Millwall matches at below first team levels in recent years, I can confirm that games between the younger players at both sides tend to be just as uncompromising and competitive as senior encounters are.
That was certainly the case this lunchtime at the Vale Training Ground where City edged a hard fought tussle between two evenly matched teams thanks to a single goal scored by the prolific Sion Spence.
I always like watching matches at the Vale, especially on sunny and clear afternoons like today, but there was also an icy wind blowing straight down the pitch from the north which meant that the side that were playing up the slope were more than compensated for this disadvantage because they had the wind behind them.
So it was that Millwall, with the elements behind them, started the better as they pinned City back for the first ten minutes or so. Whenever I see a team playing in all white, I'm reminded of something my father said probably a half a century ago now – "a white kit always makes a side look big".
I'm not sure if that theory stands up to analysis, but it was certainly true today. Millwall were definitely the bigger of the two teams and this was reflected in the way they both went about trying to win the match.
While what Millwall were doing hardly qualified as "hoofball", they were the more direct of the two teams as they sought to impose themselves physically on a City outfit that favoured a more intricate and patient approach – I thought the contrast made for an enjoyable first half, despite the relatively few times a goal looked possible.
City took a while to grow into the match, but, once they got into their stride, they looked the likelier to get that important first goal in what was already shaping up to be a tight affair.
The first opportunity for City fell to Isaak Davies who broke clear of a visiting defence which operated a well drilled offside trap to go with their high line, to get in a shot that was blocked by keeper Wright.
Davies was soon involved in a similar type situation, but this time, in a three way race between Millwall keeper, centre half Mitchell and the City centre forward, the player in blue got to the ball first, only to get his attempt to lift the ball into an unguarded net wrong as the ball lobbed tamely towards the corner flag.
Spence came closer when his shot from the inside tight channel went across goal, but narrowly wide and Davies was involved again as City patiently worked the ball from left to right in a manner I could never see the first team doing. It was a high quality move which ended with the visitors desperately scrambling the ball out for a corner as the striker looked to put away a low cross from the left.
However, it was probably the visitors who came closest of all to breaking the deadlock as their centre forward Neary beat home keeper George Ratcliffe to a through ball and looked sure to score as he prepared to put the ball in the empty net, only for Trystan Jones to get back in time to rob the striker with a superb tackle.
City may have just edged the first half, but I figured that it wouldn't be a surprise if the match ended up goalless given the nature of those opening forty five minutes. So, it's fair to say that at least one of the small gathering of watching spectators was surprised when City promptly went and scored within a minute of the restart!
In truth, the goal was entirely down to Spence as he received a throw in from the left, cut in and fired a low right foot shot past Wright from twenty yards. It was a confident finish from a player whose goal return this season has been pretty amazing given that he is still generally considered to be someone who operates in midfield – albeit one who is certainly more of a very attacking number ten than a holding midfielder these days.
Talking of deep lying midfielders, that was the role I saw Spence fill to a decent standard in what I think was his first appearance for the Development team about this time last year. He and another member of today's team, Jack Bodenham, played quite often for the Under 23s towards the end of last season, but it's been virtually an Academy team player free side this time around and it seems pretty obvious now that this is a deliberate policy on the club's part,
The benefits of this approach are now being seen in terms of results for this team, but, with player development being the all important consideration at the levels below the first team, Spence looks more than ready for a move up based on his goalscoring return and general performance today,
Indeed, you would hope that any seventeen year old player who has scored more than twenty times with nearly three months of the season left to play, would at least be figuring in official conversations about possible first team starters at this club where twenty goal a season senior players appear to be a dying breed.
With Keenan Patten and Laurence Wooton providing an accomplished midfield base to work from, Spence causing problems whenever he got the ball and Sam Bowen becoming more influential on the left, City threatened to take charge of proceedings for a while, but were being let down by their final pass. Truth be told, the closest they came in the rest of the game to stretching their lead was when Bodenham I think it was, got in a header which bounced up narrowly over the crossbar from a corner.
With nine of the City team having played in a Welsh Youth Cup quarter Final on Sunday, it was not surprising that it was the visitors who finished more strongly as they continuously pushed City back. Sion Spence may have been the difference between the two sides to the extent that I can't help feeling Millwall would have won if he had been in their side, but so much credit for the win has to go to the likes of Bodenham, Jones and Ryan Reynolds who defended so well that I cannot remember Ratcliffe being seriously tested.
Indeed, I'd say the biggest single reason for the five game winning run the Under 18s are on since the turn of the year is the defensive improvement they've made. Time was, you'd could bet on seeing four goals plus in every Under 18 match you watched with at least half of them going into our net, but, a 4-1 win at Colchester to start things apart, it's been a couple of 1-0's and 2-1's that have seen us put together what might well be the best winning run since we were granted Academy status.
To finish, I mentioned earlier that nine of the team had played on Sunday, well, that was in a 7-0 win over Aberystwyth where Spence got four more goals, Bowen scored a couple and a new name to me, Harry Pinchard, netted the other one. The draw for the Semi Finals was made today with City away to FC Airbus and Connah's Quay Nomads entertaining Swansea City – both matches to be played on Sunday 18 March.