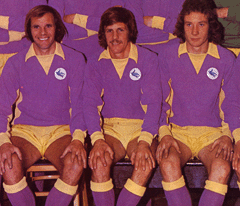 This morning has seen the publication of stories in the Sunday Express and the Daily Star on Sunday alleging that an anti English "hate mob" is trying to drive our Chairman and Manager out of the club.
Having read both articles, I must admit to being confused as to who actually came out with these remarks because the Sunday Express attributes some of them to Peter Ridsdale, while the Daily Star tells us that it was Dave Jones – I'd be interested to know where they got these comments from.
However assuming they are true, perhaps our Chairman could answer these questions;-
1. Has this anti English hate mob been present at the club since you arrived in March 2005?
2. If they have been, why have you not spoken out about them before now?
3. Can you confirm that it is a complete coincidence that these stories surface at just the time that the club is facing a second winding up order for unpaid tax bills (after a first one was dismissed following your assurance to supporters and the HMRC that a portion of that debt would be paid off by the end of December)?
4. Do you feel that the anti English hate mob have been effected by your decision not to tell the representative of a group of Malaysians, who were looking to invest into or even take over the club, about that first winding up order?
5. Can you confirm that you do not lump those of us who have criticised you for the way you have been handling things since the Echo broke the story about the first winding up order in with this anti English hate mob who, apparently, have been dogging you for the last five years or so?