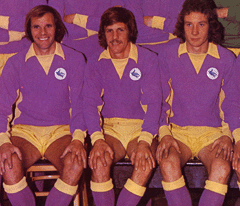 Anyone finding that us beating the wurzels all the time is getting a bit boring? No I thought not and so what turned out to be a very satisfying day was given a bit of extra gloss by the news that the Academy Under 18's did their bit by beating Bristol City's youth team 2-0 yesterday morning.
The switching of the game to Leckwith and the kick off time to 10.30 meant that I was able to take in the first hour of the Academy match before the midday start at Cardiff City Stadium and, leaving local rivalries aside, it was great to see this group of kids (who, to be frank, had not impressed me much at all on previous viewings) show that they have more to offer than their results and performances up until yesterday would indicate.
The first half saw the youngsters play the best football I had seen from them so far by a distance as they controlled the game by passing the ball well and showing more ability and inventiveness than their opponents. There were one or two dodgy moments at the back, but, in the main City's defending didn't have the last ditch desperation that much of the wurzel's did as City threatened on numerous occasions. All that was missing from the opening forty five minutes was a goal, but, perhaps understandably given their results so far, City's final ball and/or decision making in the final third wasn't quite good enough.
However in added time at the end of the first half, City's dominance was rewarded when Kevin St. Luce beat his man out on the left and found himself with a clear run in on goal. For a while it looked like the French winger would keep his head down and go for goal himself, but he had spotted the  completely unmarked Joe Ralls inside him and drew the keeper out of his goal that bit more to ensure that, when he passed to him, Ralls had the simplest of tasks to slot the ball in.
I must admit that when I left I had a feeling that the wurzels would get something from the match because, reacting maybe to the half time dressing down they almost certainly got, they were making much more of a game of it. However Ralls weighed in with another goal after I left and, in doing so, made himself the stand out player in the match. I notice that Ralls featured for the reserves in the week and seems to be developing well now following his summer move from Farnborough, but, based on the first hour anyway, all of his team mates deserve praise because this was a much improved display by the kids and, hopefully, they can maintain the new standards they have set for themselves over the coming weeks – starting with the match with MK Dons in a  fortnight.