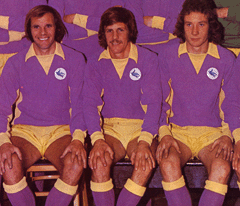 Cardiff City returned to action yesterday after the latest International break with a 0-0 draw with lowly Preston North End at Deepdale. That scoreline suggests an unremarkable game which adds a little more to the suggestion that the 2015/16 Cardiff City will be worthy, hard to beat, but a little dull, as they continue along their  pursuit of a Play Off place which I fear will always be just beyond them if the spending plans outlined in this story turn out to be accurate.
However, among the welter of statistics that are produced from every match played these days is a truly remarkable one which goes to the heart of a modern day problem which does not just apply to Cardiff City – where have all of the finishers gone?
Yesterday's, on the face of it boring, 0-0 contained 35 goal attempts (18 for Preston and 17 for us) – that's comfortably more than any other Championship fixture played so far this weekend. So, although the score may indicate otherwise, the stats suggest it was a game which both sides were trying to win. However, the really damning stat is the one which says that home side managed just the one on target effort, while we came up with only the two.
Three on target efforts out of thirty five is not very impressive is it and tells you all you need to know about why a game, which seemed to be full of worthy intentions, turned out to be the borefest the scoreline suggested it was.
A look at the Feedback feature on here will show that there was a discussion about the lack of quality strikers available to Wales following my piece on the Andorra game in which I'd also made reference to this. My own view on the situation is that the problem with Wales is mainly down to there simply not being any quality finishers out there who are being ignored by Chris Coleman – he is picking the best available to us, but, in each case, their goalscoring record for their country says it all (the brilliance of Gareth Bale is covering a multitude of sins I'm afraid, but it was becoming harder to do that as the qualifying campaign came to an end and it's going to be even tougher to do it next summer).
Wales are not alone in lacking natural strikers, but we do seem to be harder hit than most at the moment – it's not even as if there are journeyman types around who make careers for themselves by scoring consistently in the lower leagues (like the Nogan twins did for example) who Coleman could take a punt on in a friendly game to see if they might provide an answer.
Of course, the days are long gone when a Wales manager would come along to a Cardiff City game to see if they had a player who could cure his striking woes, but it is instructive to look at the players we do have available to us in forward positions who are realistic contenders for a first team place.
Kenwyne Jones, who was absent yesterday with an injury picked up while on Trinidad duty which may keep him out for some time, is I would suspect, rated by most as the best striker available to us. His majestic header at Forest and his brave one against Wolves show what he can bring to any team at this level, but they remain his only goals of the season so far.
For all of aerial threat he can carry, I struggle to remember any other times he has come close to scoring with his head this season  and he is one of many Cardiff players I wouldn't feel confident about him scoring if he had a run in on goal with just the keeper to beat from, say, forty yards out.
Alex Revell brings hard work, stamina, knowledge of his position gained by years of playing there, decent aerial ability and better ball skills than he is often given credit for to the table, but a look at his career record on Google tells you that, even at lower levels than the Championship, he cannot be relied on to bring you goals.
Sammy Ameobi was given a second starting chance in a central striking position of the season yesterday and, although David Marshall's sending off at Rotherham meant that it would be harsh to read too much into what happened there, I think it is fair to say that we've seen little from him so far to suggest he could be the twenty goals a season striker that every manager wishes for.
It is hard to tell whether Ameobi does have the necessary finishing ability, but this is mainly because he has had so few goalscoring opportunities to prove things one way or another. However, the fact that he is now well into his third month as a Cardiff player and we still don't know rather tends to confirm the impression that he isn't really someone who has the instincts and understanding to find himself that yard or two of room in crowded penalty areas.
Finally we come to Joe Mason. Now, I've been a consistent supporter of Joe on here and on messageboards over the years and I will continue to be because in terms of finishing ability and general penalty area awareness, I believe he is the best we have available now at the club.
With a scoring rate of five from eleven Championship matches, Joe is on target to get to that twenty goal mark if he plays a full season, but most revealing to me  is the stat which said that, prior to yesterday's game, he was at the top of the Championship chart for most on target goal attempts.
While he's not faultless, the mess he made of a simple chance at Forest shows that, and it could be said that five goals is somewhat disappointing for someone at the top of this particular chart, it does show that, if you give Joe a chance, he tends to hit the target and that there is potential for his scoring rate to improve.
Looking elsewhere in the squad, Anthony Pilkington's scoring record at previous clubs has been pretty good, but his goal return, and the general standard of his shooting, is poor at Cardiff. Craig Noone always has a spectacular goal in him and he's not had too many chances to show what he can do this season, but, lately, he's another of those for whom the last place you expect the ball to end up when he lines up a shot is in the net.
I always feel Joe Ralls (why was he withdrawn at half time yesterday – we aren't half going to miss him if he is ruled out for any time by injury) should score more and there is Sean Morrison's ability to score from set pieces to be considered as well, but it is hardly a squad which suggests it's going to put away something like one in  two of the chances it creates is it.
Of course, there is a player I haven't mentioned yet – one who I believe has it in him to be the best finisher at the club. Going back to the run in on goal from forty yards scenario I mentioned earlier, I can remember Peter Whittingham being presented with exactly that sort of chance a couple of minutes into our Fifth Round FA Cup tie with Wolves back in 2008 and Dave Jones saying after the match that he knew we were going to score from the opportunity because of the player it fell to.
Whittingham will be remembered for the spectacular long range goals he scored, but there was a time when he was a composed and adept snapper up of those closer in trifles that all good goalscorers rely on to boost their tallies and he could also be counted upon to come through when given time to think about things – like he was in that run from the halfway line against Wolves.
Yesterday, Whittingham came close to getting the matchwinner when his late free kick was superbly turned aside by home keeper Jordan Pickford, but his personal drought from these opportunities now stretches beyond three years. When you think about how you used to feel when Whitts stood over a free kick, that's another remarkable stat which starkly illustrates what City have been missing during the latter seasons of his time with us.
It may be declining stamina, loss of confidence, playing to orders or there might be other reasons for it, but, with us getting less penalties than we used to, the goals have almost dried up completely for Peter Whittingham these days and it's hard to see how they will return to the levels seen when he was in his pomp. This wouldn't be so damaging if City had been able to replace the goals and finishing ability Whittingham provided until around 2011/12, but we haven't been able to.
Back in the 60s, Jimmy Greaves made a huge impression on me with the way he kept calm in frantic penalty areas and often passed the ball into the corner of the net. Greaves was the consummate finisher, but a process which started in the 1966 World Cup when Sir Alf Ramsey preferred the more prosaic Roger Hunt's industry to Greaves' natural gifts has me wondering if merely scoring goals is enough to guarantee you a starting place in a modern game where defending from the front and running the channels is considered to be an essential part of a striker's armoury?
Based on what we saw of him last year, I would back the Ramsey approach when considering the merits of the currently injured Federico Macheda (who does possess good finishing ability), while Eoin Doyle must be concerned that, despite being 27 and possessing a very good goals to games ratio at his previous club, his manager at Cardiff still sees him as "work in progress".
Below first team level, Rhys Healey has got the "knack" at Under 21 level and Eli Phipps did for the Under 18s, but there have to be question marks about their ability to maintain it as the level they play at improves.
No, strikers who ensure that there are far more on target efforts in matches which have thirty five goal attempts than three are like gold dust. If there is someone out there at the sort of price we can afford who is capable of banging in the goals at Championship level, you would have thought that plenty of our rivals will know about him. On balance, we are probably lucky to have someone like Mason, while we can hope that we are all going to be very pleasantly surprised when Idriss Saadi (who played an hour for the Development team in a friendly at Portsmouth last week) gets fully fit.
Finally, if anyone at the club gets to read this, a bit of a moan about yesterday's Under 18 game against Ipswich (which we won 3-1). You've been helpful in the past in letting me know things like kick off times and venues for these games, so, can I ask that you do something on the website or on the Under 18s Twitter site to clarify these details from now on. I know there was something posted on the latter yesterday, but it was done so late that I missed it and so, with the previous home match being played at Leckwith (as they have been at this time of year in previous seasons), I set off for there only to learn later that the match had been played at Treforest.
I know most who go to these games are relatives and friends of the players who will have known where the game was being played, but there are also a few of us who want to come to these matches because we are just supporters of the club. In my case, I am also willing and able to do more in my own small way by providing regular pieces on here on games played below first team level – I enjoy these matches and it was disappointing to miss out on one yesterday through no fault of my own.
*pictures courtesy of http://www.walesonline.co.uk/