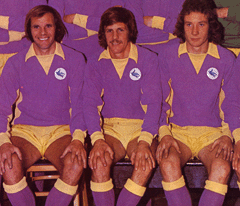 When England hosted the European Championships in 1996, what I think of as one of the better football songs reached number one on the wave of optimism which swept through that country at the time.
In saying that, "Three Lions" was unusual for a football song because it's lyrics spoke of failure and the "thirty years of hurt" England football fans had suffered since their country had lifted the World Cup  as hosts of the event in 1966. Even so, every time I heard about their three decades of hurt, I used to think "you don't know the half of it, try supporting the Welsh football team, then you'll find out what suffering really means".
For a start, I'm 60 in four months time and, as far as I'm aware, Wales have never qualified as hosts for a World or European international football tournament at any level or age group in the men's game in my lifetime – although the fact that we hosted the UEFA Women's Under 19 competition in 2013 offers the hope that I may still see it happen in my lifetime.
The luxury of pre qualifying for a tournament has never been open to Wales' senior teams in either gender. No, we've always had to pre-qualify and, in the men's game at least, this process has a history for which the term "long suffering" might have been invented.
It might have have hurt for Baddiel and Skinner back in the mid nineties, but these things are relative – they didn't have a clue what real hurt is!
Try being denied a World Cup Finals place twice by Scotland, first thanks to a blatantly wrong penalty decision, and then, eight years later in 1985, by a distinctly dodgy one.
Try listening to Yugolslavia and Bulgaria both going hammer and tongs for a winning goal while knowing that a draw would see Wales through to the European Championship Finals in 1984 (of course, Yugolslavia scored the goal to send them through at our expense in added time at the end of the game) and try being denied a place at the 1994 World Cup by a missed penalty against Romania.
Even when we have "qualified" there has been only heartbreak. In 1976 we topped our European Qualifying group, but that only brought a two leg Quarter Final to earn the right to go the main event and this was lost amid more penalties of the dodgy and missed kind, disallowed goals, an eccentric referee and crowd trouble which led to "home" matches in the following qualification procedure being played in England.
With four games to go in our group, qualification for the 2004 European Championships look assured, but just one point from those matches meant that we had to face Russia in a two leg Play Off to get to Portugal. It was typical that Wales raised hopes first by drawing 0-0 in Moscow in the first match, but a single goal for the visitors in front of a packed Millennium Stadium only meant more deflation and angst.
What needs to be remembered here, is that what I have set out in the last few paragraphs are the times when Wales have at least looked like they could be there competing with the best in the world or their continent. However, for every time this happened, there were another two or three where any optimism soon disappeared as the early losses mounted up - these were the campaigns exemplified by results such as Netherlands 7 Wales 1, Georgia 5 Wales 0 and Wales 1 Slovakia 5.
Now, you can argue, as I do, that reaching a European Quarter Final in 1976 means that it was not correct to assert that our qualification drought dated back to 1958 (even then, we only made it to Sweden as a "lucky loser"), but the truth is that this was how it had always been reported.
The general feeling among Welsh and non Welsh people was that we had gone fifty eight years without qualifying for anything, but, now, the rights and wrongs of that statement are no longer important – it's just academic, because last night we did it, Wales will be there in France for Euro 2016.
Who cares that our 2-0 defeat by Bosnia-Herzegovina in Zenica meant that I couldn't help thinking of the film Mike Bassett England Manager where England's desolation at not getting the home win they needed against Slovenia, turns to joy when they hear they have qualified anyway because rivals Turkey have lost at home to Luxembourg.
I'm not sure if rumours that the Gareth Edwards statue in Cardiff City centre is to be demolished and replaced by one of Walsall's Jason Demetriou are true. However, he should be elevated to the position of Welsh footballing legend after his goal that enabled Cyprus to snatch the win in Israel which meant it didn't matter how we did last night – we already had enough points in the bag.
Actually, it's that which means that my Mike Bassett analogy was not a very good one. Wales were never in the sort of position England found themselves in the film – I fully expected our qualification to be confirmed in a few days time after we had beaten Andorra (I think this is the only match about which you'll ever read me saying "we will win" on this blog and, to be frank, I'm not remotely bothered now if I end up being proved wrong!).
I always had our match in Bosnia down as a defeat and, although I became a bit more hopeful when I learned that we would be able to field what was virtually our strongest team, I couldn't get the fact that we were going to a part of the world where we never do well out of my mind.
You will see the name Yugoslavia among the list I produced of teams to deny us in the past and it is was also them who put us out in "the  Rudi Glockner match" in 1976. We didn't do well in that part of the world when it was called Yugoslavia and our record in the Balkan countries which replaced it is appalling – I think I'm right in saying we've lost every single game we've played in old Yugoslavia since that country's break up.
The mistake I made was in assuming that Israel would beat Cyprus. Israel had defended well in Cardiff last month, but we were comfortably better than them in Haifa even before the sending off and this gave the clue that they are not a team who find it easy when it is they who have to force the pace. Combine this with how Cyprus took us and Belgium right to the wire a few weeks ago, and it was never really the banker home win I took it to be.
As for our match, the funny thing was that Bosnia were nowhere near as good as I believed they'd be – I thought they played better in their game in Cardiff a year ago. For me, we looked pretty comfortable until our long run without conceding a goal ended at 575 minutes in very disappointing fashion.
To concede from what was a pretty basic kick was poor and it was criminal that the ball was able to bounce in our penalty area before Djuric headed over Wayne Hennessey. Ashley Williams should have dealt with things better, but, given his performances over the course of the qualification process, I'm not going to be too critical of him, and his fellow defenders, now – if this Welsh squad has a problem area, it's certainly not our defence.
A record of just a goal a game in our nine matches in this group so far tells it's own story – we've failed to find the net in nearly half of our games. Tuesday night's home game with an Andorra side who have conceded thirty four times in losing all of their games so far offers an ideal opportunity for Wales to improve what is a dismal scoring record given how successful they've been. Although I accept that it's not going to be an occasion where they will be going full throttle, I hope a few of our players who are due a goal are able to take the opportunity the game gives them.
I'm thinking in particular here of people like Aaron Ramsey. When you consider how he was finishing two years ago, it was strange to see him miss a pretty easy chance so poorly in what was still a good individual performance by him in Arsenal's 3-0 win over Man United last weekend and he could have done better with a chance he had last night – if he can start feeling confident in front of goal again, he is good enough to make a significant difference to our scoring rate.
Hal Robson-Kanu could do with a goal and it would be a great reward for what has been a very good individual campaign if Neil Taylor's efforts to get into more attacking positions could see him finding the net.
I'm sure any big win on Tuesday will be greeted with the words "it was only Andorra", but we need more players to show that they have it in them to score for us at international level and, to that end, I would be tempted to give Tom Lawrence a first cap.
I was also pleased to see England qualified Harry Wilson get a few minutes to confirm him as a Wales player at the end of our previous qualifying campaign and, if something similar could be done with a youngster in a similar position on Tuesday (West Brom's Tyler Roberts springs to mind), then  all the better.
Also, a personal thank you to the squad for what they have achieved and the manner in which they have done it. It's quite common for players to trot our a line about the great spirit in a team which then goes out to prove in their next game that this is anything but the case , but it's manifestly true of this Welsh side. Post match interviews with team members nearly always referenced this point, but it was classy of Neil Taylor to ask that team group photos taken after the game be taken with the supporters ,who have followed them to some pretty far flung parts over the last year or so, in the background.
I shouldn't forget Chris Coleman either, who, just as he has done throughout the campaign, got things right with a dignified post match interviews in which he went out of his way to mention the influence of his predecessor Gary Speed – I hope that somehow, somewhere, he is aware of what happened last night.
Finally, a quick word about the Under 21 side who maintained their promising start to their latest Euro qualifying campaign with a 0-0 draw away to top seeds Denmark on Friday. They have a couple of home games in North Wales next month during the International break set aside for the Play Offs for Euro 2016 – their seniors won't have to bother with them, but it would be good to see them try to maintain their momentum with a friendly somewhere.
Pictures courtesy of http://www.walesonline.co.uk/