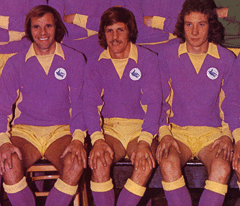 Dave Jones left Cardiff City more than half a decade ago, but, in recent years, it's become increasingly common for Cardiff City fans to look back wistfully to when he was in charge.
You know, those times when Steve McPhail was threading balls through for Michael Chopra to race clear of the defence and score from, Jay Bothroyd was beguiling us with his unique, for a Cardiff City target man anyway, blend of power, pace, sublime skill and intelligence, Chris Burke was turning left backs inside out as a right footed winger caused havoc on the RIGHT flank, Ross McCormack was showing flashes of why he would come to be described as the Championship's best player in later years and, of course, we had someone who did what he wanted out on the left!
Now, like so many other things in life, there is a tendency to look back and only remember the good times. The truth is though that, apart from the bloke who was doing what he wanted, all of those in that forward line of all of the talents had moved on by the time we finally ended our fifty year plus wait for a return to the top flight – a fourth place finish and a defeat in a Promotion Play Off Final was the best a Dave Jones team ever managed.
I suppose having so many players in a team to which the adjective "mercurial" could be applied always carried a risk and, certainly with some of those named, you never really knew what you were going to get in terms of attitude from one match to the next, so the City teams either side of the onset of this decade sometimes had a frailty to them which gave far less talented outfits a belief that they could still get the win on any given day.
However, when those Dave Jones teams got it right, they were tremendous to watch and you could come away from something like a quarter of the games they played having not only seen your team win, but also having been right royally entertained.
Dave Jones was dismissed by City after a 3-0 aggregate defeat by Reading in a Play Off Semi Final in 2011, with all of the goals coming in the home leg after we'd gained a good draw at the Madejski Stadium in the First Leg.
That comprehensive defeat came on the heels of another loss by the same score against Middlesbrough in the final home game of the regular season  just as City fans were allowing themselves to think this could be the year we made it up after so many narrow misses.
When it all ended to ignominiously, there were many supporters, myself included, who thought Jones had taken us as far as he could and, as I recall, there were few among the club's support at the time who thought that the decision to change the manager was a wrong one.
I wonder how all of those people would have felt though if they had been able to see what was to become the norm over the next five years on the entertainment front in home matches in particular?
Now, I always maintain that, especially in the early parts of his first two seasons with us, Malky Mackay's City sides were able to get that balance between results and entertainment right and I'd also say that, although it all went so wrong, there was almost a sense of wonder to our Premier League season which meant that the frequent defeats. along with a lack of any real entertainment was somehow bearable.
It also should be said that I've been to very few City matches as exhilarating as the 3-2 win over eventual Champions Manchester City in our first ever Premier League home game, but how many matches at Cardiff City Stadium since then have passed the test whereby you could say that a winning City team had also entertained you?
Actually, scrub the bit about winning, how many home matches have you been to since that glorious afternoon in August 2013 where you left the ground feeling that you had been entertained by what you'd just watched?
For myself, I'd say beating the jacks that season was great, as was going toe to toe with Manchester United in a game where we ended up with a deserved point thanks to a very late equaliser and I suppose you cannot help but be entertained to an extent when a match finishes Cardiff 3 Liverpool 6.
Since we were relegated however, your typical City home game has become something to be endured rather than enjoyed. I still say that the only home fixture I really enjoyed during the dreadful 2014/15 campaign was the 1-1 draw with title winners Bournemouth, while last season, Russell Slade's team  were able to provide regular wins, but little in the way of entertainment – there was that strange 4-1 win over Brighton (Lord knows where that came from!), but, for me, the best and most attractive games of football at the ground were those two matches at this time of year when we twice let 2-0 leads slip in draws with Burnley and Sheffield Wednesday.
If anything, this season had been even worse than our first year back at this level – beating the wurzels in Neil Warnock's first game in charge was a memorable occasion rather than match, the Shane Duffy game had an oddity value and I suppose Sheffield Wednesday was an okay match, but, for the most part, it has been turgid in the extreme with the added frustration that we were getting beat all of the time!
So, while it was far from perfect for reasons I'll go into later, what a pleasant surprise yesterday's 3-2 win over Huddersfield Town turned out to be as it passed the test on both the result and entertainment criteria.
Truthfully, I was fairly optimistic about the outcome of this game beforehand because it seemed to me that there were similarities between a Huddersfield team which had topped the table for much of the first three months of the campaign playing a bright passing and effective high pressing game and the Dave Jones team which were at one time five points clear at the top during the early months of the 2006/07 campaign.
As we now know, that City team hit something of a wall going into November and, although they were able to maintain a challenge for a Play Off place until quite late into the season, were never able to recapture the intensity and style which had them top of the table on merit at one time  - Huddersfield's recent results had me thinking that they might be going through something similar and now seemed to be a good time to be facing them.
That said, although I fancied we might win, I thought we'd be looking at a ground out 2-1 or 1-0 – I certainly didn't expect us to leave the field to a standing ovation at half time 3-1 up, having had the chances to have doubled our goal tally!
At this stage, I want to talk for a while about Neil Warnock. With him having been in management for so long, I daresay we all would say we knew him pretty well already when he was appointed – I was going to say he was something of a "Marmite" figure, but that's not right, because the whole point of that term is that many people love Marmite!
As I've said before on here, I was most definitely not a Warnock fan, but after six weeks or so with him in charge of my club, I now realise that feelings can change when the person concerned is in charge of your team as opposed to sat in the opposing dug out – many of the reasons why I disliked Neil Warnock in the past are the very ones why I'm appreciating him so much now!
We may have thought we knew our manager already, but, if you are a Cardiff City World subscriber and can regularly watch his press conferences and, in particular, the question and answer session he had with a couple of hundred supporters on Thursday evening (the videos of it on the club website last the best part of an hour, but are well worth watching if you can find the time), you get to see what really makes him tick.
Warnock's a shrewd cookie who has mastered the art of saying what the supporters of any new club he goes to want to hear, but, get him talking about the game for some time (like he did on Thursday) and you can see that the shrewdness extends into football as well – to write him off as just a motivator (as I have tended to do in the past) is to ignore his tactical acumen and ability to judge a player.
Our manager was very persuasive when talking about the modern preference for "passing football" as opposed to the long ball approach he has always been accused of favouring, Our manager recalled how he had watched England take a free kick on the half way line. pass the ball backwards and across among the back four for a while, then get into trouble and end up almost conceding themselves – to Warnock, free kicks on the halfway line are an opportunity to get the ball into the opposition penalty area and put them under pressure.
Listening to our manager, it was hard to argue with him and it was harder still when Lee Peltier planted a free kick, taken from in front of the opposition dug out, on to the head of Sean Morrison. from where it dropped to Rickie Lambert who swept in his first home goal from ten yards out to restore our two goal lead at 3-1.
It was fascinating and encouraging hearing Warnock talk about the game. I say encouraging because he spoke of getting some Academy players training with the first team and spoke of one youngster at the club who has really impressed him – as he mentioned striker Mark Harris by name in his pre match press conference on Friday, I'm presuming it's him.
Going back to his tactical approach, Mr Warnock was adamant that although he firmly believes in getting the ball forward quickly, he is happy for his team's to play their football high up the pitch and, for the first time since he came here I'd say, there was  evidence of this because I thought we played some good stuff in the first half as we proved that it was not just from set pieces that we were a threat.
Much of this unexpected fluency stemmed from a tweak Warnock said he made after seeing Huddersfield's team sheet. Giving the outstanding Junior Hoilett licence to roam infield and play further forward certainly worked and, again, it was really interesting after the game to hear the manager say it was a change designed to get Peter Whittingham into the game more.
I've talked before on here about the dilemma every City manager since Dave Jones has faced about getting that man who does what he wants into the side and, judging by his comments in the past week, it's one that is occupying Mr Warnock  as much as the four men who did the job before him.
What still seems to be the case though is that they all feel we are a better side, certainly in terms of goalscoring, with Whitts in there and, with a corner placed on to Morrison's head for our first goal and a fine, volleyed pass out to Hoilett as part of the build up to a rare goal from open play for us for our second a couple of minutes later, our longest serving player again showed that we lose so much in terms of a goal threat when he isn't on the pitch.
However, I said that yesterday's win wasn't perfect and I'd guess Neil Warnock will have noted how, as Whittingham, like one or two others, began to look more of a passenger, his team were clinging on at the end despite having, largely, been in control for a good two thirds of the match .
Before developing this theme, I'd just like to quickly mention that the BBC stats for the game showed that Huddersfield enjoyed seventy one per cent possession. My assumption had been that the possession figures given after each match were a measurement of the amount of time a team had the ball during the game expressed as a percentage. However, as this piece shows, Opta, the recognised brand leaders when it comes to football stats, do not do it that way any more and their figures are a reflection of the number of passes a team makes rather than time spent in possession.
Therefore, I now find myself in agreement with Neil Warnock, who has expressed his scorn for possession  stats in the past, because it seems to me that having a figure over, say seventy five per cent possession, is counter productive in many ways, because it is indicative of a team which passes, passes, passes and gets nowhere – Neil Warnock's, and Russell Slade's before him, Cardiff teams tend to have possession figures around the thirty five/forty five per cent mark which reflect the more "old school" get it forward quickly approach they favour.
Nevertheless, the truth is that, yet again, us poor souls who sit at the Canton End of the ground saw barely any attacking play from our team when they were playing towards us. After a bright start to the second half when we really looked as if we were hunting a fourth goal to make the game safe, things soon reverted to the norm whereby people at our end of the ground spend the entire ninety minutes peering one hundred yards into the distance to see nearly all of the meaningful goalmouth action.
This usually happens because City have run out of attacking ideas by the time the second half starts, but, this time, with a two goal lead to protect, the virtual non existence of any attacking threat was more explainable. Even so, City are going to have to do a better job of retaining possession in the closing stages when holding on to a lead than they did yesterday if we are really going to start climbing the table – poor old Frederic Gounongbe. on as a sub for Lambert, was handed a very tough task as the striker in what sometimes resembled a 9-0-1 formation, but turned in what I thought was, by some way, his best performance for the club so far.
Huddersfield showed themselves to be quite a slick passing side going forward and scored two great goals (I've long since given up seeing us score a goal like their first one, while their second was a club goal of the season candidate I would have thought). However, they were pretty ropey at the back in open play and terrible at defending set pieces (Mark Hudson should, surely, have been on the pitch throughout rather than sat on the bench) and, although it was understandable given that time was running out for them by then, I thought their decision to go more direct played to our strengths.
So, although it was exciting and ultimately enjoyable to see the way we repelled Huddersfield's late pressure, I think it was more a case of an entertaining first hour or so, rather than for the whole game. However, we've now taken at least three points from  a trio of very daunting looking fixtures this month and at least we can head into games against Villa and Brighton (who both looked decidedly useful in their 1-1 draw on Friday) knowing that there are a now a few signs of us being able to pose a counter attacking threat, which has been absent for nearly all of the season so far, to go with the problems we can cause from free kicks, corners and throw ins.
*pictures courtesy of http://www.walesonline.co.uk/