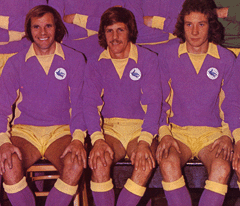 City didn't play well at Stoke on Wednesday, but much of the post match debate centred on the tactics used by Malky Mackay with many considering them too negative. I've seen the same criticism aired after yesterday's 2-0 defeat by Crystal Palace at Selhurst Park, but to me that is to miss the point – what happened yesterday was far, far worse than that because it hinted at something which will make relegation inevitable if it continues.
Anyway, I'm not really sure how valid criticisms of City's selection and attitude at the start of the game are. The choice of Kimbo in front of Gunnarsson signalled more of an attacking intent in my book and the creation of a marvelous opportunity from open play within the first ninety seconds suggested that we'd see more attempts on goal from Cardiff than in their three previous away matches put together. Unfortunately, Fraizer Campbell's header from a fine Don Cowie cross was kept out by Speroni in the Palace goal – the keeper did well, but  unmarked headers from six yards out are the sort of opportunities that should be put away with little fuss at this level.
When the resultant corner from Peter Whittingham was scraped clear by Joel Ward with Ben Turner about to apply the finishing touch from about a yard out, those grounds for optimism remained, but that was it really as far as City went as an attacking force – the stats say we had two on target efforts during the match, but I can't remember the second one.
In the couple of minutes which followed our completely misleading opening to the game, we saw the first clues that, in fact, this was going to be a very uncomfortable afternoon for City. Gary Medel was easily dispossessed about thirty yards out which led to a free kick that was floated dangerously close to the onrushing home attackers by Barry Bannan and City began to lose the vast majority of second ball challenges – something which was to continue throughout the afternoon. Some desperate defending looked to have kept Palace out from their next attack, but when Jason Puncheon picked up the ball and easily beat Declan John before crossing, it was former bluebird Cameron Jerome who got his head to the ball to score from the same sort of distance Campbell had missed from to ensure that the number of matches in which we have scored the first goal in this season remains at a miserable three.
Still, the pundits always say that it's best to concede early because that gives you plenty of time to put things right. Obviously, City would have to ride out a bit of a storm first, but then they could establish a foothold in the game and start again from there. Well, supporters in the ground, in front of their television or computer screens and listening to their radios waited for this foothold to be gained and waited and waited and waited.
Fair play to Palace, they played to their strengths and two strikers who have been pretty ordinary this season (Jerome and Chamakh) caused Caulker and Turner more problems than far more illustrious opponents have done this season – in fact, I don't think I've ever seen Turner have such an uneasy game in our colours. Sadly, the error he made against Manchester United appears to have affected him more than first seemed likely and he was unsure in possession, frequently resorting to long balls forward which were easily dealt with by the home defence.
The usually assured Caulker was also guilty of knocking pretty aimless balls forward, but, to be fair to our centrebacks, the two players who we rely on so much to get the ball from back to front in a more patient fashion were completely anonymous. That early incident I mentioned where Medel was dispossessed epitomised what, for me, was his worst game of the season so far and, having done well in our last two home matches, Whittingham was a passenger here, and at Stoke, wanting too many touches and and passing the ball without any of his usual quality.
If these two players are as poor as they were yesterday, then the whole team struggles. I think Palace did their home work on City and as a result their defence probably had their easiest ninety minutes of the season. I still reckon Palace will go down – this was a bad time to play them and, despite yesterday's evidence, am not convinced by their strikers over the course of a whole season, but they were comfortably too good for us and that leads me on to what I believe is the ominous thing about the nature of our defeat.
I've said often on here that once we got our first seven home matches out of the way then the large majority of our games at Cardiff City Stadium fall into the winnable category – I still believe that, our destiny will be decided by what we do on our own pitch. One of my reasons for thinking that is that, from now on, our away fixtures have a far more demanding look to them – have a look at what we've got left and try to figure out where we can pick up some points, Swansea? Sunderland? If, as I expect, we are getting beat most weeks on our travels, then the pressure and the need to win increases in those winnable home matches, but, based on what we saw in the eighty five minutes at Selhurst Park where the onus was on us to attack,  it's very hard to see where the six or seven wins we probably need from our remaining twelve home matches are going to come from.
Malky Mackay has been telling us that we have been competitive in every match we have played under him and his aim is that the same will happen in the future. However, yesterday there were players in our team (not all of them, but some of them) who, if they didn't cross the line which distinguishes between competitive and non competitive performances, came very close to doing so – we were poor at Norwich and Stoke, but competed, did the same apply to everyone at Palace? The closest I've seen in terms of attitude to yesterday was the first half of the Newcastle match which, coincidentally or not, fell very close to the bonuses/Moody bust up being made public – now, I'm not saying that there have been further developments in our off field problems, but the seemingly non existent relationship between our owner and manager is something that needs to be considered when looking at possible reasons why we were so bad yesterday.
I'll finish by talking about our own manager – I rate Malky highly and still have faith in him, but, for a man who usually says and does the right things in his dealings with the media, I thought he got the tone of his post match comments badly wrong yesterday. To me what he said was akin to Nero fiddling while Rome burned. Supporters and, dare I say it, his backers in the Boardroom did not want to hear such talk – claiming he would be worried if we were not creating chances is not enough when you'd only need to be born with one finger to count the number we have created per game in recent away matches in particular! All I can hope is that this was bland, manager speak for public consumption and that behind the scenes the players will get to know what he really feels because surely he must realise that what his team served up yesterday was nowhere near good enough.
* pictures courtesy of http://www.walesonline.co.uk/